The Mexican Caribbean is the perfect setting for a perfect beach vacation. Keep on reading to find out what you can include in your vacation plans.
Spend the best vacation in Tulum



In the last 5 years, Tulum has become an ideal destination for travelers looking to immerse themselves in the magic of the Mayan Riviera. In addition to its stunning crystal clear waters and soft white sand, it stands out for its exuberant nature, which includes jungle areas, cenotes, cave routes, mangroves, and more.
Visit Xel-Há
This iconic park in the Riviera Maya has it all for an unforgettable family day out. It is perfect for all ages thanks to its wide variety of activities designed so that everyone can have a great time. But for a truly unforgettable memory, you'll find a family of dolphins here that will welcome you with open flippers.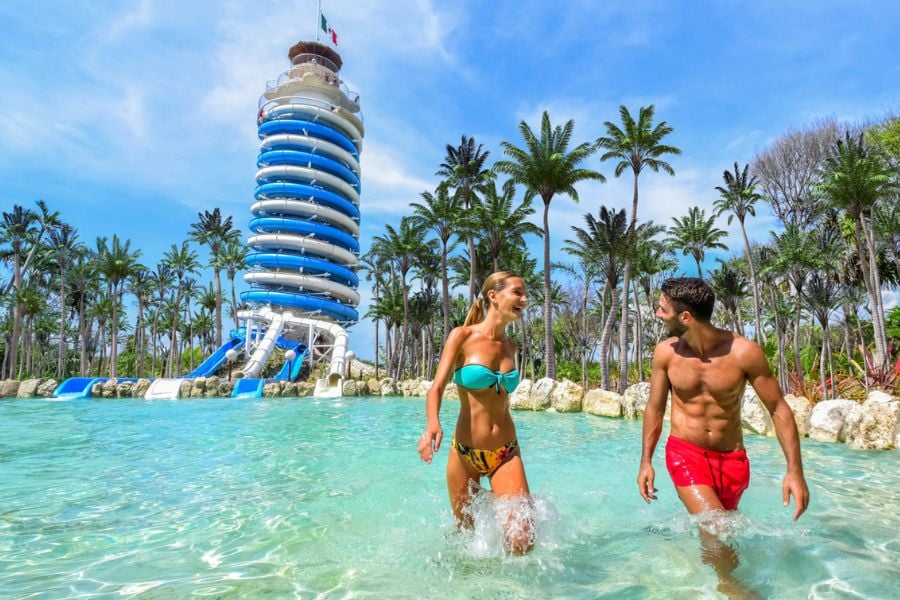 Swim with dolphins in Xel-Há
Swimming with dolphins as a family can be a truly magical moment. Delphinus Xel-Há is the only habitat in Quintana Roo where you can take an underwater walk with dolphins. And to learn more about the bond between humans and dolphins, we recommend the Trainer for a Day package. These experiences are not included in the entrance fee to the park, but if you wish to enjoy a complete experience, we have an all-inclusive package for your family, which includes entrance to Xel-Há and a swimming experience.
Enjoy a tranquil vacation in Puerto Morelos
This peaceful fishing village has maintained the charm and tranquility of beachfront life. Its gentle waves make it a perfect place to enjoy beach activities such as playing in the sand, enjoying a delicious catch of the day, and drinking fresh coconut water.
Swim with dolphins in Puerto Morelos
As you pass through Puerto Morelos, you can also reserve a family visit to Delphinus. If you are traveling with young ones or senior adults, we recommend the Splash package. If you are looking for a more active experience, Supreme just might be the perfect package for you.
Spend a really fun day at Xcaret aquatic park
If you truly wish to be surprised by Mexican culture, Xcaret is the ideal place for you. Besides the aquatic activities, you'll encounter a diversity of artistic and cultural events such as a local rodeo, a Mayan village, and Xcaret's iconic dance event, México Espectacular (Mexico Spectacular).
Swim with dolphins in Xcaret
Here you will find the Delphinus habitat, which holds a Guinness record for the number of successful dolphin births. We recommend the Interax and Primax packages, to share this beautiful experience with your family. The dolphin swim is not included in the general admission to the park, but you can book both tickets at an incredible price with our Xcaret Dolphin Tour plus package.


Are you ready for the best-ever family vacation? The Mayan Riviera awaits you with the greatest activities that will create unforgettable memories for you and your family.