Ultimate guide to Riviera Maya, Mexico
First, we are going to establish what the Riviera Maya is, where it is and why it is so famous worldwide.
Located in the southeast of Mexico, it is a coastal strip facing the waters of the Mexican Caribbean that mainly covers the coast of Quintana Roo, including the island of Cozumel.
Usually, it begins about 36 kilometers south of Cancun, between the section that includes from the so-called Pueblo con Encanto of Puerto Morelos to Punta Allen, a remote earthly paradise in the extreme south of Quintana Roo, within the Sian Ka'an Biosphere Reserve.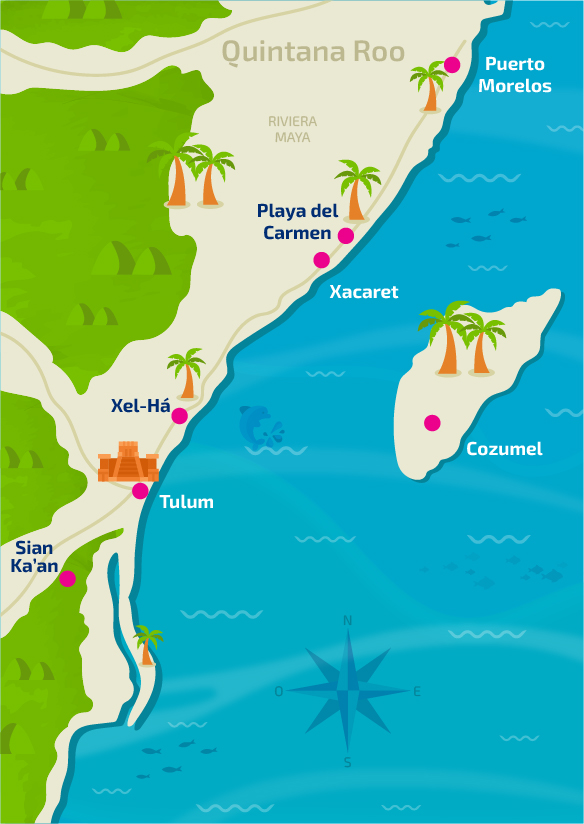 As a tourist destination, it began to develop in 1990 due to the boom that the area experienced since the '80s, and that boosted the tourism sector in the region; starting with the Cancun-Tulum corridor, which quickly became one of the most important economic sources for Mexico.
What has made the Riviera Maya so internationally recognized - at the level of other destinations, such as Hawaii - is the enormous amount of activities you can do in the Riviera Maya, as a couple, with family or friends. It is a natural and multicultural paradise with endless adventures for everyone!
In addition to the impressive turquoise color of its waters, a hallmark of the Mexican Caribbean, it has extensive beaches of fine white sand, majestic archaeological sites, and the largest system of underground rivers, cenotes and caverns in the world embedded in the heart of the Mayan jungle.
Here you will also find countless luxury hotels, water and adventure parks, and picturesque towns that still preserve vestiges and traditions of the ancient Mayans. You can also visit and know in the Riviera Maya a part of the second largest reef in the world, known as the Great Mayan Reef and teeming with amazing marine life.
Main places to go in the Riviera Maya
The entire Riviera Maya is beautiful, however, it has different types of locations for all tastes; and some more instagrammable than others. Places, like Playa del Carmen, have hotels and shopping centers with greater infrastructure, and others, like Akumal or Puerto Morelos, are villages with a quieter atmosphere, away from the hustle and bustle of the city.
It is very important that you decide or plan your vacation considering the different Mexican Caribbean seasons. For example, the so-called high season or when there are more tourists in the area coincides with the school calendar: winter vacations, from December 20 to 31; Easter vacations, from April 11 to 22; and summer vacations, which begin on July 29.
During the winter season, although it may not seem like it, temperatures are usually lower, between 20º and 28º C; while in the summer, the Caribbean heat can reach up to 38º C.
Two other seasons that are important to consider when planning your visit to the Riviera Maya are the hurricane season, which officially begins on June 1 and lasts until November 30; and in recent years, the sargassum season, which runs from May to mid-September.
What is certain is that, regardless of the time of year, in each destination you can find different options for entertainment, fun and culture. The most visited currently are: Puerto Morelos, Playa del Carmen, Playa Mujeres, Xcaret, Xel-Há, Tulum and Sian Ka'an..
How to go to the beaches in the Riviera Maya
Uno de los primeros lugares para ir en la Riviera Maya es, por supuesto, la playa. En la Riviera Maya hay dos opciones: puedes acudir a alguna playa pública, como las que se encuentran en Playa del Carmen, Puerto Morelos y Tulum, o puedes disfrutar de las playas exclusivas de algunos hoteles y clubes de playa; solo considera que, para entrar a ellas, debes pagar una cuota, un day pass o estar hospedado en el hotel.
Safety in the Riviera Maya
Safety in the Riviera Maya is very well protected, both by the authorities and by private companies, which the same businessmen and hoteliers hire to guarantee a safe stay for their visitors.

Thanks to these joint efforts, thousands of tourists who arrive year after year can safely walk through places such as the Hotel Zone of Cancun or the Fifth Avenue of Playa del Carmen.

Some areas with less hotel infrastructure, such as the town of Puerto Morelos and other coastal cities, are quiet and peaceful destinations; For this reason, they have become the favorites of couples who seek to spend intimate moments of tranquility and of families that feel very safe with their children there.

Regarding health safety, the Riviera Maya has kept many of its tourism activities open thanks to the fact that companies, hotels and recreational centers have adapted their protocols to comply with the standards established by the World Travel and Tourism Council ( WTTC) for

safe travels for the duration of the pandemic
Quick list for safe travel to the Riviera Maya
1.
Organize your trip with the help of tools such as Google maps, calendars, and apps to organize your expenses and, of course, with all the remote service tools that hotels or recreational centers can offer you.
Pro tip: take advantage of the packages that some recreational centers already have pre designed; so you will not have to worry about organizing a lot and, most of the time, they are cheaper because they know exactly what you should and shouldn't spend.
2.
Once you've arrived, quickly locate where convenience stores and pharmacies are. Make sure you have antibacterial gel, masks, insect repellent, etc. on hand. In the same way, do not forget to ask where you can find sunscreen and repellents that are eco-friendly to avoid the damage to the natural balance, and where you can dispose of your masks properly.
3.
If you travel as a family or as a couple, share all the information of the trip itinerary, with schedules, dates and places and establish key places to go, in case they could get lost while going for a walk.
Places to go in the Riviera Maya: Main attractions in the Riviera Maya
What to do in Puerto Morelos?
It is one of the most beloved destinations for local tourism, but also for people from different countries who find here a place to spend their quiet days of retirement.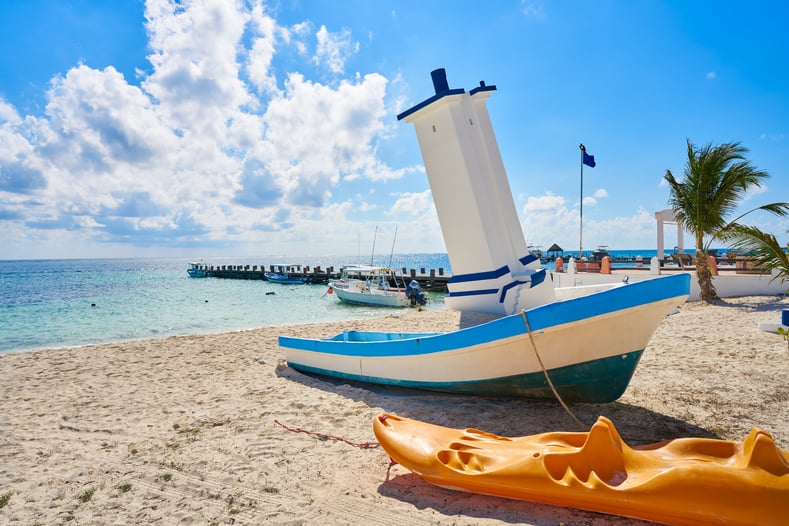 Activities
Walks along the beach and the boardwalk, boat trips offered by the locals themselves, who are mainly fishermen; diving and snorkeling tours, or visit some nearby cenotes of the famous Ruta de los Cenotes.

How to get there
Through the highway from Cancun, Playa del Carmen or Tulum, it is quite easy to get to the Puerto Morelos bridge, where you will have to transfer a van or walk along the walkway to the edge of the mangrove, to get to the port


When is it better to go
Like the rest of the Riviera Maya destinations, it's all about taste. The Caribbean Sea tends to always maintain a spectacular beauty in any season. So, in addition to summer, you may be interested in visiting it in December, the month in which the Puerto Morelos Fair takes place.

If you travel as a couple
Do not miss the opportunity to take a relaxing massage in front of the sea, meet new friends in one of the many beach clubs or try its interesting gastronomy in one of the many restaurants in front of the boardwalk.

If you travel with kids
You will love walking along the boardwalk and along the coastal area, but there are also places like Dephinus Puerto Morelos, located on the boulevard of the municipality where there are fun family programs and activities to interact with dolphins.
You can't miss
Taking a souvenir photo at the famous Puerto Morelos leaning lighthouse is, without a doubt, something that you cannot miss. Find out with the locals why that lighthouse was in this peculiar position; They sure have an interesting story to tell!
What to do in Playa del Carmen?
More than a tourist destination, it is a municipality with great infrastructure combined with the charm of a town on the seashore. Therefore, here you will find a cosmopolitan atmosphere among the hospitality of its people.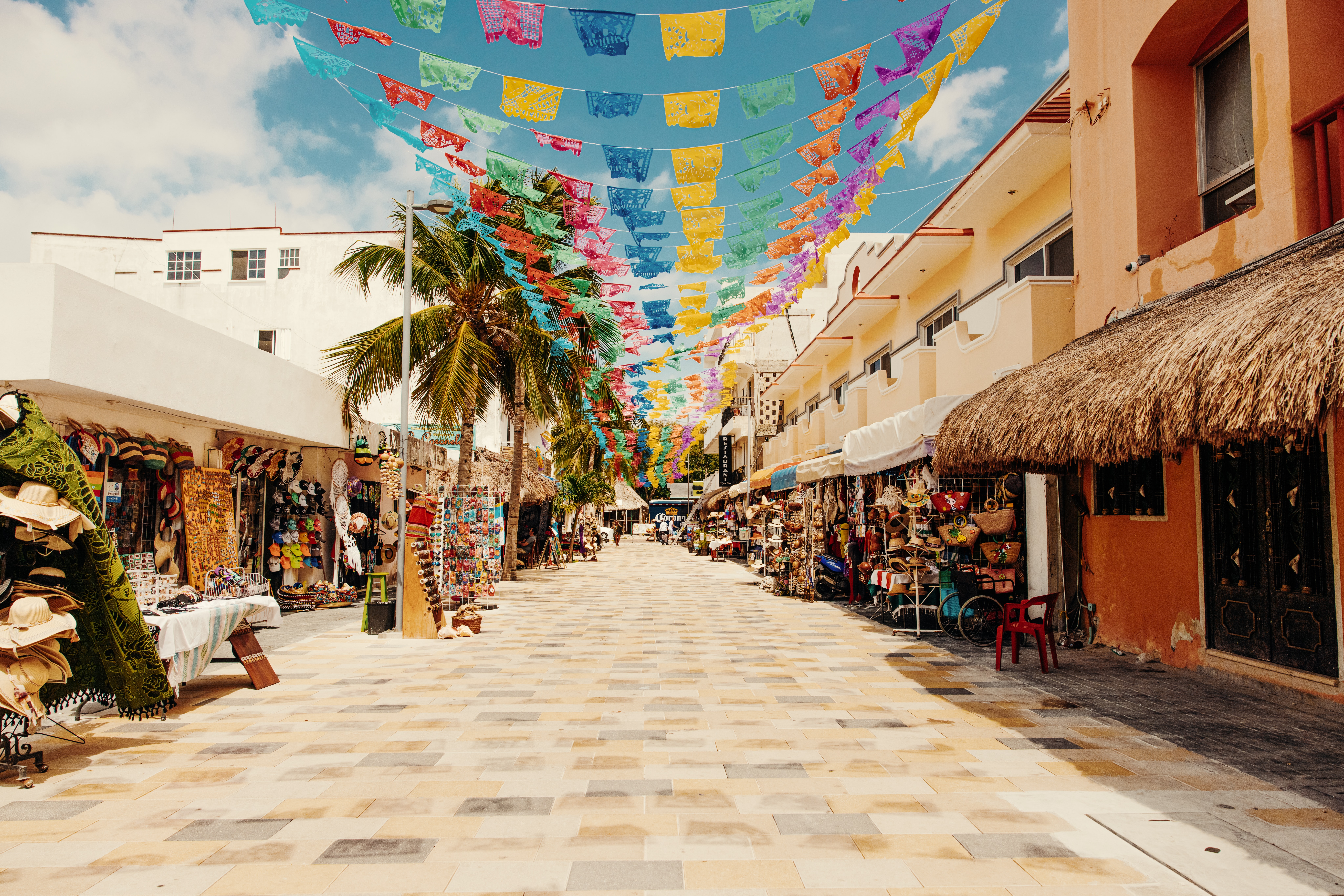 Activities
As an established city, you'll find everything here, from shopping malls and fine dining restaurants, to traditional craft shops, bars, and nightclubs.
Some very popular recommendations are:
Walk along Fifth Avenue, an icon of Playa del Carmen that houses numerous stores of recognized brands and a great gastronomic offer
Go sunbathing and a cocktail at Playa Mamitas
Take the ferry and cross to the paradisiacal island of Cozumel
Rent a bike and ride the streets of downtown or Fifth Avenue
Enjoy its vibrant nightlife

How to get to Playa del carmen
You can get there from several destinations: leaving from Cancun, taking a bus at the ADO terminal or in your car, although there are also public van-type transports that go to the beach.
If you already have a travel route or a plan of your activities with a hotel or recreation center, you can ask about their transportation plans included in your reservation.


When is better to go
At any time of year. There is always something to do in Playa del Carmen and its various parks, squares and public beaches.
In addition to the great New Year's Eve party, when Fifth Avenue fills with color, party and fireworks, visiting Playa del Carmen during the Day of the Dead celebrations (November 1 and 2) is an excellent idea. During these days, the Mayan tradition of Hanal Pixán revives among altars, locals and tourists dressed up in the streets, and delicious typical dishes of this time.

If you travel as a couple
Definitely, the best thing that Playa del Carmen has for couples is the nightlife and the possibility of living unique experiences in nearby nightclubs and water parks. Stroll through the markets, such as the Mercado de Nuestra Señora del Carmen, where you will surely find the perfect memory of your trip.

If you travel with kids
You will find many options to do with your little ones, such as strolling through the famous Parque Fundadores - where Fifth Avenue begins - very close to the public beach and where there are always local activities.
You can also rent a bicycle and stroll through the colorful streets of Playa del Carmen until you reach Playacar, a residential area at the beginning of Fifth Avenue, full of vegetation and with some Mayan vestiges.
Don't miss the opportunity to visit museums such as the 3D Museum of Wonders or the Frida Kahlo Museum; in addition to the Planetarium that always offers interesting talks and workshops on science and history of the Mayan culture.
You can't miss
Swim with dolphins in the Riviera Maya, very close to Playa del Carmen. This is one of the best experiences that you can enjoy, either as a family or as a couple, since this habitat is extraordinarily beautiful and dolphins live naturally. The schedule to enjoy this experience is between 9:00 a.m. and 5:30 p.m.
What do in Tulum?
World wide famous for hosting some of the most beautiful and impressive Mayan vestiges of this culture, the archaeological zone of Tulum offers a unique postcard of a Mayan pyramid facing the turquoise waters of the Caribbean Sea.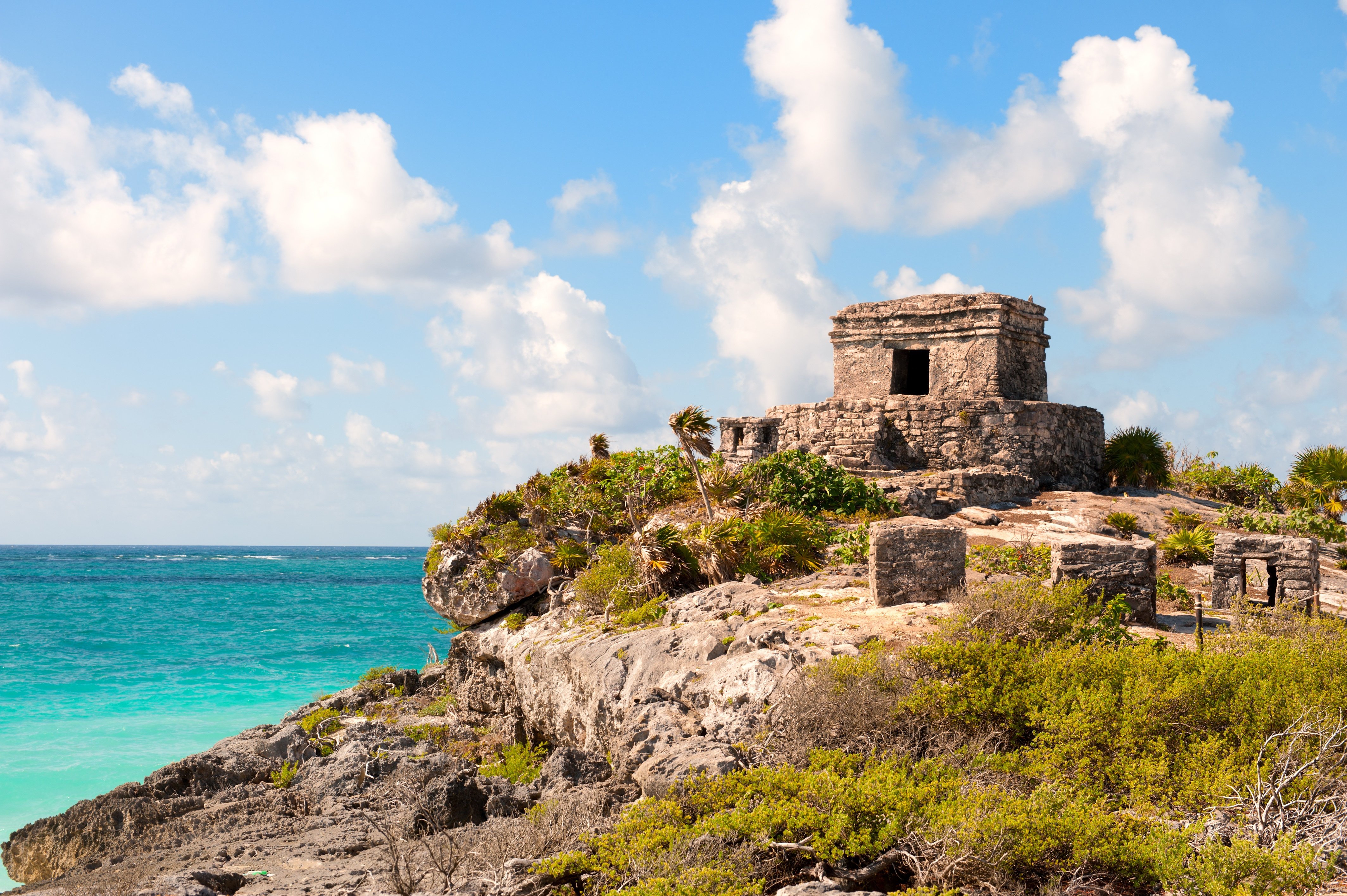 In ancient times, Tulum was a strategic point for trade and exchange with other cultures; For this reason, today we can observe an architecture specially designed to monitor the coasts of this destination, for something it is known as "the walled city".
It was also a society that deepened the study of the stars, which endows these vestiges with spectacular views for the observation of the stars for amateurs or for those who enjoy meteor showers, eclipses, etc.
Surely you have heard of the events and congresses that take place here; from business events in which business leadership, real estate and tourism issues are discussed; to must-see parties and musical events.
Activities
You can camp or rent a cabin in the beach area very close to the ruins, take a paddle board ride or explore the Great Mayan Reef with a snorkeling adventure. Tulum is located near the Sian Ka'an reserve, so you can complement your tour by visiting this paradisiacal protected natural area.
Some very popular places like the beach club of Papaya Playa are great to cool off before visiting places like the giant sculpture that seems to open its heart, located on the Tulum-Boca Paila highway, where you will surely want to take a photo of the memory.

How to get to tulum
By road from Cancun, Puerto Morelos or Playa del Carmen, it is very easy to get there, as there are several public transport options; Although you should consider that the hotel zone of Tulum is located 4.5 km from the center. If you want to stay there, you can get there by private transport, taxi or bicycle.


When is it better to go
At any time of the year, but definitely in spring and summer you will find many things to do. You can also be aware of their official tourism pages, for the dates of important events, such as the equinoxes and solstices, important dates in the Mayan worldview.

If you travel as a couple
In addition to romantic dinners in front of the Caribbean Sea, a must for lovers is the Kaa Luum lagoon, whose transparent waters of different shades make up a natural pool and the perfect setting to relax with your partner in a hammock or on the pier.

If you travel with kids
The best thing is to do recreational activities or tours of the archaeological zone. Some families camp or go for a walk for several days, but it all depends on the type of activities that they like as a family, since they will find:
Flora and fauna observation tours
Guided tours of cenotes
Snorkel tours
Paddleboard or kayak adventures
You can't miss
You definitely can't leave Tulum without taking a souvenir photo at the most popular Mayan pyramid in the Riviera Maya.
What to do in Xcaret?
This ecotourism park is one of the most famous inside and outside of Mexico because, in it, you can carry out activities of all kinds, such as extreme sports or live the experience of interacting with dolphins, sharks and other species.
Activities
Xcaret has activities for everyone, from children to seniors, but definitely the greatest offer is found by adults with dozens of activities related to extreme sports.
These are some of the activities you can do at xcaret:
Swim through rivers and underground caves and cenotes
Enjoy water parks with slides
Visit the butterfly farm and the aviary
Swim and observe at the interactive aquarium
Go hiking through the jungle
Enjoy a tasting or a bottle of an exclusive wine cellar
Stroll through a henequen hacienda like those of yesteryear
Snorkeling and Scuba diving

How to get to Xcaret
Being one of the first theme parks in the Riviera Maya, it is a destination with multiple possibilities to get there. You can go by public or private transport, and almost all routes can leave you there. You can leave for Xcaret from anywhere on the Riviera by road.


When is it better to go
At any time of the year, but without a doubt, its extreme and adventurous activities are most enjoyed when there are not so many people, during the low season. Another good season to visit Xcaret is at the end of October and beginning of November, dates on which the now traditional Festival of Life and Death Traditions takes place, a great cultural sample of the Day of the Dead, an important date for all Mexicans.

If you travel as a couple
Nothing like enjoying an intimate moment with your partner surrounded by the beautiful landscapes of Xcaret. To do this and throughout the entire route, you will find small spaces with lounge chairs and hammocks facing the sea or the mouth of the Subterranean River, where you can rest with your partner enjoying - why not? - the delicious dishes offered by the restaurants of specialties at this place.

If you travel with kids
Xcaret has fun for all ages; a balance between activities for children, adults and seniors, although adventure-loving adults definitely enjoy this place a lot. The best for the little ones? The Butterfly Park, the Aviary, the Interactive Aquarium and the many islands with different endemic species, such as monkeys, deer and jaguars are, without a doubt, the best attractions for children.
You can't miss
What to do in Xel há?
Like Xcaret, it is an ecological park but with a slightly more familiar and not so extreme atmosphere. It is also famous for the multicultural shows that take place in the park's recreational facilities.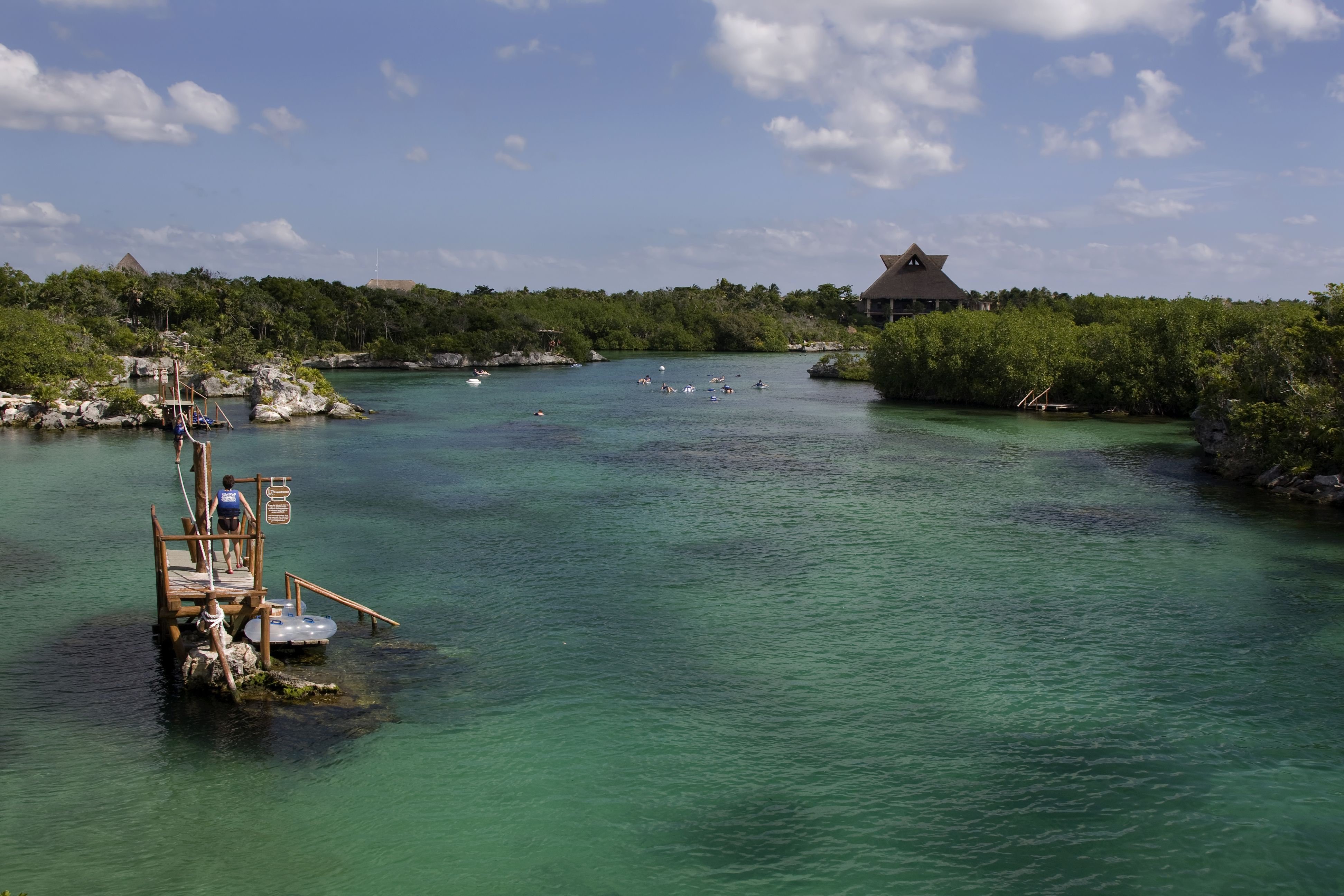 Activities
Xel-Há has been growing for several years as an ecological recreation center; It has various activities that have become iconic of the place such as the Chuck Kay Flight, visits at sea with Snuba Caleta, the bike ride through the Land of Huh or the walk through the Floating Bridge

How to get to Xel ha´
It is located 40 minutes by road from Playa del Carmen, and has many options to get there, including tour packages that reach that park and other nearby areas.


When is it better to go
Any time of the year is fine for Xel-Há; however, if you plan a family trip, spring and summer are an excellent option to take advantage of your vacations.

If you travel as a couple
Live the experience of creating a beautiful bond with dolphins and other marine species in an ideal habitat in the Mexican Caribbean, at Delphinus Xel-Há.

If you travel with kids
Tour on floating tires, bike ride, snorkeling adventure in the cove, hanging bridges, and sliding at full speed down the slides of the new Mirador Lighthouse at 40 m high, are some of the activities that you can do with your little ones. In general, Xel-Há has an excellent family atmosphere.
You can't miss
You definitely have to visit La Caleta, a natural pool where the waters of the underground river system of the Riviera Maya converge and the salty waters of the Caribbean Sea, creating a perfect habitat for numerous marine species, and contemplate the magnificent 360º view from the top of the Mirador Lighthouse.
What to do in

Sian Ka'an

?

It is a protected biosphere reserve and declared by UNESCO as a World Heritage Site since 1987. It does not have much infrastructure and the inhabitants are usually fishermen and some people who live there.

The name Sian Ka'an means, in Mayan, spell or gift from heaven and was part of the territory of two chiefdoms (Mayan form of government), Cohuah and Uaymil.

At the time of the colony it was part of the pirate route so it did not have settlements in communities during all that time and even today, as an ecological reserve, it is not a place with a lot of population.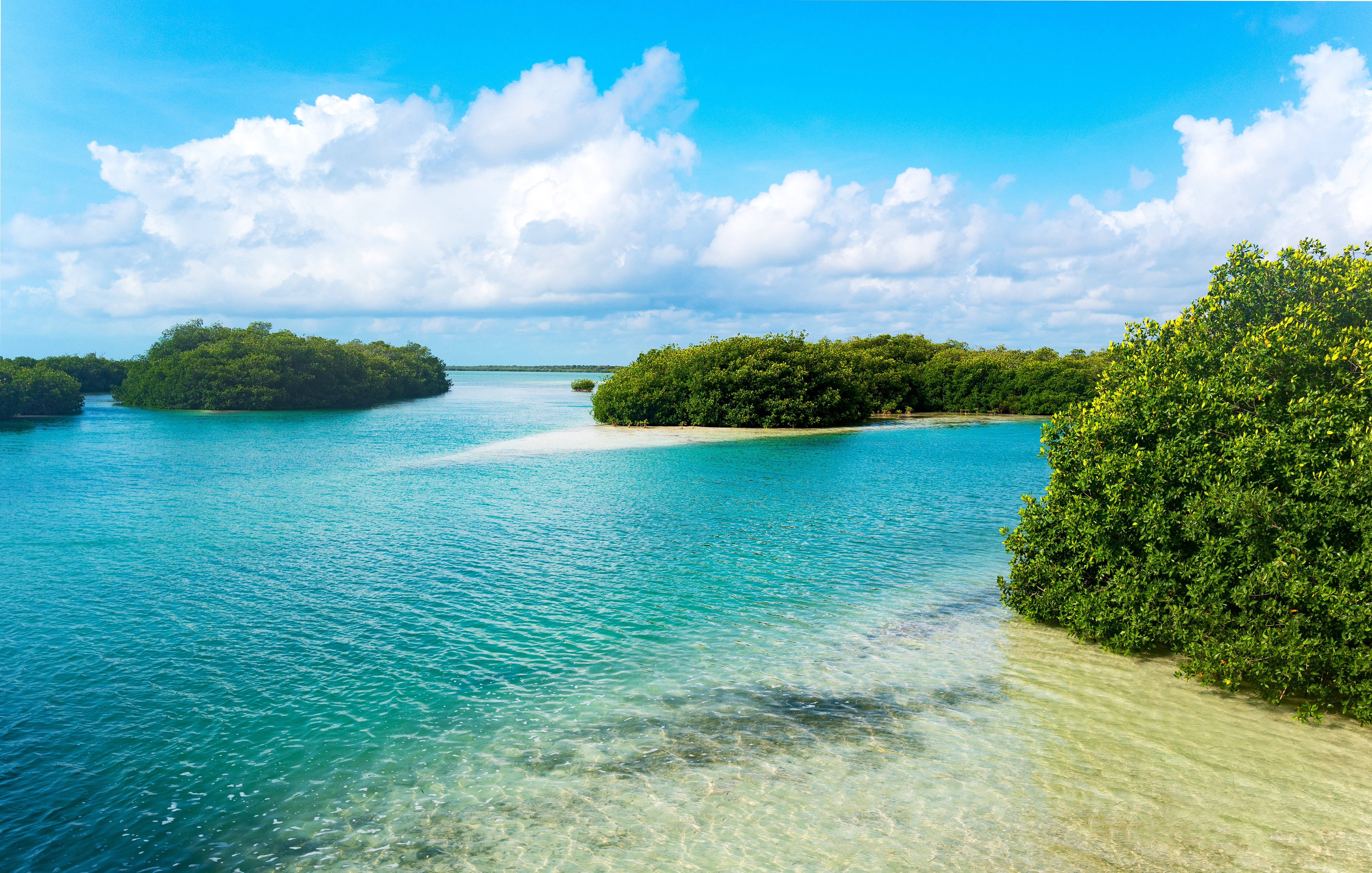 Activities
Sian Ka'an is mainly a fishing area, since being a protected natural area, the development of infrastructure like the one that exists in some places in the Riviera Maya is not allowed.
For this reason, its activities are related to the observation of flora and fauna and diving.
The areas that you can visit in tours are Punta Allen and Boca Paila, in addition, the route to get there is in itself a path full of imposing marine species such as the crocodile and hundreds of birds that you will love to see.
.

How to get to Sian Ka'an
It is located 140 km from Cancun and 10 km from Tulum. It is mainly reached by boat, at least, to the tourist areas where it is allowed to carry out tours or water activities with low impact on the species of the place. It is best to schedule an excursion in advance departing from Xcaret, Cancun, or Tulum.


When is it better to go
Since it is not an area where you can stay for a season, you can go on a tour at any time of the year, however, the best time could be spring and summer, when there is more influx of visitors so it is possible to share the boat ride through this area.

If you travel as a couple

If you travel with kids
Boat trips to some of the areas of the biosphere can be a very familiar option, but these are usually approached from Cancun, Playa del Carmen or Tulum; so anticipate travel times.
You can't miss
Visit Boca Paila and Punta Allen, the most popular areas in the tours of the place and get to know the Muyil and Chunyaxché lagoons where you can admire the mangroves and much of the fauna and flora of Sian Ka'an.
In addition, the wetlands of this reserve, which rise up among the herbs of the swamps, form ecosystems called petenes, which are islets with low-rise jungle-type vegetation, with very particular marine fauna that can only be observed there. Without a doubt a hallmark of this mystical place.
Subscribe to our newsletter
Receive every news, event and promotion, directly to your inbox.