Be it a destination wedding, honeymoon, or anniversary trip, Cancun has become one of the best places internationally for couples wanting to celebrate their love for one another. If you are planning a trip to the beach as a couple, keep reading - this article is for you.
The perfect plan in Cancún



Cancun is a beautiful place that offers perfect activities to share as a couple. Let's begin with the most iconic of them all: its beautiful white-sand beaches and crystalline waters.
Its beaches are perfect for water activities such as snorkeling, paddle boarding, catamaran or jet ski rides, parachuting over the sea, and much more.
In addition to the dreamy days in front of the sea, you'll find endless activities for you and your partner in Cancun. For example, if you prefer outdoor activities, you can take an excursion to Mayan archaeological sites, visit wonderful natural environments such as cenotes, and mangroves, or be amazed by its lush jungle on trekking or biking tours.
You'll find many beachfront bars and restaurants in the city, which are perfect for sharing a romantic anniversary dinner.
En la ciudad encontrarán numerosos bares y restaurantes frente al mar, perfectos para compartir una romántica cena de aniversario. Punta Cancún lights up at night with lights and music for a night of partying and dancing in any of its iconic nightclubs.
Delphinus Couple Dreams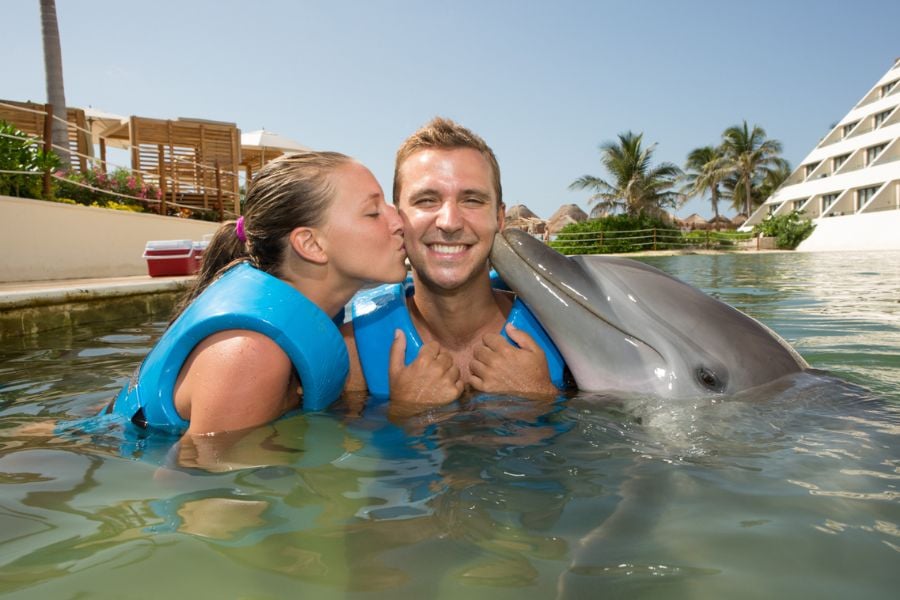 But for a truly unique and unforgettable plan, Cancun offers the beautiful opportunity to swim with dolphins as a couple.
At Delphinus we know how important that special moment with your life partner can be, so we created a special experience for couples who want to get closer to the adventure of swimming with dolphins: Couples Dreams.

It includes 21 activities such as clapping, swimming, and jumping in an exclusive 45-minute experience where you and your partner can marvel together over the magic of dolphins.

This experience is available at our Punta Cancún habitat and at the Interactive Aquarium Cancún. In the latter, we have a package that includes the swim with dolphins experience and entrance to the aquarium.

Make your Cancun couples vacation one of the most special moments of your lives. At Delphinus, we cannot wait to celebrate with you and create unforgettable memories.