The Mexican Caribbean is a beautiful tourist destination that welcomes its visitors with breathtaking natural surroundings, ancient culture, and attractions for every type of visitor. Swimming with Dolphins in Cancun and the Mayan Riviera is, without doubt, one of the most enriching experiences that will create beautiful memories for you and your family.
Swim with Dolphins in the Mayan Riviera and Cancun

We at the Delphinus family wish to bring the experience of swimming with dolphins to more people, always in a respectful manner that brings consciousness to the animals and marine ecosystems. We have 6 habitats and an interactive aquarium, each designed in harmony with its environment and with the highest animal welfare standards, where young and old can enjoy this experience.

We'll tell you a little more about each habitat:
Cancún
The best location for swimming with dolphins in Cancun is in the Interactive Aquarium, home to more than 140 marine species - fish, invertebrates, mammals, reptiles, and cetaceans. Open 365 days a year, touring the aquarium is perfect for people of all ages. Our special recommendation is the Swim with Dolphins + Aquarium Trek package, a premium experience that includes access to the aquarium, a submarine walk, and interaction with the dolphins
Punta Cancún
In the heart of this coastal city's hotel zone, you will also find an excellent option for planning your Swim with Dolphins experience. Hotel Hyatt Ziva is home to one of our Delphinus habitats, offering five swimming experiences for every type of traveler: Supreme, Couples Dreams, Ride, The One, and Splash.
Playa Mujeres
Ideal for travelers who prefer exclusivity and comfort, our habitat in Playa Mujeres stands out for being the only dolphin habitat that is fully integrated into the beach. This habitat is located inside the luxury hotel, Dreams Playa Mujeres Golf & Spa Resort, located in an area considered the "new Cancun" for its beaches that are set apart from the hustle and bustle of the city.
Puerto Morelos
This quiet fishing village harbors a great treasure: it is home to the second-largest coral reef in the world. If your plans include a visit to this wonderful port, don't forget to include a stop at our habitat.
Riviera Maya
The Riviera Maya offers an endless number of activities of all kinds that you will find along its 140 kilometers of coastline and jungle. For example, you can visit Mayan archaeological sites, dive in cenotes, take a bike or ATV ride through stretches of jungle, enjoy its beaches, and more. Here you will also find a beautiful Delphinus habitat where you can get up close and personal with these marvelous sea creatures. Whether you are traveling with your family or alone, we have a perfect experience waiting for you.
Xcaret
Within the tourist attractions that you'll encounter in the Mayan Riviera, you'll find this beautiful ecological park that is perfect for getting to know more about the traditions and cultural heritage of Mexico and the Mayan people. Amongst the various aquatic activities that you can enjoy in this park, swimming with dolphins experiences such as Interax and Primax are offered here.
Xel - Há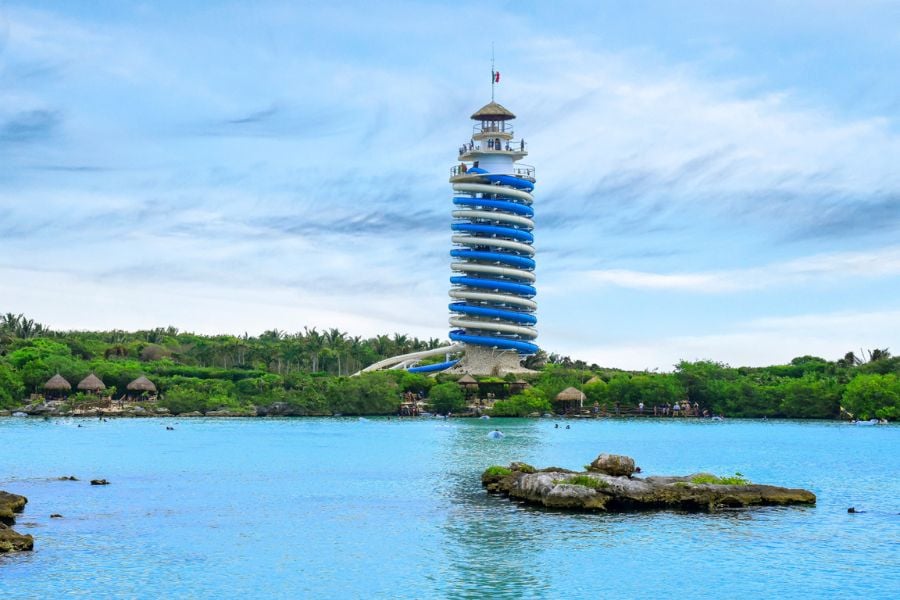 This is another beautiful ecotourism park in the Mayan Riviera, where you will find one of the best lookouts in the area, nestled in an exclusive region that combines jungle, freshwater, and saltwater. Among the Delphinus experiences you will find here, we especially recommend the Trainer For A Day package where you will experience up close how the special bond between our dolphins and their keepers is formed. We also recommend the Delphinus Trek, an immersive experience in which you will safely enter 4 meters deep to interact with the dolphins in their habitat.
The most incredible vacations are waiting for you! And to help you organize your plans, we have created an online calculator to include any of our experiences in your Caribbean tour. Choose the location, type of swim and number of guests, and enjoy this incredible experience.