Unquestionably, Cancun has everything to spend an incredible vacation with its white-sand beaches, spectacular weather, and crystal clear waters. And if we add to this the exclusive shopping, five-star service, and exciting nightlife, it's not surprising that both Mexican and foreign tourists choose to stay at the resorts of the Hotel Zone.
If this is your case, you'll be happy to know that close to this hotel complex is located an attraction where you can also live the experience of swimming with dolphins. Of course, we're talking about the Interactive Aquarium Cancun.
Location and attractions
Located within La Isla Shopping Village, one of the most visited malls of Cancun, and only 20 minutes away from the airport, the Interactive Aquarium offers a ton of fun activities for all ages, both in and out of the water.
Getting to this mall is not complicated at all, as there are many bus lines that can take you straight to the gates of the Aquarium from any point in the Hotel Zone.
Besides, there's a wide range of gourmet restaurants on La Isla, where you can enjoy international dishes, and also many attractions such as a wax museum, the Great Ferris Wheel, and boat tours to the Nichupté Lagoon.
Back on the Aquarium, on their different sections you can admire almost 1,200 aquatic species, including clownfish, corals, Southern stingrays, and sea urchins. Learn about their nature, see them swim, and feel the texture of a starfish… all for only 15 USD!
Dolphin Interactions
Now, if you want to live an unforgettable experience, you have to swim with dolphins in Cancun! The best part is that with any program you purchase, your entrance to the Aquarium is already included! There are different options to choose from, and we tell you all about them here:
Splash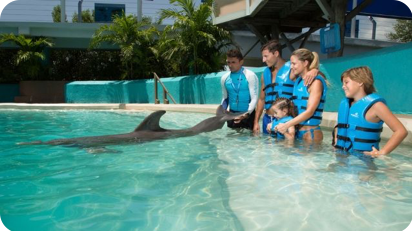 Fun for the whole family, especially if young children or older adults come with you. Caress the dolphins, learn about their nature and marvel at their intelligence through 12 activities.
Ride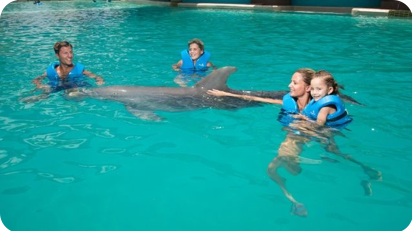 Enjoy 14 activities in groups of no more than 10 people, including a fun ride drawn by the dolphin's fin. When you finish, receive a lovely kiss from your charismatic host.
Premium + Aquarium Trek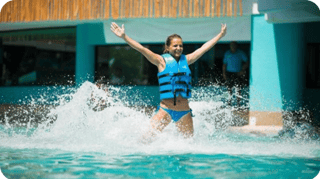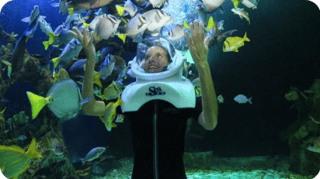 In a small group of up to 4 people, you will perform 18 amazing activities, including the famous foot push where you will slide over the water with the help of two friendly dolphins.
On top of that, you will have access to the Aquarium Trek, an immersion in a giant fish tank-using a special Sea Trek helmet-where you will be surrounded by various marine species that you can play with. (Note: this activity usually has an extra cost).
Couples Dreams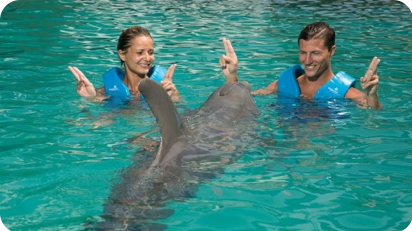 An exclusive experience for couples, best friends, or to share with a very special person! Enjoy 21 activities with our dolphins, admire their skills and receive a surprise present at the end of the swim.
To end your visit with a bang, enjoy the amazing dolphin and sea lion show, which is presented every afternoon before closing.
So now you know: the next time you stay at the Hotel Zone you can hit the Interactive Aquarium to swim with dolphins, go back to your room in a flash, and continue enjoying all that Cancun has to offer. Plan your visit today and get a special price by booking your swim online.