When you're planning your vacations to Cancun, perhaps the thing that worries you the most is if whether or not you're going to have sunny weather on the beach. Also, who can deny that a sunny day is a perfect setting for your travel photos?
So what do you feel when you get to this heavenly place and a gray cloud appears in the sky? Disappointment, hurt, sadness?
Don't let the rain ruin your plans! If you don't mind getting wet (because you're going to do it anyway), there are many activities you can enjoy if it's raining, whether it's indoors or outdoors. Get to know them!
Rainy season at the Mexican Caribbean
Before heading on a rainy-day adventure, you should check the information about the rainy seasons, so you know what to expect when traveling to Cancun and Riviera Maya.
If you travel from December to April, you don't need to worry since this is the driest time of the year. So you'll rarely see your plans change because it seldom rains at night, with the occasional shower in the afternoon.
By May, the rain intensity increases, as there are now full days of rainfall. And from June to November is the hurricane season, when storm warnings are more frequent. There may also be weeks when tropical depressions produce the average rainfall of a whole month.
A rainy (and perfect) day in Cancun
Now, it's time to get creative and chill, as there can be no rain that prevents you from enjoying the attractions and activities that we recommend below:
Explore a cenote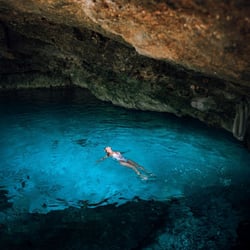 Swimming in an underground cenote is a must on your trip to Cancun. These cavernous formations are unique to the Yucatan Peninsula and there are many scattered throughout the Riviera Maya ... some are even equipped with zip lines!
And when it rains, your experience can become even more special since the limestone in the caves isolates the outside environment, causing a pleasant temperature inside so you can swim and snorkel for hours. Just don't forget your towel and umbrella for when you go back outside!
Go to a museum
The museums are a great alternative for your family to do something while it rains, and so you won't feel trapped in your hotel rooms. Among the most popular are:
The Mayan Museum of Cancun. If you want to know the history of one of the most advanced cultures in Mesoamerica, visit this collection of more than 350 archaeological pieces recovered from various sites throughout the Yucatan Peninsula.
Cancun Wax Museum. Located in the La Isla Shopping Village, here you can take a selfie with the most emblematic figures of culture and entertainment from Mexico and the rest of the world.
Visit the Interactive Aquarium of Cancun... and swim with dolphins!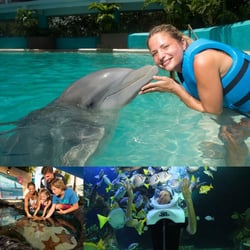 Speaking of the La Isla shopping center, there you can find the Interactive Aquarium of Cancun, a place where you can learn more about the mysteries of the deep-sea... without leaving the Hotel Zone.
Moray eels, clownfish, piranhas, corals, and scorpionfish are among the 140 species that inhabit the aquarium in 13 fish tanks with natural environments.
You can also feed rays, touch a starfish or even have an immersive experience with the fish while wearing a Sea Trek equipment.
And to top your visit, don't miss the opportunity to live a spectacular swim with dolphins. The interaction takes around an hour and you can choose between 3 swimming programs, with different activities that will bring you close to this charismatic marine mammal and let you know more about its nature.
Go shopping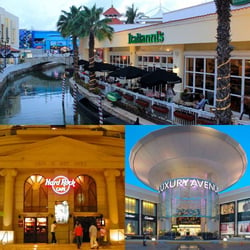 The Hotel Zone of Cancun offers a wide range of malls that compete with the best shopping districts of the United States or Europe.
At Kukulcan Plaza, La Isla Shopping Village, and Forum By The Sea you can find exclusive brand stores such as Hugo Boss, Fendi, Cartier, Louis Vuitton, Tommy Hilfiger, and Nine West, just to name a few.
In every one of these spots you can enjoy modern facilities and entertainment concepts that integrate high-end shopping with gourmet experiences, family activities (see points 2 and 3) and an exciting nightlife.
Relax in a spa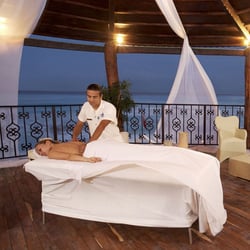 If rainfall is one of the sounds that brings you relaxation and peace, imagine hearing it while you're having a massage or a revitalizing treatment!
And if there's something extraordinary about the resorts and hotels of Cancun and Riviera Maya, is its wide range of spas and wellness centers that will help you achieve a perfect balance of body and spirit. Guaranteed you'll get spoiled, come rain or shine.
As you can see, Cancun and Riviera Maya always have something exciting to do, regardless of the weather and time of the year. So, if you are bound to come soon and someone asks you "what are you going to do if it rains?", tell them that you are going to... make a splash!