The dolphin swim experience is an unforgettable gift that the whole family can share and enjoy. Although there are several places to swim with dolphins, it is important to find out about the care, type of interaction, and treatment that these beautiful marine beings need before choosing where to live this experience.
For us, dolphins are our family, and it is our priority to take care of them as much as we take care of yours. That is why we have prepared this basic guide to solve all your questions, share some tips to be prepared, and give you all the necessary information to enjoy this beautiful moment.
Swimming with dolphins, a way to become aware
Having a close moment with animals as playful and friendly as dolphins is, undoubtedly, an experience that will fill young and old with joy. In addition to how fun and exciting it is to swim with dolphins, it is also an opportunity to become aware of the animal kingdom, learn more about marine habitats, and become aware of the importance of their conservation.
One of our objectives at Delphinus is to share the love, admiration, and respect that we have for these beautiful animals. That is why all our experiences of interaction, learning, and fun are designed to prioritize the well-being and safety of all participants, people, and animals.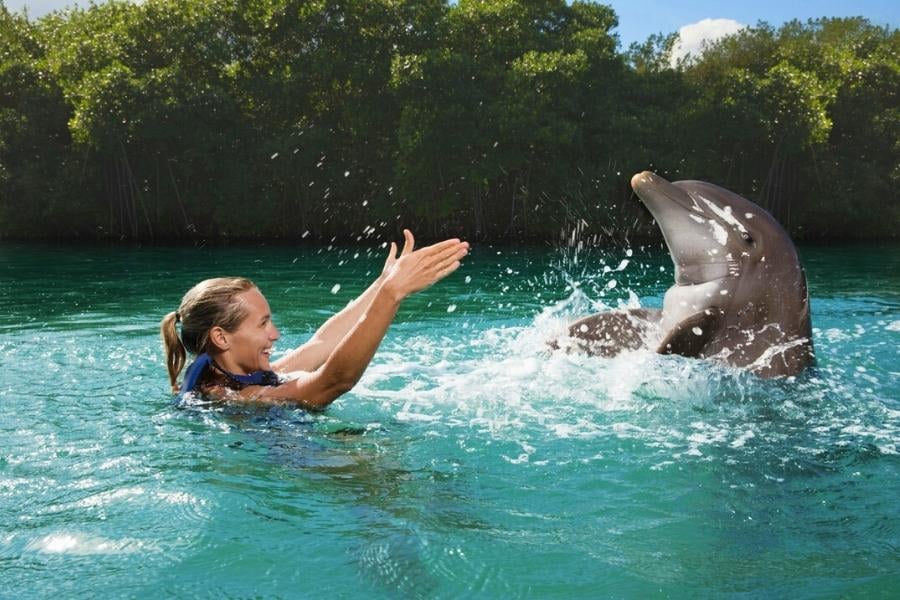 Basic guide to swimming with dolphins
Select the perfect experience for you and your family
We have more than 18 different experiences of swimming with dolphins, each one created to offer a unique moment. We share some of them:
We have designed experiences for all tastes and ages, with the aim that people find the ideal activity and feel 100% comfortable with the dolphins. Click here and know all the Delphinus experiences.
Wear comfortable and appropriate clothing
Having selected your dolphin swim experience, you must wear comfortable clothing and a suitable swimsuit. We recommend full-body swimsuits for women and shorts for men.
Avoid chemicals and jewelry on the day of the interaction
All of our habitats are part of a dolphin ecosystem conservation program. Although all participants go through a shower before entering the home of our dolphins, we recommend that you do not use any type of sunscreen, suntan lotion, or perfume on the day of the experience
It is also important that you take into account that you should avoid the use of necklaces, bracelets, earrings, watches, etc. If for any reason you must bring any of these items, it is necessary that you mention it to the specialist. For your comfort, we have lockers for you to store your belongings. If you have doubts, you can approach any person on our staff.
Listen to the instructions of our animal care specialists
Before entering the interaction area, we will teach you how to approach the dolphins, the correct way to touch them and allow them to approach you. Remember that they are very curious animals, and they will want to come to meet you, greet you and welcome you to their home. Our specialists are trained to explain to children everything about dolphins.
Wear the life jacket
We want to take maximum care of your safety and that of your family. So that everyone is calm and safe to fully enjoy the interaction, we provide life jackets according to the age, weight and height of all participants.
Enjoy the moment to the fullest
So that you can enjoy this experience 100% and not to distract our dolphins, Delphinus has a team of specialist photographers to capture the most memorable moments. So you can focus on living this experience from start to finish.
Like any close activity with animals, you are likely to have a few more questions. That is why we have prepared a section of frequently asked questions to solve any issue that may arise. If you still have doubts or have a particular case, do not hesitate to write to us or approach any of our staff.
With all this information, we are sure that your experience of swimming with dolphins in Delphinus will be deeply transformative. Offering the opportunity to approach these magical marine beings with love and respect is our priority and we are very honored that more and more families trust us.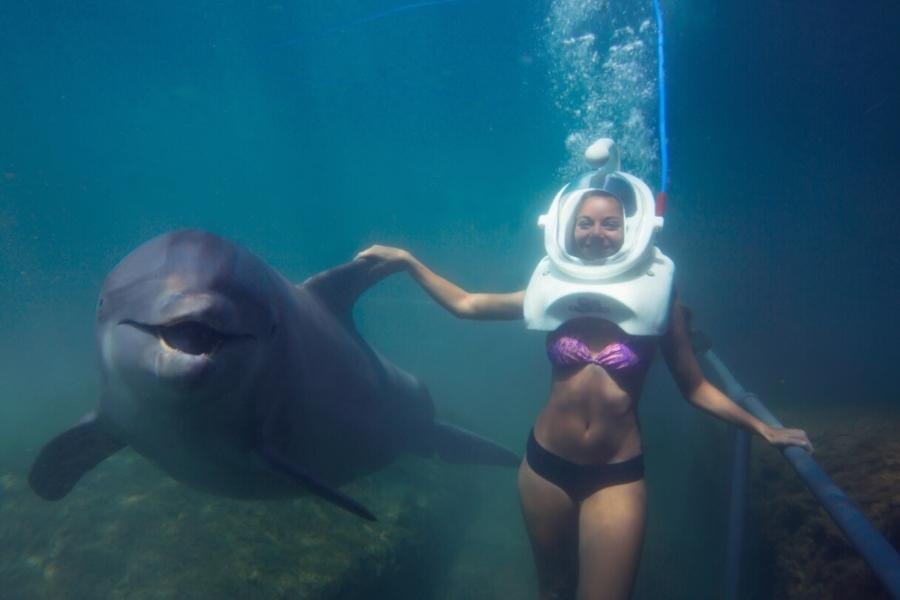 We want more and more people to have the gift of getting to know dolphins up close, becoming aware of the care of their habitats and connecting in a more intimate way with nature and the animal world.