Cancun is one of the most chosen destinations in Mexico, it has beautiful beaches and gorgeous resorts, but it is also a great place to go with the family.
If you are thinking of going to Cancun, here are some things you should do while being there with your loved ones.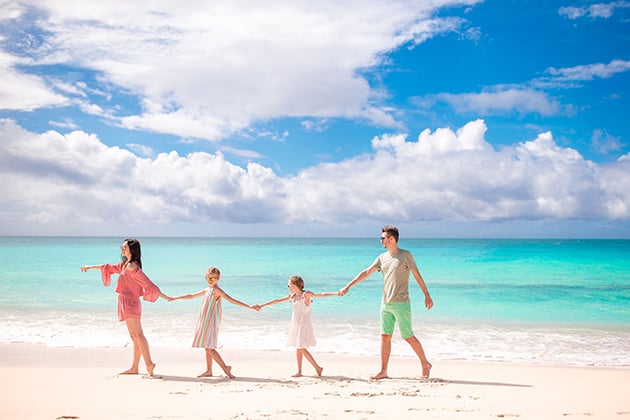 Why visit Cancun?
Cancun is considered to be the heart of the Riviera Maya, the gorgeous beaches, great weather, and amazingly clear and clean waters, Its unique location in the Caribbean Sea makes it a great tourist destination for families and travelers.
Putting the natural beauty aside, Cancun is filled with top-rated boutique hotels, trendy restaurants, and family-friendly activities, all of which make it the perfect place to go with your loved ones.
If you are concerned about the Coronavirus, you must know that Cancun hotels have been the first to reopen after the lockdown, and they are using all the safety measures to keep you and your family safe.
Where can you stay?
If you are looking for the best family-friendly hotels and resorts to stay at, we offer you a list of a few of the most popular and well known places to book for you and your family.
Moon Palace – Cancun
A family-friendly resort that makes luxury feel accessible and not intimidating. There's a variety of restaurants, from steak houses to Asian cuisine and plenty in between.
There are clubs and bars for the adults, and plenty of activities for kids, like the wave simulator where they can learn how to surf, there are also two play areas for them, one has a focus on interactive and outdoor activities, and the other has a number of games and things to explore.
Accommodations offer a view overlooking a beautiful garden, the resort itself, or the stunning oceanfront.
Panama Jack Resorts Cancun
Is great for the whole family, this property features gorgeous swimming pools, a hot tub, cabanas with hammocks, poolside drink service, and more.
Some health and wellness activities that are included
Zumba on the beach
sports
spin class
aqua aerobics
For the kids, there's a play area called Camp Jack, a mini-golf where everyone can play together, a ball pit, supervision from well-trained staff, movie nights on the beach, and babysitting services.
Royal Solaris Cancun
This is a unique all-inclusive resort in Cancun Mexico, it's very bright and cheerful, a high-end luxury resort, but adjusted and affordable for families.
This resort has 5 different restaurants and 2 bars, Kids will enjoy sports, video games, and activities and adults will enjoy the daily themed parties in the ballroom.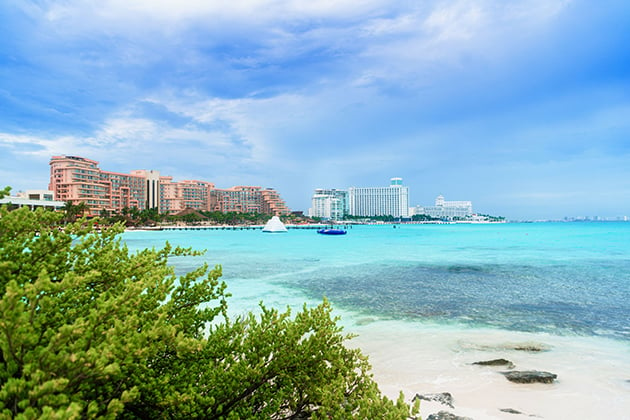 Places you shouldn't miss in Cancun
As in any trip, it is good to know what you can do in the place before you arrive, this will not only help you save time, but it will make your experience much more relaxed and enjoyable.
Feed the friendly Crocs at Croco Cun Zoo
For a wildlife experience unlike anything else, Croco Cun Zoo, a crocodile farm turned animal shelter that sits about a 25-minute drive from Cancun's Hotel Zone.
Unlike most zoos around the world, this establishment allows its visitors to get up close and personal with the animals, offering the unique chance to feed and touch the snakes, monkeys, parrots, deer, and crocodiles.
Tour to Isla Mujeres
With turquoise waters and one of the world's beautiful beaches, Isla Mujeres is easily one of Mexico's most beautiful holiday spots. And there's no better way to see it than by setting sail on a catamaran, soaking in the views of the pristine Caribbean Sea while the glowing sun beams down from above.
Get the ultimate tour in the most beautiful island where you could rent bicycles, golf cars, or take a ride in a kayak through crystal clear waters as you obtain a great view. Also, get a chance to see the underwater world filled with unbelievable multi-colored corals and marine creatures swimming freely among each other as if they lived in a civilized matter.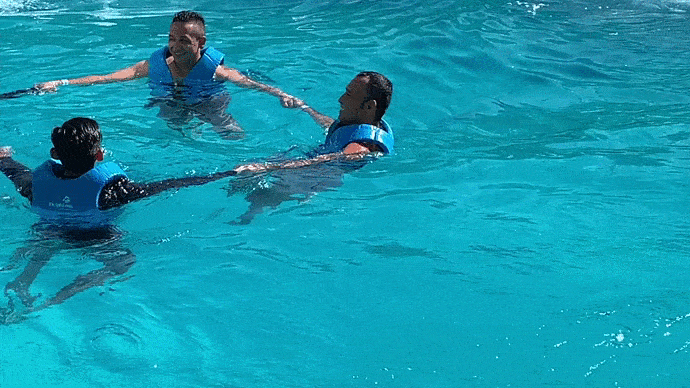 Interactive Aquarium Cancun
One of the most special experiences that Cancun has to offer is the opportunity to swim with dolphins. Delphinus interactive aquarium is located in Plaza la Isla in the Cancun hotel zone.
If you are thinking about swimming with dolphins, you should know that this is a full-on thrilling and learning experience that will give you much more than just a dive with them.
A family-friendly activity you will not want to miss. The aquarium is open Monday to Sunday from 10:00 to 17:00 hrs. And it has a variety of packages you can purchase for you and your family, booking in advance can get you great deals.