For centuries, humans have been fascinated with dolphins. And some of that comes from people's stories about how fun-loving and kind these creatures are, or how advanced and smart their communication and social skills are.
For example: did you know that, along with apes and humans, dolphins are the only known species that are aware of their own images and recognize themselves in a mirror? 🤯
These are the kind of notions we'd like you to discover and be amazed by, whenever you decide to take the next step and have an interaction with these wonderful marine mammals. And at Delphinus, you can make this dream a reality.
So, get ready because today we're going to share with you 5 tips that we are sure will make a truly unforgettable and wholesome experience out of your first swim with dolphins in Cancun or Riviera Maya. Check them out!
1. Be prepared: read the FAQ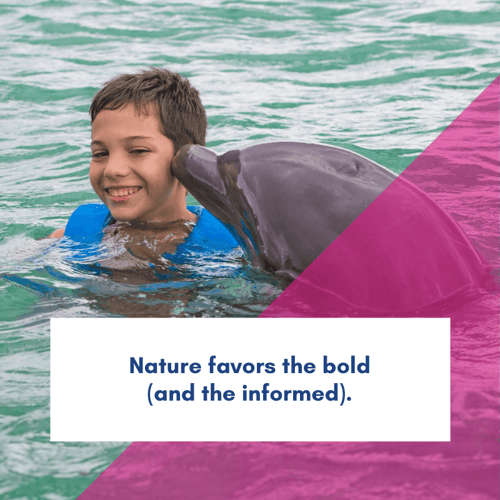 Clear your mind out of preconceptions and fears about this activity, and don't miss anything by reading the Frequently Asked Questions page.
By doing this, for example, you can be certain of what to expect if you're coming with children by checking the minimum height and age required to participate in the interaction.
Also, if you booked online your swim with dolphins, we suggest you confirm all the details in your reservation and bring a printed copy of it with an official ID.
2. Listen and learn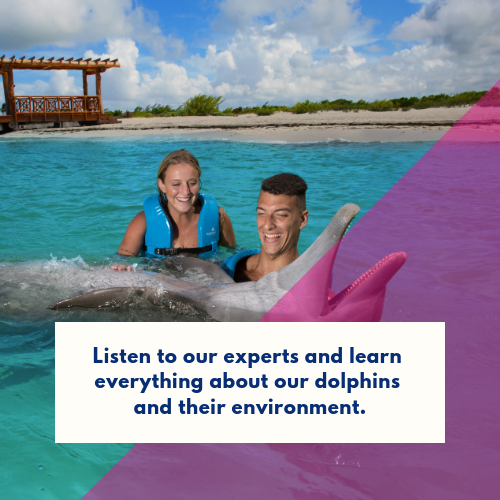 It's time! Everyone is excited to go on the water and meet their new friends. But first, you and your companions must carefully pay attention to the safety briefing provided by our animal care specialists.
Our experts are very skilled and know everything about the physiology, habits, and behavior of dolphins. And they are always keen to share their knowledge with you.
So, we suggest you stay curious and mindful during the whole program to be able to ask your questions, listen to the answers, and learn whatever you always wanted to learn about these wonderful species.
3. Every participant must use a lifejacket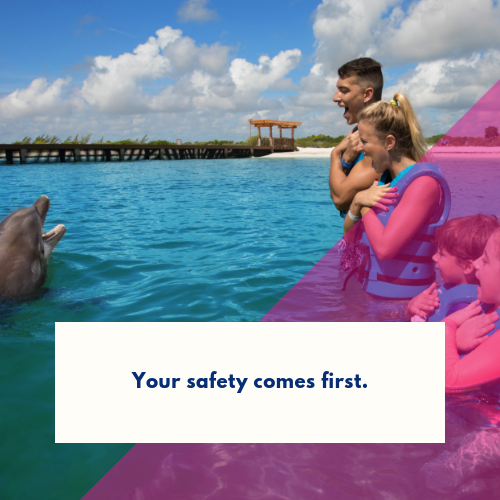 As an experience, a swim with dolphins in Cancun is mostly emotional but bear in mind that it is also a physical activity and a source of adrenalin.
Even though you don't have to be an Olympic swimmer to enjoy a dolphin interaction, you need to be aware that you'll be in the water on your own, so it's very important for you to feel comfortable and also to stay calm during the whole program.
That's why –­and this is also required by law– each participant must wear a lifejacket, and Delphinus provides you with one to ensure a more comfortable and safe experience.
*Note: For pregnant women, people with heart or back problems, or anyone who recently went through a surgery procedure, you can also live this incredible experience, although, for your own safety you will not be able to perform certain activities, such as the foot push.
4. Wear only a swimsuit
Dolphins have very sensitive skin and, since you will be able to touch them during your interaction, we suggest you avoid wearing sunscreen, oils or perfumes.
In the same sense, electronic devices, jewelry or any other accessories are to be left in the lockers to avoid causing any damage to the most sensitive parts of the dolphins' anatomy like the eyes, nose, or snout.
Tip for women: We recommend you to wear a one-piece swimsuit during your dolphin interaction program. This way you'll feel more comfortable to do the activities without having to worry about anything else.
5. Have fun!
This is your chance to be close to the dolphins! And our experts will constantly be monitoring every moment of the interaction, so you can hug them, kiss them and even go for a ride with them with confidence.
So rest assured that at Delphinus we spare no expense to guarantee both you and our dolphins will have a great time.
Now that you know this information… what are you waiting for? Book online today and come to swim with dolphins in Cancun!