The Riviera Maya is one of the most popular destinations around the world, not only for the gorgeous beaches but also for the wide variety of activities you can do there. If you are planning your family vacation, you need to know all these important things.
Planning your family vacation
When planning a family trip, is always important to have a list of things you need to have before going, things to remember while being there and activities you don't want to miss:
Main recommendations
Book your accommodations in advance.
Have a list of essentials, like sunscreen, sanitizer, treatments you or anyone from your family need to take, etc.
Prepare your budget.
Search about the places you want to visit.
Pack accordingly
Consider the local health measurements.
If you want to know more about how to plan them, you can take a look here.

Why should you visit the Mexican Caribbean?
Blue ocean, white sand beaches, rainforest, archeological sites, cenotes, underground rivers, islands, lagoons, Mayan culture and history.
The Mexican Caribbean is a paradise in Mexico where there is always something new to discover and activities you can enjoy with your family.
A family vacation to an exotic destination is always a great idea, not only for the memories you get but also for the experiences and fun that you will have, like exploring the Mayan ruins, visiting the beaches, swimming with dolphins for the first time, trying the local cuisine, etc.
Best beaches in the Mexican Caribbean
Playa Mujeres and Puerto Morelos
These are two of the most exclusive spots at the Riviera Maya, you will enjoy an intimate atmosphere and maximum comfort while laying on the white sand or swimming in their crystal clear waters.
These places offer a wide variety of activities such as diving, snorkeling, swimming with dolphins and family friendly shopping, you need to check them out.
In Punta Cancún the restaurants and the areas to walk with the family along the beach, present a spectacular view.
Inside the exclusive Hyatt Ziva hotel, you will find the Delphinus habitat where you can experience the adventure of swimming with dolphins. You can also visit the Cancún Interactive Aquarium.
It is a place where no matter the hour of the day, you will find something to do. It has both day and night activities which makes it retain the characteristic air of a Mexican town and the Caribbean rhythm of life.
Not only does it have an amazingly beautiful beach, it has sites and outdoor activities like visiting the eco-park.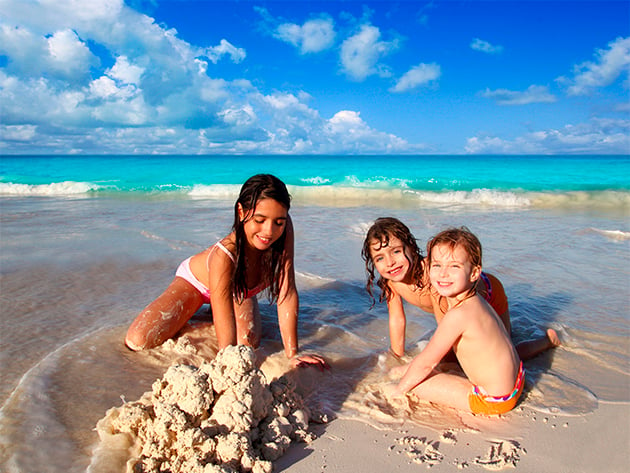 Family-friendly activities to do
Selvatica, located in Puerto Morelos, is a jungle-filled adventure park featuring 12 zip lines, ATV tours and a slower-paced exploration of the region's cenotes and natural caves, which are perfect for families who love action-packed vacations.
Located in Cancun, Xcaret Parks feature more than 50 natural and cultural attractions to explore, making it a perfect experience for everyone.
From swimming in underground rivers to wandering through the Butterfly Pavilion, guests will be delighted by all their discoveries. Families here can also enjoy Mexican cuisine. Families that stay at one of Xcaret's hotels get free access to each of the Xcaret parks.
Families who are tired from their outdoor adventuring can slow things down and explore one of the region's many museums to learn more about the region's history and culture, like the 3D Museum of Wonders in Playa del Carmen, Cozumel Island Museum, the Piracy Museum in Bacalar and more!
Visit the Interactive Aquarium
Cancún Interactive Aquarium, located in Plaza La Isla, is one of the most visited shopping spots in the Cancún hotel zone. There you can enjoy different activites; there is something called the aquiarium trek which is like walking on the moon's surface but underwater! watch a dolphin presentation, go to a fish spa, there is even an ipads area for the kids to learn more about marine life and let's not forget about the opportunity to swim with dolphins, you can choose from 4 different packages available for you and your family.