The Caribbean Ocean is full of secrets such as vast ecosystems that extend through the beaches of Cancun. You can discover more when visiting Interactive Aquarium Cancun, a place where you can learn about the zone's species and how they maintain harmony with nature.
Take a tour through the aquatic exhibits, learn the dynamics of marine animals and interact with some of them in the contact area, visit the Ipads area and immerse yourself in the Aquarium Trek, and best of all, experience swimming with dolphins.
The marvels of the ocean, all in one place. Located in the La Isla shopping plaza in Cancun and open 365 days a year, from 9:00am to 8:00pm. It is a unique experience that you must live at least once in your life.
More than an aquarium, it's a world waiting to be discovered…

Our interest goes beyond entertainment. Our Interactive Aquarium has a staff of specialists and biologists firmly committed to conservation, preservation, and educating visitors in a fun and interesting way. In our Auditorium, you'll find videos and documentaries so that you can learn more about the marine world and the ecosystems found in the Caribbean Sea.

We are one of the world's pioneering institutions. We were awarded the Humane Conservation Certification granted by the American Humane Association (AHA), a program focused on guaranteeing the well-being and humane treatment of animals, especially those that are in danger of extinction. We comply with exhaustive standards to ensure the well-being of more than 140 species.
Biodiversity in Cancun's Interactive Aquarium
Experience a new way of observing the natural world around you. On your tour, you'll learn all about the different marine species found in the Cancun Interactive Aquarium, such as:
Fish:
Queen Angelfish
Surgeonfish
French angelfish
Sole fish
Spotted moray eel
Blowfish
Boxfish
Clownfish
African cichlid
Blue surgeon
Shad
Pacus
Blondefish
Large Saulosi Cichlid
Dog face puffer
Alligator fish
Invertebrates:
Starfish
Hedgehog pencil tip.
Sea cucumber
Spiny lobster
Spider crab
Inverted jellyfish.
Reptiles:
Marine Mammals
Bottlenose dolphin
Southamerican Sea Lion


Elasmobranchii:
American ray
Guitar fish
Hawk ray
Nurse shark
Horned shark
An experience for the entire family

At Cancun's Interactive Aquarium, you'll find a wide variety of activities suitable for each member of the family. Everyone will enjoy different areas perfectly designed for adults and children to have fun, while learning about the importance of marine species highlighted during the tour.

Who said that learning is boring? Our interactive programs inspire one's curiosity, while the young ones learn by touching and interacting with the animals of our ecosystem. Our priority is to promote the care of living beings and raise awareness about the health of our seas.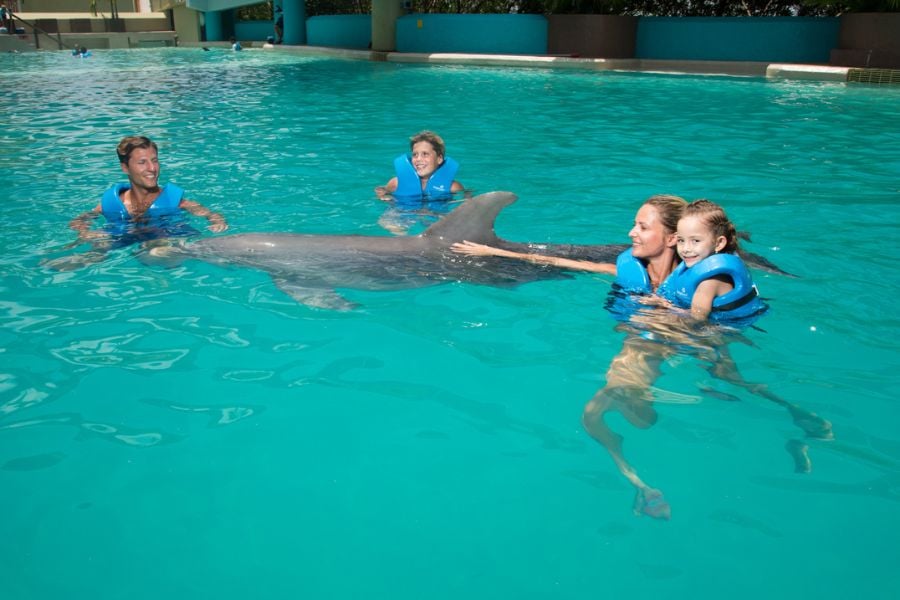 Make it a great experience and swim with dolphins!

Learn about these magnificent aquatic mammals and join them in a swim that will remain etched in your memory forever. We are the best option for your unforgettable dolphin experience.

We are one of the four only institutions recognized worldwide for maintaining an environment that seeks a dignified and humanitarian treatment.

No matter the nature of your trip: a family trip, celebrating love, vacationing with friends, or a moment to reconnect with yourself, we have the perfect package for your maximum enjoyment:
Swim with Dolphins + Aquarium Trek
Maximum 8 people
🕓30 min. Swim Splash or Ride + 20 min. Aquarium Trek
From 147 USD
Couple Dreams
Maximum 2 people
🕓 45 minutes.
From 199.50 USD
Premium
Maximum 4 people
🕓45 min + 20 min Aquarium Trek

From $2,337.30 MXN -online price (approx. $124.45 USD)
Choose the experience that best suits your interests, reserve your experience and enjoy the most acclaimed marine habitat in the world.
Schedule your visit on our website and get access to special discounts.
At Delphinus we are committed to the conservation of species, which is why we have specialists in marine mammals who provide our dolphins the quality of life they deserve. Come and discover the beauty of marine life.
Delphinus, for a brilliant blue planet