Cancun has become a privileged destination, where you can live from the craziest experiences to enjoy the days off that you need so much.
Beaches, shopping centers, aquariums, among other pleasant activities, you can find here. Take a break from your responsibilities and enjoy the tranquility that this earthly paradise can offer you.
Still don't know what to do on your trip to Cancun? Don't worry, today we will talk about the different options that you can find here; so grab your sunglasses and get ready to be dazzled by the alternatives we bring to you.
Find out what to do in Cancun to relax
Cancun is a cosmopolitan destination, a city full of activities and tourist attractions that fill each of its corners with life.
And although many think that in Cancun there are only party nights and beach afternoons, the reality is that this city has a lot to offer you. Here you will find a wide range of entertainment, including activities that will allow you to completely get away from stress.
If you are looking for what to do in Cancun, and you want activities where you can take a breath of fresh air and restart your senses, then take into account our top activities to enjoy on your vacation days:
Tour the hotel zone
The hotel zone is the soul of Cancun. Here you will find the most luxurious resorts, first class restaurants and shopping centers; everything you need if you are a fan of shopping!
In addition, you can do water activities and sports on the paradisiacal beaches. Most hotels have exclusive beaches for their visitors, as well as instructors who will allow you to do activities such as yoga or relaxation classes.
Travel and discover everything it has to offer you. Walking by the sea is a great way more than 29 km of this area y to exercise and relax at the same time.
It is always a good time to visit the Spa
There is no better place to relax and pamper yourself than a Spa. These places offer different types of therapies that will make you forget your worries. Both in the hotel zone and in downtown Cancun, you will find different offers and different types of spas, which fit all tastes and budgets.
Whether you decide to have a relaxing massage with aromatic candles or have a detox session, we assure you that you will enjoy hours of rest that will allow you to return to your life with a more positive attitude. It is always a good idea to have a reset in life.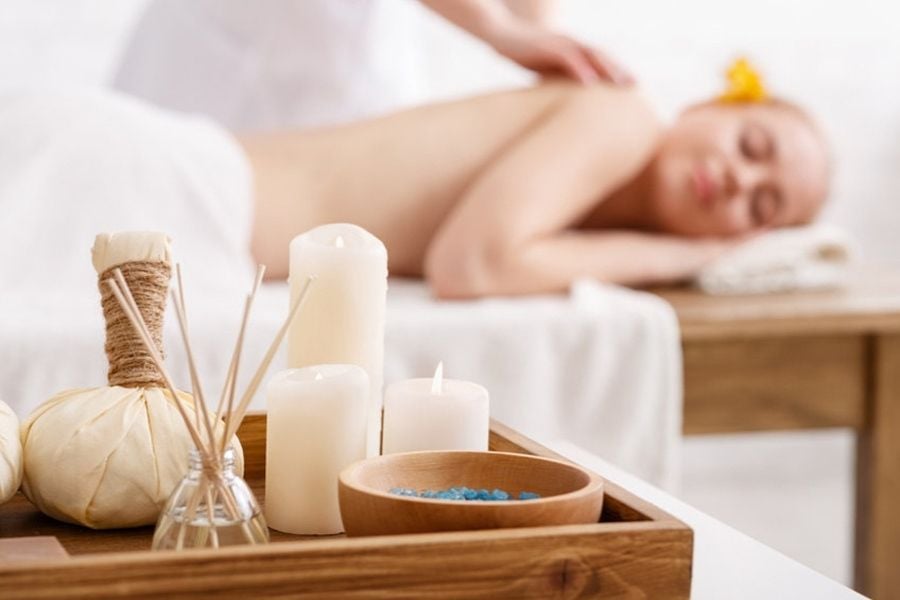 Interact with Dolphins
Dolphins are considered therapeutic animals. Their behaviors, sounds and ability to interact with people allow the production of serotonin, a hormone that produces a feeling of relaxation.
Have you ever dreamed of living with these marine mammals? So, don't think twice and live this relaxing experience, in the heart of Cancun's hotel zone, at Delphinus Punta Cancun. Located in the Hyatt Ziva hotel, this habitat is a space specially designed for the conservation of these animals, where they live in respect and harmony, under the care of specialists. You can enjoy this beautiful habitat even without being a hotel guest. The entrance is on the side and you can access it without problem.
Visit the marine fauna in the interactive aquarium
If you are a lover of nature and marine species, you cannot miss a peaceful tour of the Cancun Interactive A quarium.
Located in Plaza La Isla, in this place, you will come into contact with interesting marine animals, such as starfish, sea urchins, and fresh and saltwater fish. In addition, you will be able to get up close to the charismatic sea lions and appreciate the grace with which the dolphins swim.
Tour downtown Cancun after dark
Unlike Cancun's hotel zone, the downtown area has its own personality. In the first square of the city, you will find everything from international food restaurants on Bonampak Avenue, bohemian bars and cafes on Náder Avenue, and traditional food establishments, as you walk down Tulum Avenue.
End your quiet evening touring Puerto Cancún, the newest shopping center in the city that, being located in a marina and surrounded by golf courses, gives away some incredible postcards at sunset; perfect for taking a souvenir photo!
The ideal setting to fall in love with life is in Cancun.
Create memories with a good selfie session
Take for a moment the role of a celebrity photographer and take the best selfies with the best protagonist: you.
Take advantage of your visit to take the best shots in the most emblematic points of Cancun, such as Delfines beach, better known as "El Mirador", Plaza La Isla, the Nichupté lagoon, the Glorieta de los Caracoles, or in the famous party center, the heart of the Cancun Hotel Zone.
Whether you are in downtown Cancun or in the hotel zone, you will always have the ideal setting for your Facebook and Instagram stories and reels.
It cannot be denied that, by itself, Cancun is a city that invites you to stop for a moment and enjoy a break. So if you want to escape a bit of the monotony, start packing your bags, pack your swimsuit, comfortable clothes and embark on a relaxing experience in Cancun.