If you're planning a trip to the Riviera Maya soon, you must have included Cancún in your itinerary. Why wouldn't you? It's a beautiful place filled with things to do.
As the heart of the Mexican Caribbean, you can't miss its beaches with clear water and its great weather. Planning for your vacation you might be wondering: What should we do in Cancún?
Cancún has a lot more than beaches to offer to its visitors. With its variety of international cuisine, nightlife and hotels, there are a lot of things to do in the hotel zone! You are in for a great time. That's why it's one of the most important touristic attractions in Mexico. One of the best experiences in Cancún is getting to interact with animals, such as dolphins.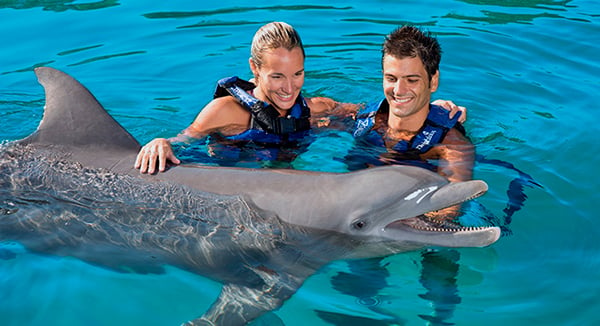 Dolphins have always been one of the most beloved and friendly animals in the world. They've starred in movies and ancient stories, and their intelligence is almost unmatched. That's why people all around the world have looked for a way to get closer to them.
If you're planning a trip to the Riviera Maya soon, don't miss out on interacting with these amazing animals. It is one of the best things to do in Cancún. Doing this in a conditioned natural, professional habitat, secures that they are being taken care of. It's a once in a lifetime experience for you and your family!
Dolphins are intelligent, playful and very friendly
Some dolphin facts: They can recognize in a mirror and give each other names. Recent studies have shown the benefits of dolphin therapy for some medical conditions. When visited in their habitat by humans, they are happy to share some time and swim along!
Their communication and social skills have surprised a lot of people. That's why there are so many places dedicated to their protection. Tourists from around the world come every year to visit them in Delphinus. Bonding with nature benefits anyone, especially in an educational and safe environment.
In Delphinus you can snorkel, slide in water with the help of the dolphins or be guided by holding on to its fins. If you're lucky you can get a friendly kiss! Are you interested in learning how our trainers do their job? Be a trainer for a day!
Swimming with dolphins is for everyone!
This experience is very friendly at every age. So if you have kids, it is something you don't want to miss. You should all be wearing swim vests, so even if you can't swim you won't miss this inspirational moment.
If a child is not participating in one of our programs, we ask that a responsible adult stays with them at all time. We also have companion areas for the non-participants to watch and enjoy it too. It's an activity that all the family members can enjoy!
The dolphins here at Delphinus live in an environmentally friendly habitat, so they are very comfortable with people. It's a fun and romantic activity too, if you're coming with your special person on your honeymoon or just celebrating a special occasion.
Our staff will make sure you feel safe and comfortable to enjoy this experience. We also make sure our dolphins enjoy it too! We work with a strong environmental culture, always thinking about animal welfare.
Don't miss out on this experience in Cancún
There are a lot of places where you can get to swim with dolphins. The difference here at Delphinus is that we are committed to our dolphins' life quality. Our veterinarians are also investigators, who are always thinking about how to improve our practices.
We have different programs to choose from, depending on the number of people and the type of adventure you want to have.
One of our most popular attractions is the Interactive Aquarium, people love it!. You get to see more than a thousand of the most important and amazing aquatic species. Also, you can enjoy international cuisine and tours to keep the adventure going!
How about that? There's nothing better than enjoying nature in a conscious, educational environment. Trust us, we've seen our visitors' faces. If you are interested in booking one of our programs, you can take a look at them here. Give yourself the gift of a magical adventure!
.