The Riviera Maya in Mexico is world-renowned for its pristine Caribbean beaches, natural wonders like cenotes, and its diverse biosphere. Riviera Maya parks, such as Xplor, offer you an experience in which you can encounter all these natural wonders in Mexico and more in an adventure-packed experience that you'll never forget. What to expect at Xplor in Mexico? Read on and find out!
From moments of tenderness when you swim with dolphins, to the excitement of a 53 mph jet boat ride, or the adrenaline release of flying on zip-lines through an arch of fire, it's guaranteed that you'll have the thrill of a lifetime if you visit the parks of the area, especially the ones with adventure-themed activities such as Xplor or Xavage.
So, just like in a previous article we told you about the differences between Xplor and Xenses, this time we'll compare two of the most exhilarating parks in Cancun and Riviera Maya, so you can choose the one that best suits your desire for adventure. Check them out!
Take your adventurous spirits to new heights at the Xplor theme park in the Riviera Maya. It has the largest zip-line system in the world that swooshes you over tree-tops and crystalline waters. Go for a wild jungle adventure in an amphibious vehicle and then swim the underground river systems. And don't forget to recharge at El Troglodita restaurant's unlimited buffet.
Xplor, the Ying-Yang of Adventure Parks
More than a theme park, Xplor is a journey that takes you from the depths of the planet to flying like a bird over the jungle.

In total, there are 6 main activities included with your all-inclusive package:
Stalactite River Swim: Swim across 437 yards (400 meters) of crystal-clear water in an underground river surrounded by stalactites and stalagmites rock formations.
Spelunking Hike: Explore the caves and caverns of the ancient Mayan world.
Amphibious Vehicles: Venture into the wilderness of the Mayan jungle by driving on one of two circuits of 3 miles each (5 km).
Rafts: Alone or with a partner, paddle with your hands on board fun rafts across two rivers of 623 and 580 yards (570 and 530 meters).
Hammock Splash: Glide in a hammock to splash into a cenote. Definitely, a very uncommon way to dive.
Zip-Lines: Fly across two circuits of seven zip-lines –each one covering more than two miles– including the tallest in the Riviera Maya reaching 49 yards high (45 meters). And the best part: you can ride 'em as many times as you like during the time of your stay.
As a special offer, you can purchase an all-inclusive admission with a swim with dolphins. In this additional activity you can interact with Earth's most charismatic creatures, learn more about their nature, swim and snorkel next to them, and so much more!
At this point, you must be wondering: what's with the Ying and Yang thing of the title? Well, here's the trick: if you feel even more brave and adventurous, you can visit Xplor Fuego at night and enjoy the same activities under torch lights!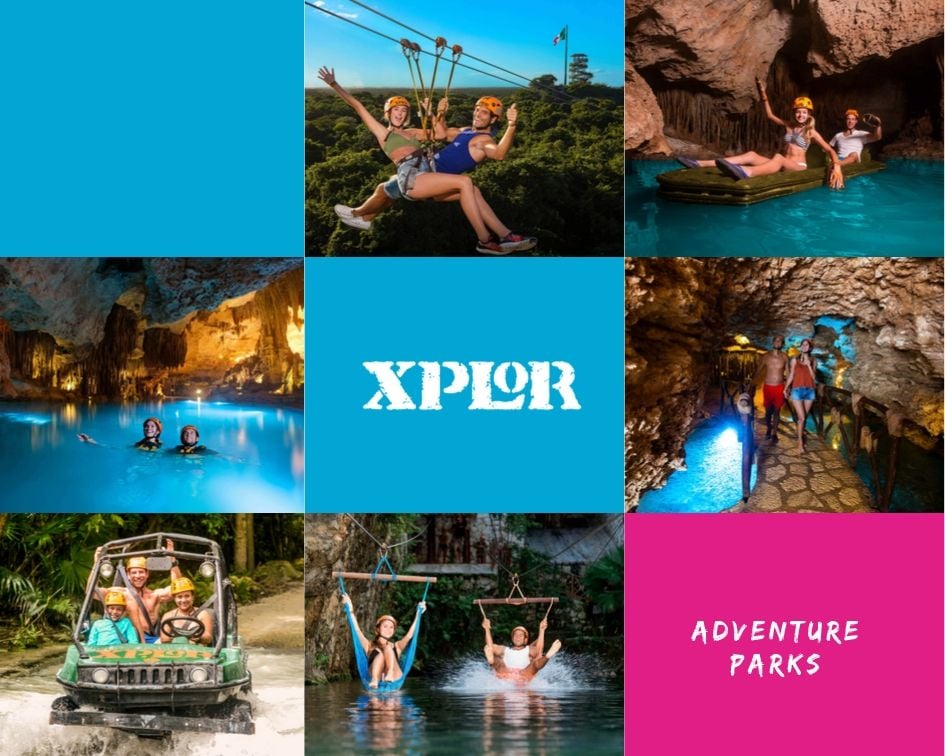 Xavage Park, the wild side of Cancun
In the language of fun, Xavage means only one thing: extreme adventure. That's why it is designed to let you have a day full of emotions.
With your all-inclusive admission to this adventure park in Cancun, you can access seven thrilling and unique experiences such as:
Ropes Course: Climb on a rope circuit full of different challenges like hanging obstacles, spiderwebs, wheels, wooden trunks, and original, unexpected elements.
Kayak: Row through water canals and discover the park's remote sites. It's the perfect activity to start getting in touch with your extreme self.
Tough Cubs: Bring the little ones to this special area where they will have fun for hours on its waterslides, hanging bridges and much more!
Zip-line Xavage: Glide through a long horizontal zip-line while enjoying a panoramic view of the park.
Monster Truck: Drive a powerful all-terrain vehicle–specially designed for the Xavage park–along a course full of unexpected obstacles.
Jet Boat: Enjoy a full-speed ride taking tight turns on a Jet Boat through narrow canals.
Rafting: Try the only whitewater rapids in Cancun and Riviera Maya. Teamwork, mental strength, and coordination will be the key to accomplish this challenge.
It's worth mentioning that this park is beginners friendly. By this we mean, for example, that the Ropes Course has different heights and difficulties on its 4 circuits, according to your level of audacity:
Spider Monkey: 26 ft (8 m)
Howler Monkey: 46 ft (14 m)
Orangutan: 82 ft (25 m)
Gorilla: 118 ft (36 m)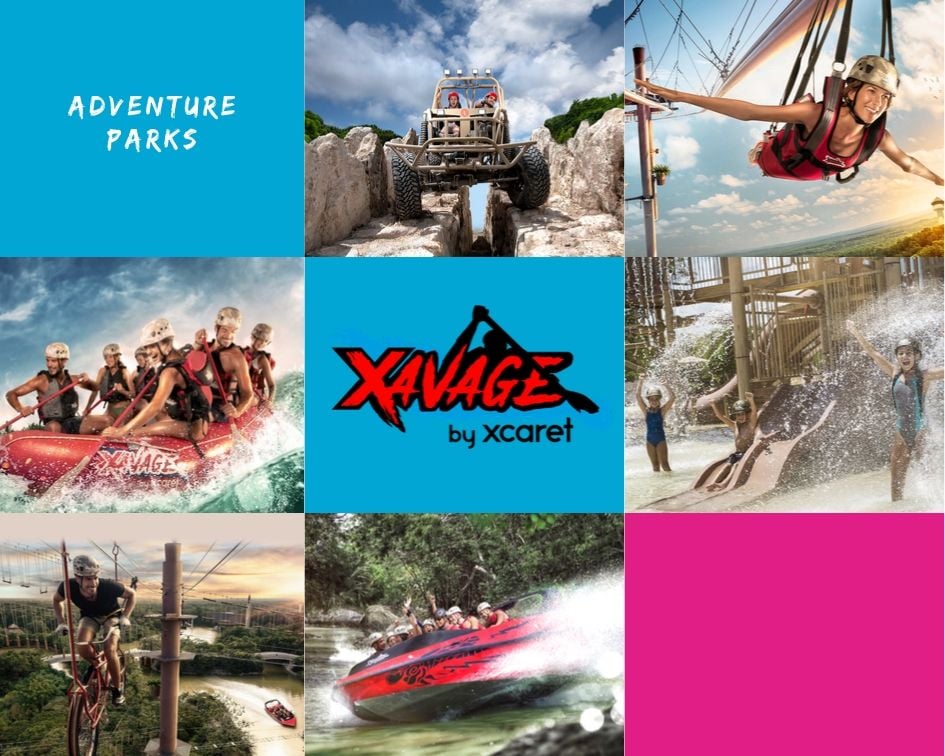 Finally, it's good to point out that no security measure is spared in both parks to guarantee the safety of the visitors at all times and on all the activities. Therefore, helmets, lifejackets, gloves, and harnesses are among the different kinds of security equipment provided by Xavage and Xplor personnel.
The Riviera Maya offers several incredible park options, Xplor being just one of them. Take your beach vacation to the next level and spend a day in an adventure-packed memorable experience.