Beach dwellers often seek out a more relaxed alternative to Cancun. While Holbox still offers a sleepy and tranquil beach getaway experience, it's far away and not as easy to get to, and it lacks that variety of cool activities that make your vacation memorable. Puerto Morelos, on the other hand, is the perfect solution if you're looking for an un-Cancun beach vacation within easy reach and close proximity to a plethora of fun-in-the-sun activities, such as the Cenote Route.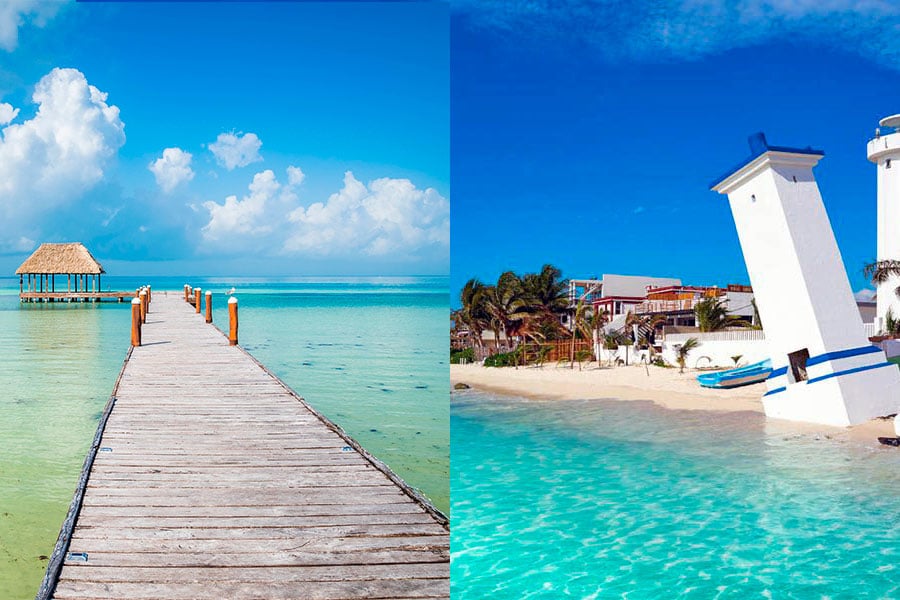 Know Holbox
The perfect mix of relaxation, great weather and bohemian beauty, Holbox is the paradise island you've always dreamed of visiting! There are bright murals adorning many of the island's walls, and even the bright colours of the ocean look like they've had the saturation levels cranked up.
Isla Holbox is located northwest of Cancun, just across the water from the port of Chiquila, on the north coast of the Yucatán Peninsula.
Depending on your mode of transport there are a few options to get to Isla Holbox. Cancun to Holbox is the most common route but most of these options will work from the major areas across the Yucatan:
Rental Car: Drive to Chiquila + Ferry
Private Transfer to Chiquila + Ferry
Bus to Chiquila+ Ferry
Colectivo to Chiquila +Ferry

Fly to Holbox



Things to do in Holbox
Do nothing, really, nothing
Holbox is a beautiful, calm place, while you could fill your days with boat trips, snorkeling, yoga and more, we recommend taking at least a day to just enjoy the beaches, the perfect weather and relax.


If you and your family are art lovers, you should definitely look for the Holbox's eclectic mix of murals. There are plenty of huge designs all around the island, from portraits to abstract works.

Swim With The Whale Sharks

Between mid-May and mid-September, this is one activity you won't want to miss! It's one of the best places in the world to swim with the enormous gentle giants and one of the best things to do in Holbox

Villa Flamingos
Villa Flamingos is a beautiful beachfront hotel and located at one end of the Holbox beach, it is away from the crowds, and it has its own private beach areas and pools.

Las Nubes De Holbox
is located next door to Villa Flamingos and another great option for anyone looking for a hotel away from the busier Holbox town hotels. With 28 rooms it's not too big and it also has one of the best restaurants in the island.

Visit Puerto Morelos
It is one of the oldest towns in the area and although it has grown substantially over the past few years it remains a small (slightly sleepy) fishing village. It is lively enough so you can have a good night out with friends and family.
In Puerto Morelos, you can expect great food, great beaches, friendly locals, excellent snorkeling and it won't break the bank.
Puerto Morelos sits tucked between Playa del Carmen and Cancun, it is only 25 kilometers from Cancun airport making it a quick onward journey for anyone to get here, you can there by driving, on a bus, or a taxi, mobile apps can also get you there.
What is there to do?
There are lots of Cenotes near Puerto Morelos, in fact, there's an entire road full of them! It is called Ruta de Los Cenotes and you can get there by car or by booking a tour, you could also just take a taxi but if you do that make sure you plan ahead so you know which Cenote near Puerto Morelos to go to.
Visit one of the 18 ecotourism parks
Close to the Ruta de los Cenotes, in which the rational use of the environment is privileged and which maintains the essence of natural resources.
Swim with Dolphins at Puerto Morelos
Home to the second-largest coral reef system in the world, Puerto Morelos is also host to the life-changing Swim with Dolphins experience at Delphinus. Which swim experience is your best choice? You decide! The Couples Dream is perfect for you and your mate, while the Supreme, Splash, and Ride options also offer incredibly memorable experiences. The adventure awaits you!
How do i get to Puerto Morelos?
The best thing about this peaceful beach town is that is only 30 minutes from Cancun, making it easily accessible from the Cancun International Airport. There are several convenient transportation options available. The local ADO bus line has direct routes from the airport, or you can arrange for private shuttle or a taxi directly from the airport to your hotel.
Eat at the local restaurants
Like any other place, you can find a wide variety of food options, you can try the seafood at Boquinete Seafood & Grill or the mexican food at Lola y Moy, there are also vegan options like John Gray's Kitchen.
Where can you stay in Puerto Morelos?
There are 3 areas that people usually stay at:
In the tourist area by the beach (known as The Hotel Zone).
In the town on the other side of the federal highway (a taxi ride away, known as The Colonia).

On the outskirts of Puerto Morelos in one of the huge resorts.