If you want to spend an unforgettable New Year's Eve, surrounded by friends and paradisiacal beaches, we have the perfect place for you. Playa Mujeres brings together the best of the Mexican Caribbean, with the great advantage that it is not as crowded as Cancun, Isla Mujeres, or Cozumel. Hotels, nature, archaeological sites, and more, know everything you can do here for the new year.
Playa Mujeres: a hidden destination in Quintana Roo
In this article, you will find everything you need to know about how to plan an unforgettable New Year's Eve in Playa Mujeres.
Location
At the northern end of Cancun, 40 minutes from the international airport, is Playa Mujeres. Thanks to its privileged location, away from the hotel zone and the Riviera Maya, this point on the map of Quintana Roo stands out for the nature that surrounds it. It is a true natural sanctuary for both terrestrial and marine life, which will envelop all your senses.
Weather
Being part of the Caribbean, the climate is usually hot and humid. For December and January, the temperature is usually between 35 degrees during the day and drops to 23 degrees at night. Although it is not the rainy season, you might be surprised by a cool drizzle if a cold front hits the area.
Lodging
Some of the best hotels in Playa Mujeres are:
Dreams Playa Mujeres Golf & Spa Resort
Paradisus Playa Mujeres
Secrets Playa Mujeres Golf & Spa Resort
Excellence Playa Mujeres
Grand Palladium Costa Mujeres Resort & Spa
Finest Playa Mujeres
Beloved Playa Mujeres
Majestic Elegance Costa Mujeres
Hotel Riu Palace Costa Mujeres
Hotel Riu Dunamar
Villa del Palmar Cancún
If you travel in a group, you can also find good accommodation deals on Airbnb in this area.
A unique new year
The options of activities to do and enjoy during your stay are many and varied since the location of Playa Mujeres allows you to easily move to other parts of Quintana Roo. We have selected the best options, thinking of spending a new year like no other.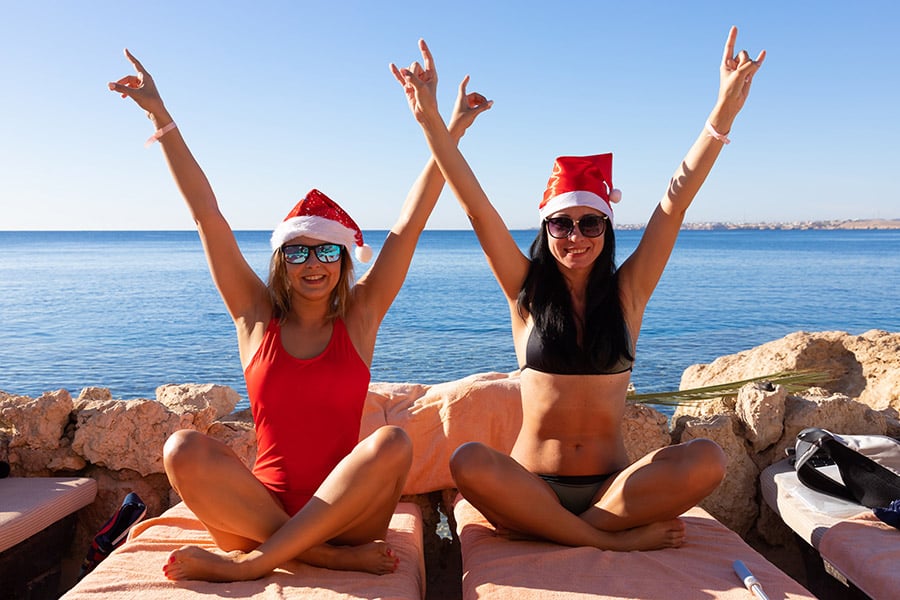 Receive the sunrise in nature
What better way to start the year than surrounded by friends and enjoying the sunrise on the beach? You can enjoy this experience in Isla Blanca, at the northern end of Playa Mujeres. It is an almost virgin beach where there are no buildings or hotels. Can you imagine the number of stars you can see there? With the proper precautions, you can make a bonfire, bring food and enjoy the first sunrise of the year in front of the sea. To plan a successful and smooth trip, it is important that you know that there is no public transport so you should consider bringing your own car.
Another option to start the year in the middle of nature is to move to Isla Contoy. The 230 hectares that make up the island are home to turtles and birds; in fact, it is also known as the Island los pajaros for the number of birds it houses. It also protects the second largest reef in the world, known as Ixlaché. This is a protected area, so it can only be reached by a certified tour. Although you cannot stay overnight here, it will be an experience of a lifetime. The view from the lighthouse is one of the most impressive in all of Quintana Roo since you will be able to observe the immensity of the sea and nature in its most pristine state.
Start the year learning something new
If you are looking for new experiences to share with your friends, at Playa Mujeres you can register for a tennis class. But it is not about just any class, it is about learning in the academy of international champion Rafael Nadal. You can schedule a class for you and your friends at the Rafa Nadal Tennis Centre; do not forget to ask if your hotel has any promotions or discounts.
If you prefer an aquatic activity, you can register for Kitesurfing in the Chachmuchuc lagoon. It is a saltwater lagoon, with crystal clear waters and no waves, which makes it ideal for this sport. If you choose this option, take the opportunity to watch the sunset in this area, which is without a doubt unforgettable.
Get closer to the magic of dolphins
Having a close experience with dolphins is unforgettable, which can also be a good omen to start a great year. Inside the Dreams Playa Mujeres Golf Resort & Spa hotel, you will find the newest and most modern Delphinus habitat designed in such a way that it preserves the natural habitat of these majestic beings, this is the reason why you will live this experience at sea. We have animal welfare and environmental conservation programs so that more people approach dolphins in a respectful way and that they can enjoy their presence without altering or affecting them. That is why swimming with dolphins will become a magical experience of a lifetime.
Say goodbye to the year by celebrating
When it comes to nightlife, Quintana Roo is not far behind. If you want to say goodbye to the year in a festive atmosphere, with music, dance and a lot of joy, the nightclubs in the hotel zone of Cancun will be waiting for you with a celebration like no other. Places like Coco Bongo, Mandala or HRoof are 30 minutes from Playa Mujeres. They can book a taxi service to move without worries.
All hotels have dinner and a New Year's dance, do not forget to ask before booking, to also take this option into account.
We have mentioned several of the activities that you can enjoy this end of the year in Playa Mujeres. In addition to all the experiences that you can experience here, what will undoubtedly make this experience something to treasure, is being able to share with friends and loved ones everything that the Mexican Caribbean has to offer. Give yourself the gift of starting a great year at Playa Mujeres.