Despite the great offer of hotels, restaurants and activities that Cancun offers, we understand that the large number of people, excessive partying and the saturated beaches can be a bit overwhelming, especially during high seasons. That is why several people opt for the excl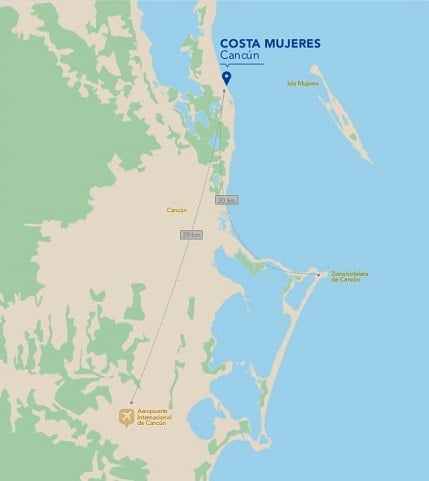 Playa Mujeres or, Costa Mujeres (as it is located within it), belongs to the Municipality of Isla Mujeres, although it is located in the continental zone, which is north of Cancun. The area includes beautiful beaches, a golf course, private residences and several of the best hotels on the peninsula.
Top hotels in Playa Mujeres:
Dreams Playa Mujeres Golf & Spa Resort
Paradisus Playa Mujeres
Secrets Playa Mujeres Golf & Spa Resort
Excellence Playa Mujeres
Grand Palladium Costa Mujeres Resort & Spa
Finest Playa Mujeres
Beloved Playa Mujeres
Majestic Elegance Playa Mujeres
Hotel Riu Palace Costa Mujeres
Hotel Riu Dunamar
Villa del Palmar Cancún
If your hotel is on this list or you are opting to stay in this area and you don't know what possiibly could you do in the area, don't worry. We took the task of investigating the best activities you can do in Playa Mujeres so that your vacation is full of adventure.
1. Practice kitesurfing in Isla Blanca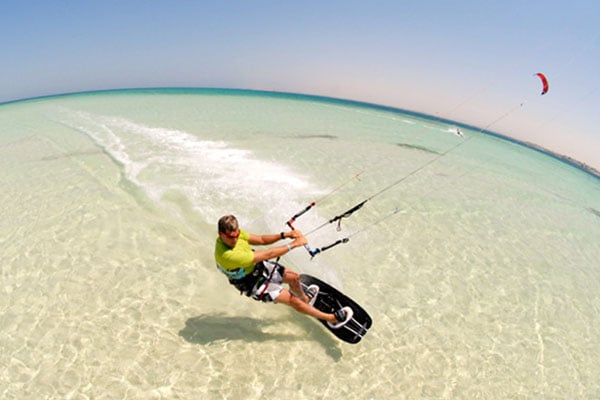 Photo by: El Diario de Yucatán
Do you like extreme sports? Then you can not miss this activity! Isla Blanca is the ideal place to do kitesurfing, since it has a very shallow salt water lagoon with minimum waves. If it's your first time, here you can practice safely. It is located northwest of the municipality of Isla Mujeres and can be easily reached by car.
2. Go fishing on a sailing boat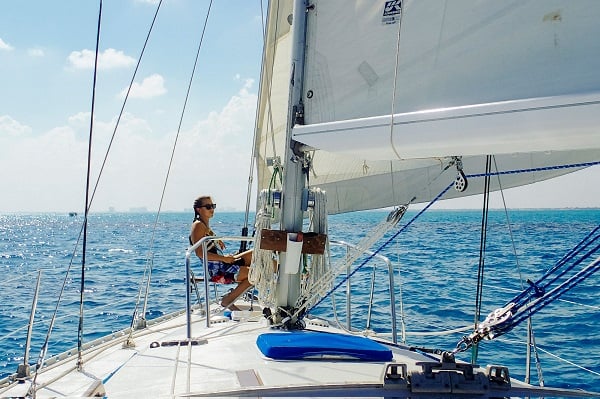 Photo by: On Blue Under Canvas
If your thing is to be on the high seas, you're in luck. Several companies in the area offer sailboat tours to Isla Mujeres, where you can fish, snorkel and enjoy food and drinks. If you are visiting with family or friends, you will love this plan.
3. Watch the sunset in the Chachmuchuc lagoon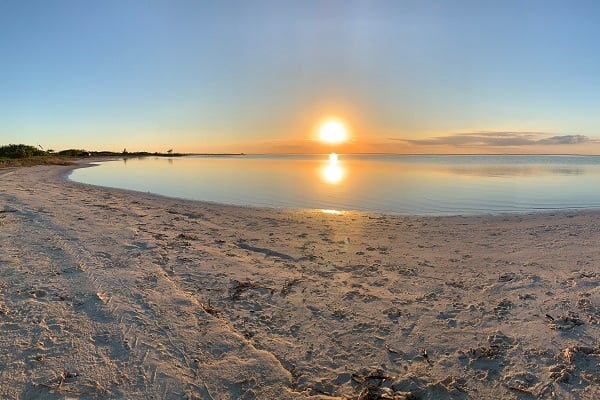 Photo by: Daniela Mendoza
Isla Blanca is a secret destination for those who seek tranquility and love nature, since it is one of the few places that remains free of constructions and crowds. On this peninsula, you can find the Chachmuchuc lagoon, and just a few steps away, the picturesque Caribbean Sea. In this beautiful place you can enjoy the white sand under the sun, observe the flora and fauna that inhabit the place and end the day saying goodbye to the sun from the wonderful view that only the Chachmuchuc lagoon can offer. It is the ideal plan to spend a day with your family or your partner!
4. Practice golf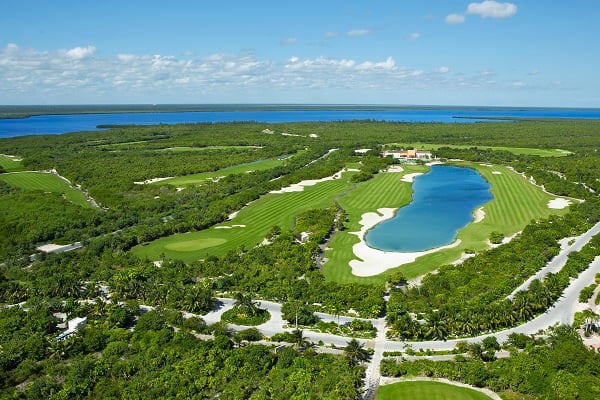 Photo by: Dreams Resorts
Designed by professional golfer Greg Norman, Dreams Playa Mujeres has one of the best golf courses in Mexico. With an area of 6,600 meters and a spectacular view of nature, it is perfect for beginners and expert golfers. Among the amenities offered by this field are private classes, a snack bar, a professional shop and a drinks cart in the field, at an extra cost. Hotel guests have special benefits so don't forget to ask about them.
5. Take a tour to see the whale shark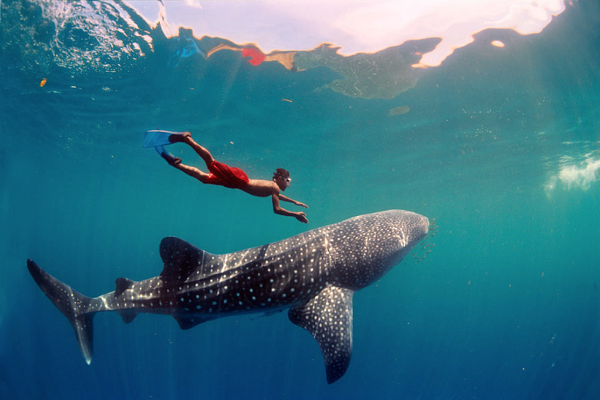 Photo by: El Diario de Yucatán
If you travel between May and September, you can not miss the opportunity to swim with the whale shark, the largest fish in the world. In Isla Contoy you can do it, besides enjoying the views of these paradisiacal places. The easiest way to do it is through a tour, which offers all the comfort and security for you to have an unforgettable experience.
6. Visit Isla Contoy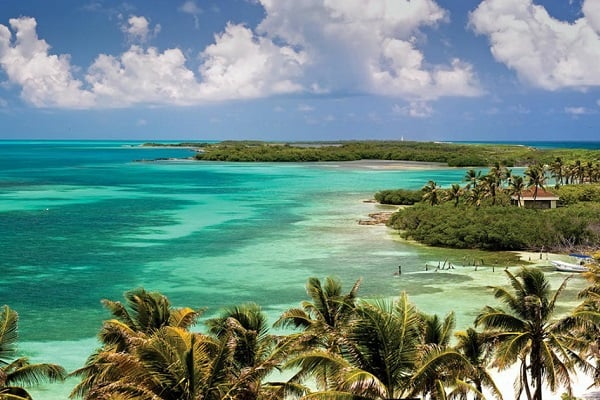 Photo by: City Express
Isla Contoy is a protected natural area, since it has lagoons, mangroves and jungles that serve as refuge to several species. It is considered a bird sanctuary, and the area is part of the second longest reef in the world, the Ixlaché Reef, where you can snorkel and find turtles, manta rays and an incredible variety of fish. The most recommendable thing is to book a tour days before, since the park is limited to 200 visitors per day. If you want to visit this beautiful island, you can do it by leaving from Puerto Juarez.
7. Swim with Dolphins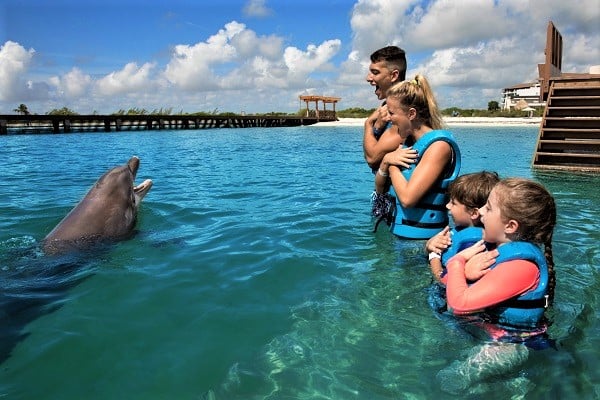 Photo by: Delphinus
The experience of interacting with dolphins is magical, but swimming with dolphins in the sea is even better. Playa Mujeres habitat is located within the Dreams hotel and is the newest habitat of Delphinus. In addition to having beautiful facilities, you can enjoy one of the best beaches with beautiful crystal clear waters. It's a hidden habitat and little crowded, so you will have a more exclusive experience. Interacting and learning about these beautiful mammals is something you can not miss during your visit to Cancun.
8. Go aboard a pirate boat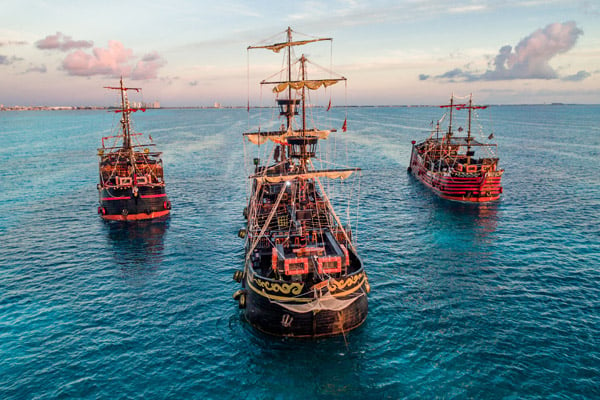 Photo by: Capitan Hook
After so many options to have fun during the day, this is one that you can enjoy at night! The Captain Hook dinner show is a guarantee of entertainment, since you will not only enjoy games and dances, but you will also witness the battle between pirates when they are attacked by an enemy ship. Every day, the boats set sail from 7:00 p.m. and you can choose between different menus and enjoy the national open bar. Although the best-known marina is the one at the Hotel Zone, they have departures from Puerto Juarez, which is only minutes away from Playa Mujeres.
9. Take a tennis class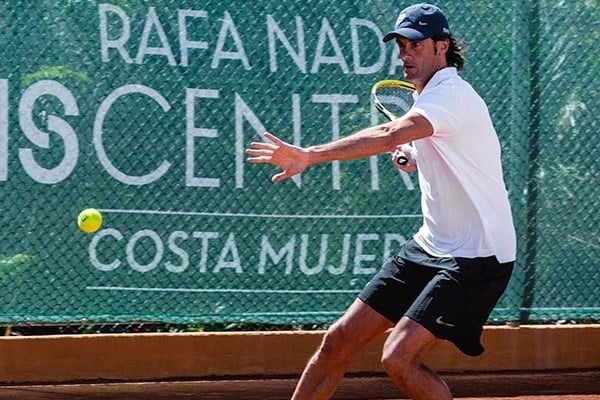 Photo by: Rafael Nadal Tennis Centre
If you are a fan of this sport, you will be thrilled by the idea of practicing in the academy of one of the best tennis players in the world: Rafael Nadal. If you don't know how to play, what better than to take a class here! There are different programs adapted for children, beginners, couples and professionals. It's a unique way to have fun and meet people!
10. Visit the archaeological site "El Meco"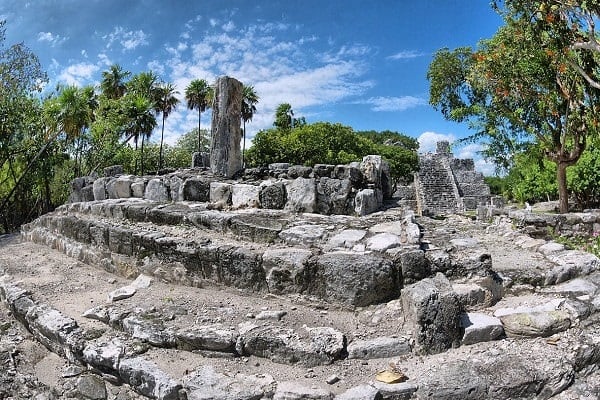 Photo by: México Destinos
When you think about ruins you automatically think of places like Chichen Itza, Coba or Tulum. However, none of these are in Cancun, so visiting them involves spending a few hours on the road. If you don't have much time to explore, we recommend these ruins located in the Isla Mujeres Bay, where you can learn about the Mayan culture. From the top of the building known as "El Castillo", you can see the island of Cancun and its surroundings. The access to the place is easy and it has an affordable cost of 55 Mexican pesos.