In addition to its incomparable turquoise sea, its warm climate most of the year and its amazing natural wealth, the Mexican Caribbean is characterized by hosting some of the most popular tourist destinations of the moment, such as Tulum, Playa del Carmen and Cancun.
However, and although each of these places has its charm, the Caribbean never ceases to surprise us with new places to live great adventures; such is the case of Playa Mujeres. Located precisely on the mainland of Isla Mujeres, towards Isla Blanca, this is the newest and most exclusive tourist area in the region. Here, beyond the party and bustle of the city, you will find a hideaway in the middle of paradise on earth. Take note and start organizing your trip to Playa Mujeres, you're going to love it!
Do you want to know the activities you can do in Playa Mujeres?
Whether you are looking for new adventures, connect with nature or have a moment of rest, in Playa Mujeres you will always have something new to do.
Playa Mujeres stands out among the different destinations in Quintana Roo for achieving the perfect balance between natural beauty, luxury and privacy. An escape from everyday life, with activities that will allow you to relax, leaving all your worries behind.
If you are looking for unique experiences, then you have to visit this new tourist destination. Next, we leave you 5 activities that you have to do during your vacation in Playa Mujeres. If you are looking for unique experiences, then you have to visit this new tourist area. Next, we leave you 5 activities that you have to do during your vacation in Playa Mujeres.
A magical experience that you must experience! In Playa Mujeres, you can enjoy this fascinating encounter inside the Hotel Dreams. There, in one of our newest Delphinus habitats on the shores of the Caribbean Sea, you will find a project focused on fostering and maintaining harmony and respect between these adorable marine mammals and human beings.
You will have the opportunity to swim in the sea with dolphins, achieving a unique connection between you, nature and your new aquatic friends. Don't think twice and dare to live this unforgettable experience with dolphins in Playa Mujeres.
If you travel in the season between the months of May and September to the Mexican Caribbean, you will have the opportunity to live with this majestic animal in its natural habitat, during one of the most popular activities near Playa Mujeres.
The whale shark is the largest fish in the ocean, reaching up to 12 m in length, and is considered one of the oldest species in the world, because it is estimated that it has existed on Earth for more than 60 million years!
Despite its imposing size, this docile species arrives year after year in front of the waters of Playa Mujeres following the warm currents and in search of food; therefore, during your vacations in this destination, you cannot miss this amazing adventure of swimming with the whale shark in Playa Mujeres.
Afternoons of Golf and Spa Resort
Playa Mujeres is also an excellent place for golf lovers. Enjoy an afternoon practicing this sport, in one of the best golf courses in Mexico, inside the luxurious facilities of the Hotel Dreams.
With more than 6,600 meters of surface and spectacular scenery, this golf course, designed by the great professional golfer, Greg Norman, offers everything you need to enjoy a friendly game.
Private classes, equipment, experienced caddies, drinks and snacks cart (with extra cost) and many more amenities. Ask at your hotel for more available options.
Visit the best hidden oasis, the Chacmuchuc lagoon
Very close to Playa Mujeres, surrounded by the tranquility of this exclusive area, is the Chacmuchuc lagoon, possessor of the most impressive sunsets in Quintana Roo and, without a doubt, one of the best preserved.
This paradise is hidden from the spotlight, so if you like to enjoy nature, you must get to know this little piece of heaven. Both the Lagoon and the beach are the scene of various cultural activities, with the Kite Festival being the most attractive for the inhabitants of Cancun and Isla Mujeres.
Chacmuchuc is one of the few spots that are not yet found by urban life; Here you will not find restaurants or luxury places, only mangroves and endemic fauna. When visiting this place, do not forget to carry natural repellent and bags to collect your garbage; Let's help keep this space safe from human footprints.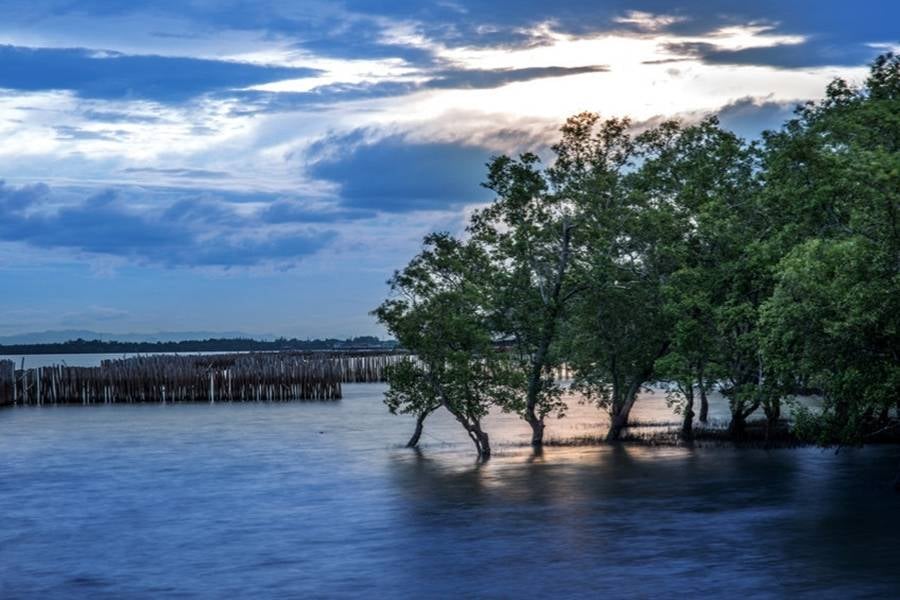 As you can see, in Playa Mujeres you'll have from luxurious hotels with golf courses and spas, to archaeological sites to visit. So take your bags, organize your agenda and start reserving your place in the many activities that Playa Mujeres has for you.