Whether you are planning a journey for two or a whole family trip, Puerto Morelos has a wide range of places to stay during your vacations. From all-inclusive hotels to Airbnbs, you can find the perfect spot for you and your budget.
Puerto Morelos, a hidden beauty near Cancun
Just 40 minutes on a car drive, Puerto Morelos is a charming fisherman's town. It is home to the second-largest reef in the world, the so-called Great Mayan Reef, where you can enjoy stunning snorkeling and diving experience on its shores. This makes the perfect environment for one of the best interactive aquariums in southeast Mexico: Delphinus Puerto Morelos, committed to animal welfare and habitat conservation.
Even though it is not as crowded as Tulum, in Puerto Morelos are many hotels and Airbnbs to have a peaceful and comfortable stay, making it a perfect place to enjoy a hideaway-like experience without sacrificing commodity or luxury.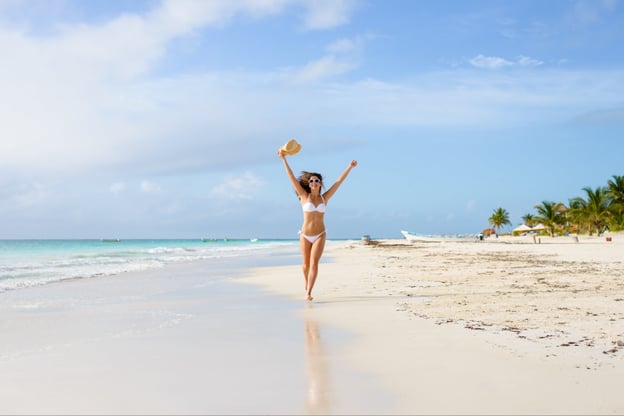 Luxury stays in Puerto Morelos
These are the top 5 luxury hotels you can find on this Caribbean shore:
This Registry Collection Hotel is inspired by Mexican haciendas. Its style, architecture, and modernity join here to make every corner of your stay truly magical. Enjoy gourmet restaurants, spa, gym, oceanfront pool, lots of amenities, and amazing views to have an unforgettable vacation.
Perfect for a family trip, Royalton Riviera is one of the best all-inclusive resorts in Puerto Morelos. It offers leisure accommodations and activities for everyone to enjoy; all these with a luxury concept that includes unlimited reservations for dinners, drinks, a fitness center, a kids club, and more!
An idyllic getaway for honeymooners, Heaven Riviera is an adults-only resort that will make you feel in a sanctuary. Glamour and harmony are the two main characteristics of this resort, member of Preferred Hotels and Resorts L.V.X. Collection - which certifies it as an exceptional and elegant collection experience. If you are looking for more romantic experiences like this, you can check this link to see TripAdvisor's top-ranked hotels for couples.
This hotel has in mind that families (and toddlers) need a vacation too. That's why they offer many different kinds of accommodations, facilities, and activities, so everyone enjoys their stay in Puerto Morelos.
They have organic baby food, cribs, and bottle sterilizers ready for your kids. Let your mind and body relax at their famous spa for two, while the little ones enjoy a day at the kids club in a safe environment. Azul Beach is an unforgettable experience that your whole family will enjoy.
An adult-only resort where romance and sophistication exquisitely blend for you! This resort is famous for its artistic activities like music concerts, themed parties, fashion events, and art exhibitions. An extraordinary experience to enjoy with friends or as a couple.
Airbnbs in Puerto Morelos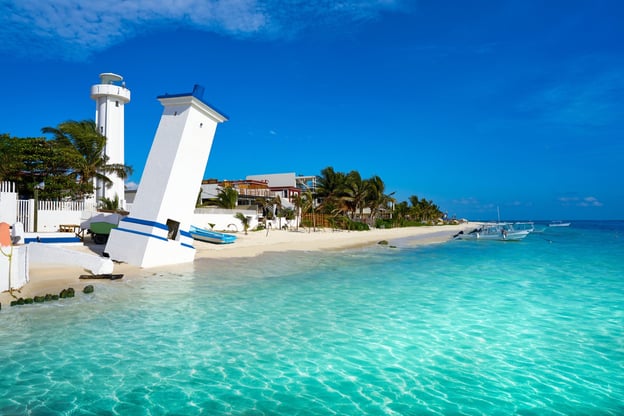 We know that choosing the right Airbnb can be a true challenge. That's why we have made a selection of 5 options for all kinds of travelers:
Staying in an Airbnb can be a luxurious experience with the benefit of a private and intimate environment. That's the case of this chic glamping experience in the middle of the jungle. The cabin's architecture is a true masterpiece that blends nature and top technology and comfort for you.
If you travel backpacking-style, we found a cozy and rustic roof hut with a beautiful balcony perfect for adventurous spirits. Casita Kinsol is located nearby the main touristic areas of Puerto Morelos and will welcome you with open arms to rest after an adventure day.
Quality and affordable prices are the main characteristics of Casa Caracol. You'll have a complete one-room furnished apartment, access to the pool, and the private beach. This accommodation is perfect for small families or couples who are looking for a calm place to stay.
Two rooms equipped to receive up to 6 guests, these condos have a minimalistic style and beautiful decoration to enjoy and rest in front of the beach. A fully equipped kitchen, a romantic balcony, and a large swimming pool are ready to make the best of your vacations.
Located just 10 minutes walking from downtown, this private studio has access to one of the most enviable views and locations in town. It's perfect for couples or small families! You can wake up and go swimming at the beach just in front of the apartment, tour around town, and have an unforgettable experience with dolphins at the Aquarium just 3 km away. End your day resting with the calming sound of ocean waves near you at night.
Puerto Morelos has an option for everyone. Even if you are traveling with your furry friend, we have selected the best pet-friendly Airbnbs in Puerto Morelos. To receive great discounts, book in advance your stay and the activities you are planning to do.