When planning a destination wedding, the romance that surrounds the whole act could disappear quickly, especially if you've chosen a beach destination and if you try to avoid challenges such as bad weather, low vacancy or complicated booking.
Surely, you might also be looking for a beautiful venue and good deals in hotels and flights, and above all, to make your guests feel as comfortable as they may be.
To help make things easy for you, in this article we bring you our pick for the best time of the year for a wedding in Cancun, and a few useful tips for venues and requirements for a civil legal wedding.
Best Month to Get Married in Cancun
The best time window to carry your wedding in Cancun goes from the last days of October to the first days of December. Why? Two reasons: perfect weather and low season.
In fact, November is the favorite month for many brides to carry out a beach wedding ceremony since, in addition, the natural lighting for pictures is perfect.
You have to consider, though, that Mexico celebrates its Revolution Day Memorial on the third weekend of November. For this reason, in this particular week you may have to book your accommodations at least one year in advance.
Is November not good for you?
Consider this:
Prices rise in December.
January and February it's high season. Wedding dates might not be that requested because the December holiday is so close, but that will probably get you good prices.
Easter still has good weather, but it could get really crowded because this is one of the most representative religious holidays in Mexico. Also, churches don't officiate marriages during this season.
"Cinco de Mayo" is also an option for good weather, but it's still high season.
From July to September it's the rainy season, with more humidity and really hot temperatures. These would be the worst months to hold a wedding in Cancun.
Top Wedding Venues in Cancun
Practically, any hotel or resort can fulfill your wishes for a beautiful wedding ceremony. You just have to book well in advance. Among our favorites are: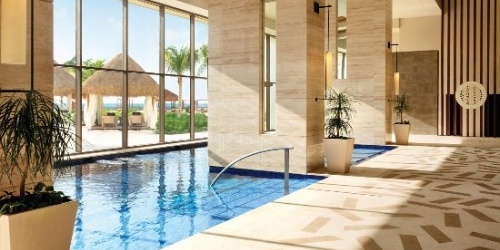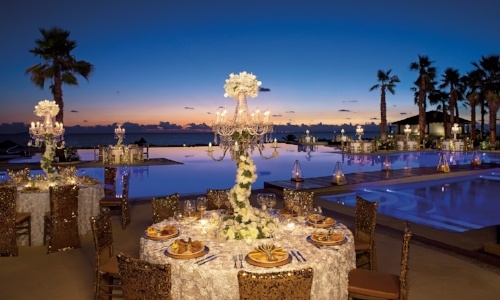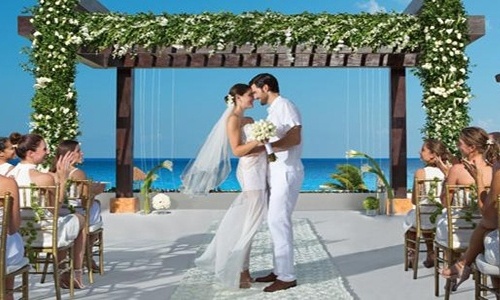 It's worth to mention that, in November, the small crowds and the nice weather also allow for the happy couple and guests to try as many fun activities as possible, like swimming with dolphins.
In fact, all the hotels listed above are close to Delphinus habitats where you can have an interaction with these magnificent creatures, in groups of up to 10 people. It's the perfect bonding activity to make everybody get along.
Do you wish to have a civil marriage ceremony?
These are the documents that must be submitted within 5 days before the act:
Valid passports
An additional valid ID (for example, driver's license)
Original birth certificate (or certified copy)
Tourist card or Mexican entry visa (will be provided by INM at the Cancun International Airport)
Marriage request form completed and signed. You can obtain these forms at the local Registry Office in Mexico or through the hotel concierge.
Divorce or death certificate (if applicable).
Prenuptial certificate with proof of HIV-negative and blood type. You can perform the blood test in Mexico within 3 to 14 days before the ceremony, and some hotels provide this for free.
Original and copy of official ID's of 4 witnesses (2 for the bride and 2 for the groom.
As an alternative, you can have your legal ceremony back home, and just perform a religious or symbolic ceremony in Cancun. Also, this saves you money.
The day of your wedding is one of the most important moments of your life: Make sure you choose the right time and place! At Delphinus, we want you to celebrate your love with a swim with dolphins in Cancun that you will never forget. Contact us and have a discount if you book online.