The moment when two people promise each other eternal love is unique and unrepeatable, but sharing it with your loved ones, in a magical ceremony in front of the turquoise blue of the Caribbean Sea, makes your wedding in Cancun an unforgettable memory.
Close your eyes for a moment and imagine that great day; feel the sea breeze and listen to the sound of the waves, while you hold hands with the love of your life, open your eyes and say: "I do".
Do not wait any longer! Make your dream come true, in one of the world's favorite wedding destinations of all time: Cancun, the heart of the Mexican Caribbean. Keep reading, and find the best recommendations.
How to make your wedding in Cancun unforgettable?
In these times, planning your wedding in Cancun with a big ceremony can be somewhat complicated; however, it can be an excellent excuse to prepare that romantic escape that you and your love deserve, to celebrate your wedding in an intimate, special way and in the company of only your loved ones.
Before the organization and the guest list, think about going on the most beautiful adventure of your life, in the midst of a Caribbean environment with all the comforts and facilities that only one of the best tourist destinations in Mexico and the world can offer.
If you have already decided to take your wedding to another level and hold it in Cancun, then it is time to find the theme that you like the most. Whether with a traditional wedding by the sea, during a very spiritual Mayan ceremony, we have for you the best proposals and advice for each of these.
Beach wedding
Weddings on the beach in Cancun have become popular in recent years, and it is not surprising considering that this tourist destination has it all: radiant sun most of the year, warm and tropical weather, and a blue sky framed by the turquoise color of the Caribbean Sea. Without a doubt, the best setting to start a great love story!
And whether you want to celebrate this union with a ceremony at sunrise, with the magical colors of dawn or if you prefer the glamor of a wedding at night, in Cancun you will always find a team of wedding planner specialists ready to help you. to have the reception you always dreamed of.
This is because, being one of the best beach wedding venues, most hotels in Cancun offer all-inclusive wedding packages; from the decoration, to the buffet, lighting and sound, and many services for this great day.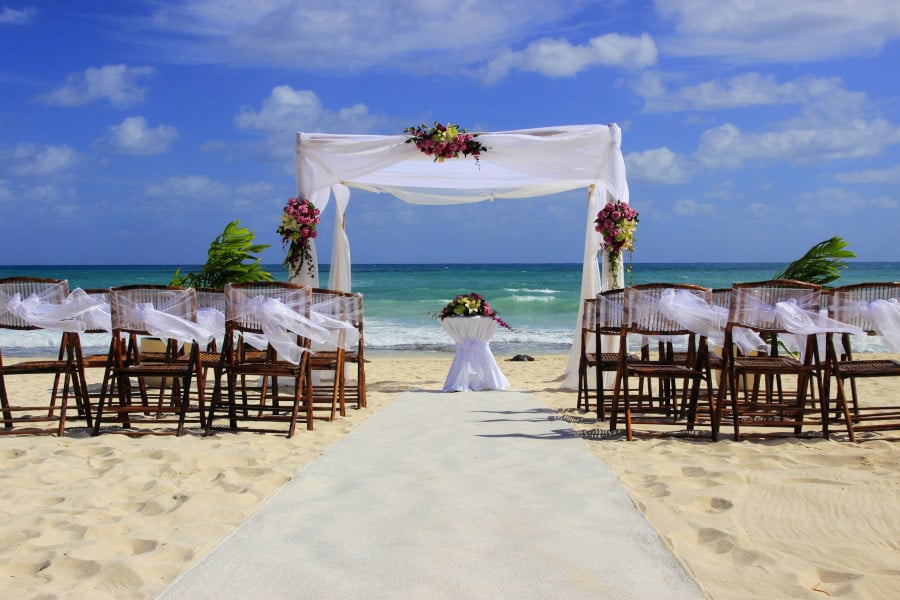 The Caribbean Sea is the scene of great love stories; why not let it be yours?
Mayan Wedding
If you prefer to connect with the universe and nature in a unique ceremony that celebrates love and tradition, let the great spirits of the Mayan deities bless your union, through a traditional Mayan wedding in Cancun.
This symbolic wedding is carried out by the hand of a J'meen, that is, a Mayan healer or shaman, who represents the bridge between this world and the spiritual one. His blessing is the omen of great projects that the future will hold for you.
This ceremony full of mysticism and magic can take place in a cenote, on the beach or surrounded by the exuberant jungle of the Mexican Caribbean; The ancestral fire accompanying you throughout this journey, allow the universe to conspire in favor of your union.
Cancun without guests
If your goal is to escape from everything and everyone with the love of your life to start this stage in full intimacy, you can also do it in Cancun!
Guestless weddings have always been the dream of the most adventurous and free souls, but instead of going to a boring and unattractive city, better take advantage and come to the Mexican Caribbean to enjoy the sun, sea and a good time on the beaches of Cancun, in the company only of your soul mate.
In Cancun, you will find all the facilities and services to celebrate your union, even if the idea of ​​getting married came spontaneously -Cancun usually has that effect-. Judges who can perform the ceremony in different languages, assistants who will help you with your paperwork, professional photographers and, of course, everything you need to seal this day with an intimate evening for two, you will find it here.
In addition, you can live great adventures a few steps from your hotel, for example, in the Interactive Aquarium of Cancun where you will not only learn about a large part of the diversity of marine life in the region, but you will also be able to interact closely with one of the friendliest species in the ocean, dolphins!
Interactions with dolphins for couples in Cancun
Regardless of the type of wedding in Cancun that you decide to have, there are experiences as a couple that you cannot miss, if you are in this Caribbean paradise, such as this sensational package of swim with dolphins, Couples Dream:
Ideal to live as a couple after or before your wedding. This interaction with dolphins is a magical experience of more than 21 activities, which will make you create a bond with these loving species and make invaluable memories with the love of your life.
Time: 45 minutes
Price per person: 3,072.30 MXN