The perfect complement to your vacation, is to stay in one of the best hotels in Cancun, some of them have all-inclusive packages and an incredible variety of activities to do that will make your days the best.
You have to take some notes of the hotels below, you will find excellent options whether you're traveling with your family or your partner, don't miss a thing!
Villa del Palmar
Located at 15 minutes away from the hotel zone and only 40 minutes away from Puerto Morelos, this hotel has something for every member of your family, boasting activities and events to entertain everybody including a kids club.
There is space to practice paddleboard, beach soccer, kayak and many other activites for family and friends. Can you imagine to have a professional photoshoot of all your companions? Villa del Palmar offers this and more you will have here.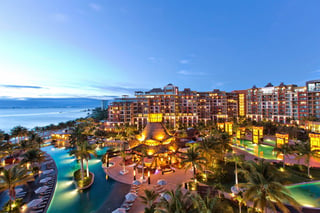 First class amenities, with five swimming pools and many gourmet dining options. Luxury and elegant suites are waiting for you.
Hyatt Ziva Cancún
Hyatt Ziva is always a good answer to the question where to go in Cancun. With the paradisiac beaches of the Mexican Caribbean, this hotel is one of the best in the area, not only because of all the amenities and activities you can do there, is also the best because its restaurants and bars and its all-inclusive vacation package.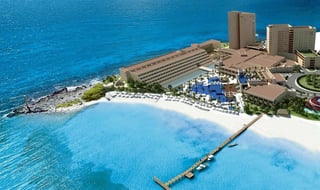 With 3 infinity pools, spa, fitness center, kidZ Club, shops and the daily activities, Hyatt Ziva is one of the best hotels in Cancun. There is also the possibility to make your dreams come true and swim with dolphins in Cancun, you can do it here! Do you need more reasons to consider this amazing hotel?
Nizuc Resort and Spa
With 274 luxury suites and private villages the variety of activities to do here is almost unlimited. You can spend all day in the main pool with bar, go snorkeling, paddle boarding, live the rhythm of live Cuban jazz, go kayaking, yacht excursions, yoga, wine pairing dinner, and much more. Every day there are new opportunities.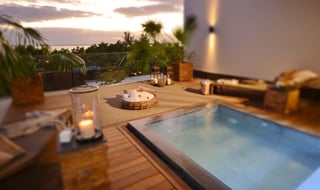 This place, which is considered one of the best hotels in Cancun, is located less than 15 minutes from Cancun International Airport, on Nizuc beach, and was named one of the top 100 hotels in the world in 2014 by Fodor's.
Ritz Carlton Cancun
Among the best hotels in Cancun, we can't ignore the Ritz Carlton, this is a hotel to rest and spend some quiet vacations surrounded by the Mexican Caribbean Sea, a unique place with nine innovative dining experiences, two heated outdoors pools and a Whirlpool, business center, and also a personalized wedding consultant.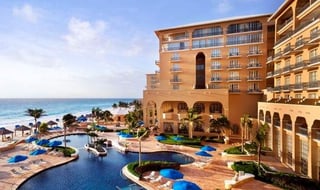 If you want to swim with dolphins in Cancun, this hotel is an excellent choice, because you will be able to live this experience in the Interactive Aquarium of Cancun, just 7 minutes away from the Ritz Carlton, definitely an experience of a lifetime.
Sandos Cancun Luxury Resort
If you are looking for luxury and relaxation for your vacations in Cancun, this is the place to be. Thanks to the Total Gourmet Experience, you can enjoy gourmet options during each of your meals.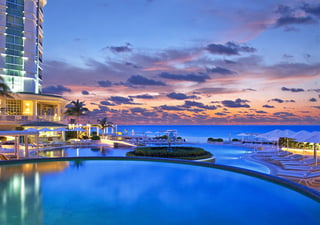 Among the things to do here, the hotel's recommendations are the lifestyle activities: the Spa del Mar, recognized as one of Cancun's top European-style spas, the water sports center and the fully equipped gym.
There is no reason to postpone the vacations in Cancun you're dreaming of, book now and experience aquatic sports, a swim with dolphins experience and so much more in the paradisiac Mexican Caribbean.