The Dolphin Swim Experience
Being with dolphins is an experience that will change your view of marine life. Discover a unique experience interacting with dolphins in environmentally sound habitats, as you learn about their world.
What do I need to know before swimming with dolphins?
Just listen and learn.
Our animal care specialists can assist you with all the details about dolphin physiology, behavior and routines. We encourage you to open yourself up to learning more as you savor an unforgettable day spent swimming with dolphins.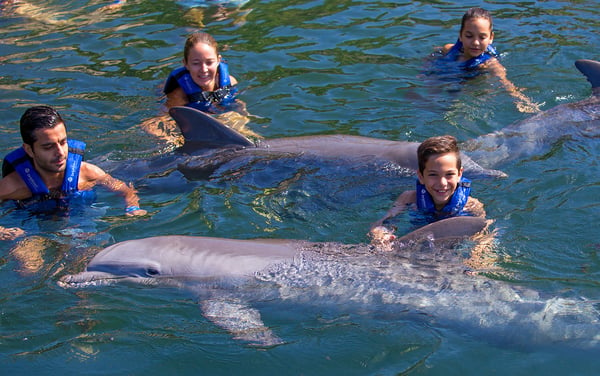 Your health matters.
This is not only an emotional experience, but also one that is quite physical. At Delphinus you will be given a life vest to be worn by all visitors without exception, to make your experience safer and more comfortable.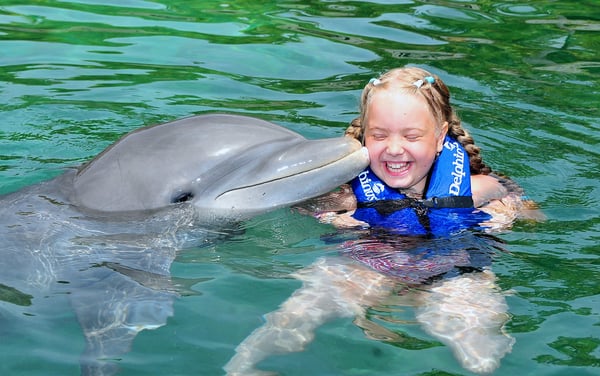 Take only your swimsuit.
Dolphins have highly sensitive skin. Please do not use any sunscreen, oils, fragrances or lotions while swimming with dolphins, as they may be irritating to them.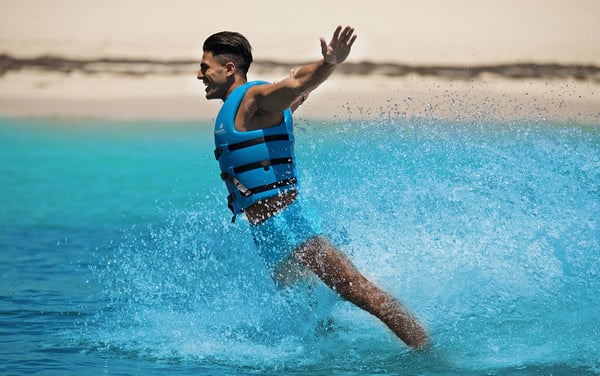 Relax and enjoy.
Our experts will keep an eye on you and the dolphin at all times. There will be plenty of time to hug, kiss and even swim along with them, with the peace of mind that you will both have a great time.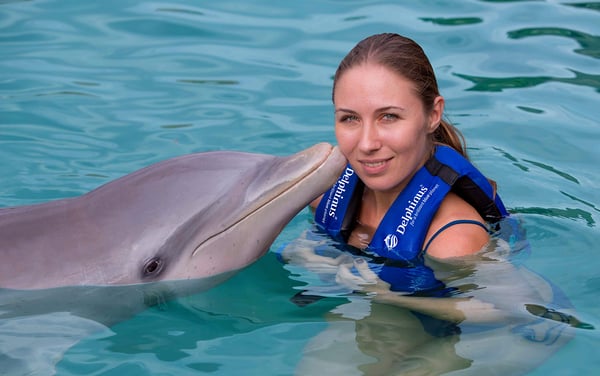 Frequently Asked Questions
Are lockers, bathrooms and changing rooms available in the habitats?
Yes; at Delphinus we want you to have a great time and feel as comfortable as possible. There are onsite bathroom facilities, showers, changing areas, towels and secure lockers for personal items.
Can handicapped and disabled visitors participate in the dolphin programs?
Yes. We do our best to make this experience available for everyone. When making your reservation, it is important that you mention any special requirements. Our reservations agent will confirm whether we can offer the best option for your comfort and safety. We ask that participants with special requirements be accompanied by an adult during the dolphin interaction program.
Can I feed the dolphins?
Dolphins receive a specific balanced diet according to their age, activities and development. During the activity, trainers may occasionally explain to you how to, but they are the only ones that can feed them. Feeding the dolphins in any other way is not permitted as eating food that is not included in their established diet can affect their health.
Can I purchase photographs and videos taken during my experience with dolphins?
Yes. Delphinus has a professional photography and video team as well as the best equipment. After your swim with the dolphins, you'll be able to purchase the videos and photographs taken of you.
Can I take photos/videos with my cellphone or camera?
No. For safety reasons and to avoid distracting the dolphins, participants are asked not to bring video or photography cameras to the wet areas around the dolphinariums. Your companions will be able to take photos in the designated areas. For safety, designated areas are away from wet areas.
Can my travel partners watch?
You are only allowed to bring one guest. If you will be swimming with dolphins, your guest will not be able to go to the wet areas such as the dolphin dock. Our locations can be very large, but we have several waiting and observation areas available for guests.
Can people with special needs join a swim-with-dolphins program?
This is absolutely doable; our team has been trained to make sure everyone can get the most out of this experience. Please indicate the nature of the disability so that we can properly consider it and we can best accommodate. Some of the dolphins are particularly sensitive and affectionate to visitors with special needs, so they can be quite adaptable to them. One thing we are sure of is that this will be an exciting time for special-needs individuals.
Can pregnant women swim with dolphins?
Yes, depending on the pregnancy's stage they can perform different activities. However, if the pregnancy is very advanced, the Foot Push activity will not be possible.
Can young children enter the habitats?
All kids are welcome at Delphinus! If your child is not participating in the program, we ask that a responsible adult accompany them at all times. Non-participating family members are free to watch and enjoy the dolphins from the companion areas designated for this purpose.
Do children use life vests?
Yes. Everyone who participates in our programs must wear a life vest. We provide participants with a life vest adapted to their weight and size.
Do I need to book in advance?
We recommend that you book in advance, especially if you plan to visit us during high season, because our interaction programs have a limited number of participants.
Do I need to know how to swim in order to participate in a dolphin swim program?
We provide each visitor with a life vest to be used during the program activities, so don't worry if you don't know how to swim. Our staff is trained to make sure you feel safe, comfortable and ready to enjoy your dolphin experience.
Do you offer dolphin therapy programs?
Not at the moment. Delphinus recently collaborated in a scientific research project with ASS DISCAN, a non-profit organization interested in evaluating ameliorative processes for children with Down Syndrome and Autism in dolphin assisted therapies. Their conclusions suggest that children improve some of their physical, emotional and behavioral skills as they interact with our dolphins. Now, we collaborate with Mexican foundations and our Animal Care Specialists are being trained and certified to develop a Dolphin Assisted Therapy Program in our facilities for children from the state of Quintana Roo.
Do you offer discounts for your dolphin programs?
Yes. If you make your booking online with days in advance, you get a special discount. Also, if you sign up to our newsletter, you will receive special prices, discounts and promotions before anyone else!
How can I get to the Delphinus habitat?
You can either get there by car or use our roundtrip shuttle service for $10 USD per person or $10 USD per booking to the Interactive Aquarium, which you will have to pay online. The shuttle will pick you up directly at either your hotel or one of our rendezvous points.
From Cancun / Hotel zone resorts to Interactive Aquarium

From Riviera Maya resorts to Delphinus Riviera Maya.
From Puerto Juarez and Playa Mujeres resorts to Delphinus Playa Mujeres.
From Puerto Morelos resorts to Puerto Morelos Delphinus.
Delphinus Punta Cancún cannot provide transportation.
How close will the person accompanying me be to the area where I will be swimming with the dolphins?
For security reasons, accompanying members will not have access to the deck or wet areas but they will be able to watch all the activities from the designated companion area.
How is the program organized?
The program is divided in two parts: on-deck briefing and explanation for touching the dolphins (out of the water) and interaction with the dolphins (in the water).
How do I make a reservation?
To book your swim with dolphins program, click on the book now button, pick a date and get started, it's that easy! Our customer service team will be happy to help you with any questions you may have through our web chat, email: info@delphinus.com.mx and whatsapp.
How long will my experience with dolphins last and what will I get?
The duration depends on the option you pick. First you will get some out-of-water basic training to get you ready for swimming with the dolphins. All activities have a towel, lockers and a life jacket included.
Depending on the package, you will be doing various activities such as kissing and interacting with your new sea friends. You will also learn about their anatomy, nature, intelligence, diet and personality. We promise it will be an awesome experience.
How much does swimming with dolphins cost?
Prices will vary depending on the number of participants, duration and type of activities. You can have a look at our options so you can choose the most suitable package for you and your family.
If I am accompanied by more than one person, is there an additional transportation cost?
Unfortunately, we are unable to offer transportation to anyone other than the participant and one accompanying member.
Is it dangerous to swim with dolphins?
Not at all. They are very friendly and curious about human beings and, if treated gently, have been known to develop strong bonds of love and respect with humans.
If I book a dolphin interaction program at Delphinus, will transportation be provided for an accompanying member?
Yes, each person who books a dolphin interaction program at Cancun Interactive Aquarium or Delphinus Riviera Maya is allowed to bring one accompanying member along at no extra cost for transportation. If you book online, please specify in the comments section that someone will accompany you.
Is the area where you swim with dolphins deep?
The Delphinus habitats are 4 meters deep on average (13 ft). However, there are also more shallow areas and platforms.
Is there a minimum age or height requirement to participate in the dolphin interaction programs?
The minimum height requirement is 1 meter (3.3 ft). Children under the age of 8 must be accompanied by an adult during the interaction (both must purchase a ticket).
The minimum age requirement for the Delphinus Trek program is 12 years old.
Is transportation to Delphinus included in the price of the program?
Yes, with all the Xel-há, Xcaret, Xplor and Xenses all inclusive packages. We provide optional transportation with a $10 USD fee per person to Delphinus Riviera Maya, Delphinus Puerto Morelos and Delphinus Playa Mujeres or $10 USD per booking to the Interactive Aquarium Cancun.
For more information about transportation click here.
What are the age requirements?
Swimming with dolphins is an experience that can be enjoyed by everyone at any age since we have several swim programs to suit everyone. Children younger than 8 years old must be accompanied by an adult (both must have a ticket). Our staff is trained to help seniors along the way to make their experience an unforgettable one.
What can I take with me and what can't I?
Appropriate footwear, swimwear and an open mind to get in touch with nature. Personal cameras are not allowed in the dolphin swim program areas.
For your own safety and the dolphins', you will not be allowed to wear any sunscreen or jewelry. You will be given a locker to store your personal belongings.
What happens if I am late or can't make it?
Because we know that you're on vacation and we want you to enjoy it to the fullest, we try to be as flexible as we can when it comes to rescheduling as many times as you want; we'll just ask you to do so at least 24 hours in advance for better availability. You can request a refund with an 8% operating cost recovery fee. A no-show will automatically charge for full price. For more information, please send an email to info@delphinus.com.mx or chat with us on our website or whatsapp.
What is the restriction to do the Aquarium Trek?
It is not available for children under 8 years, pregnant women, people with heart, lung and ear diseases.
It is important to mention that, upon arrival at the location, minors will be evaluated if they meet the minimum size and shoulder width for the Sea-Trek® equipment. The age is suggested for children due to the dimensions and weight of the equipment.
What time are the dolphin programs held?
Swimming with dolphins schedules are similar, in most of our habitats, but they can vary depending on availability, seasonally or because of a weather situation, based in the schedule in the following table:
Interactive Aquarium from 10:00 to 17:00 hours.
Couples Dreams: 10:00, 11:00, 12:00, 13:00, 14:00, 15:00, 16:00, 17:00.
Premium: 10:00, 11:00, 12:00, 13:00, 14:00, 15:00, 16:00.
Ride: 10:00, 11:00, 12:00, 13:00, 14:00, 15:00, 16:00, 17:00.
Splash: 10:00, 11:00, 12:00, 13:00, 14:00, 15:00, 16:00, 17:00.
Playa Mujeres from 10:00 to 17:00 hours.
Couples Dreams: 8:30, 10:00, 11:30, 13:00, 14:30, 16:00.
Family Dreams: 8:30, 10:00, 11:30, 13:00, 14:30, 16:00.
Ride: 8:30, 10:00, 11:30, 13:00, 14:30, 16:00.
Supreme: 8:30, 10:00, 11:30, 13:00, 14:30, 16:00.
The One: 8:30, 10:00, 11:30, 13:00, 14:30, 16:00.
Punta Cancún from 10:00 to 17:00 hours.
Couples Dreams: 9:00, 10:15, 12:50, 15:25.
Ride: 9:00, 10:15, 11:50, 12:50, 14:25, 15:25, 17:00.
Splash: 9:00, 10:15, 11:50, 12:50, 14:25, 15:25, 17:00.
Supreme: 9:00, 10:15, 12:50, 15:25.
The One: 9:00, 10:15, 11:30, 16:30.
Puerto Morelos from 10:00 to 17:00 hours.
Couples Dreams: 8:30, 10:00, 11:30, 13:00, 14:30, 16:00.
Ride: 8:30, 10:00, 11:30, 13:00, 14:30, 16:00.
Splash: 8:30, 10:00, 11:30, 13:00, 14:30, 16:00.
Supreme: 8:30, 10:00, 11:30, 13:00, 14:30, 16:00.
The One: 8:30, 10:00, 11:30, 13:00, 14:30, 16:00.
Riviera Maya from 10:00 to 17:00 hours.
Couples Dreams: 8:30, 10:00, 11:30, 13:00, 14:30, 16:00.
Ride: 8:30, 10:00, 11:30, 13:00, 14:30, 16:00.
Splash: 8:30, 10:00, 11:30, 13:00, 14:30, 16:00.
Supreme: 8:30, 10:00, 11:30, 13:00, 14:30, 16:00.
The One: 8:30, 10:00, 11:30, 13:00, 14:30, 16:00.
Xcaret from 10:00 to 17:00 hours.
Interax: 10:00, 10:45, 11:30, 12:30, 13:30, 14:30, 15:15, 16:15, 17:10.
Primax 6: 11:30, 12:30, 13:30, 15:15.
Xel-Há from 10:00 to 17:00 hours.
Interax: 9:30, 10:45, 12:00, 13:15, 14:30, 15:45.
Ride: 9:30, 10:45, 12:00, 13:15, 14:30, 15:45.
Primax6: 9:30, 10:45, 12:00, 13:15, 14:30, 15:45.
Trainer for a day: 9:30.
Trek: 10:45, 12:00, 13:15, 14:30.
Will I be allowed to get close to the dolphins?
Yes, our dolphins are trained to be around people and feel very comfortable interacting with our visitors. They are in their environment so they may disappear for a moment but they'll be back – sometimes to swim right next to you.
Will I swim with other people besides my companions?
Yes, all swims with dolphins programs have a limited guest capacity. If this number is not filled with your reservation, other members can be added to the same interaction to complete the total number of that group. Only the Couples and The One interactions are exclusive for two and one person respectively.
You might be interested in

Contact us!
At Delphinus we care about sustaining an ongoing conversation with nature and marine life lovers. Give us your details so that we can best assist you with the information you need.