Despite their impressive appearance, whale sharks are totally harmless.
For this reason, if you dive into the water to swim with whale sharks, you will be able to appreciate them up close, up to a meter or two away, you just have to be careful not to affect the balance of their environment.o.
Swim with whale sharks is an opportunity to appreciate one of the world's largest sea dwellers while feeding in the most peaceful way you've ever seen.
Whale sharks are giant fish
As you read it, they are not related to cetaceans and they are called that only because of their enormous size, but they are fish in the entire extension of the species and that is one of the reasons why they are harmless to humans.
They feed on plankton and some small crustaceans accidentally, since the method they use is harvesting by suction through the mouth through which tiny minnows sometimes slip.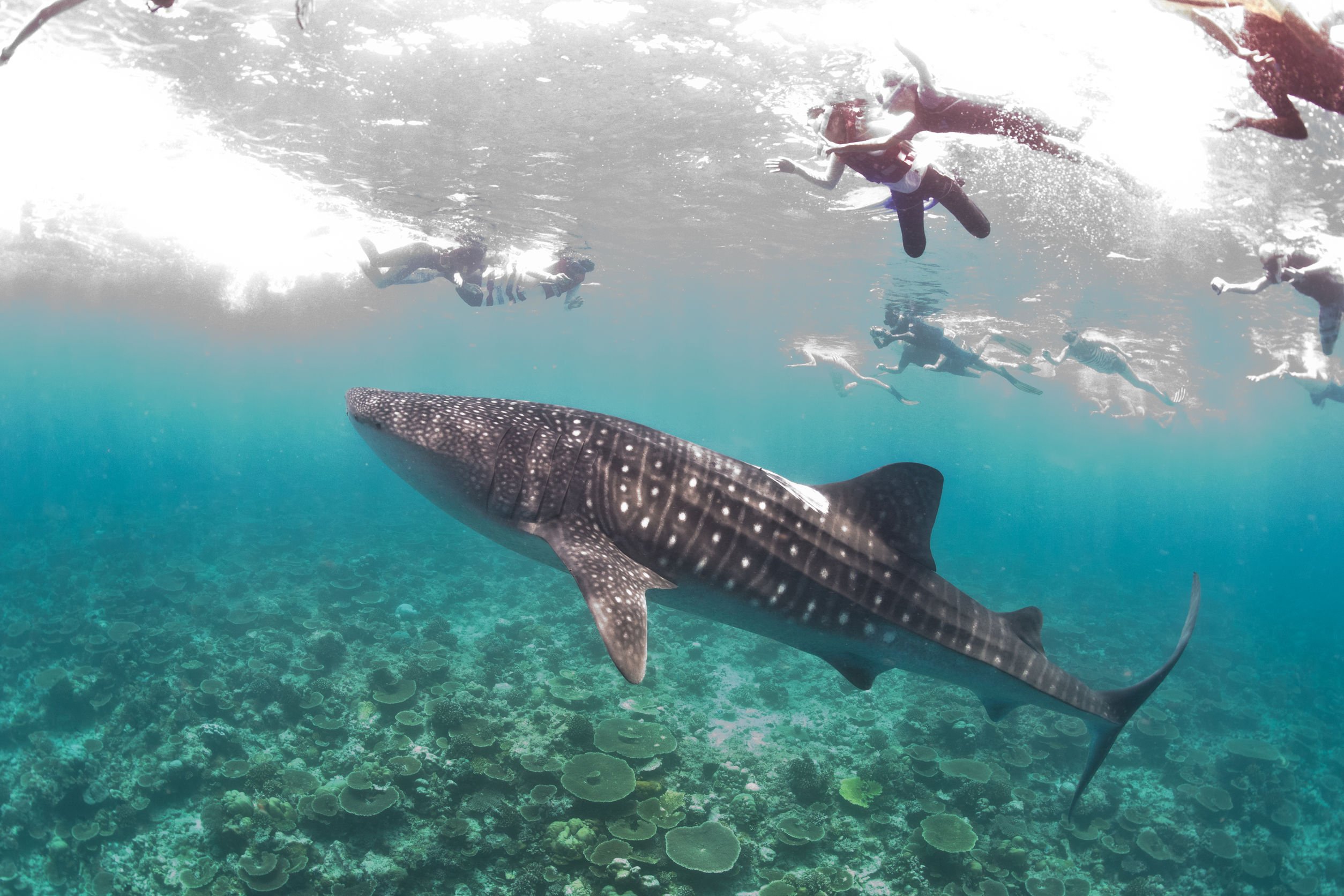 They prefer warm water to live, feed and reproduce, but it is not known for sure if they have a specific habitat that they prefer since they travel long distances and often swim through various routes.
In Mexico, due to the large concentrations of plankton and the safety that these fish obtain on some beaches and bays, they tend to be concentrated in greater numbers in some destinations during certain seasons:
Holbox
La Paz
Ensenada
Playa Mujeres
One of its peculiarities is that whale sharks do not sleep, like practically all sharks, they only rest a part of their brain for a certain time, but they cannot sleep since they need to be in motion to be able to filter oxygen.
Is it safe to swim with whale sharks?
Totally, as we've already said, they are harmless giant fish and neither we nor other species are in their diet besides plankton.
To be able to swim with whale sharks, you will need to be transferred a little further out to sea and have a certified guide in addition to security measures.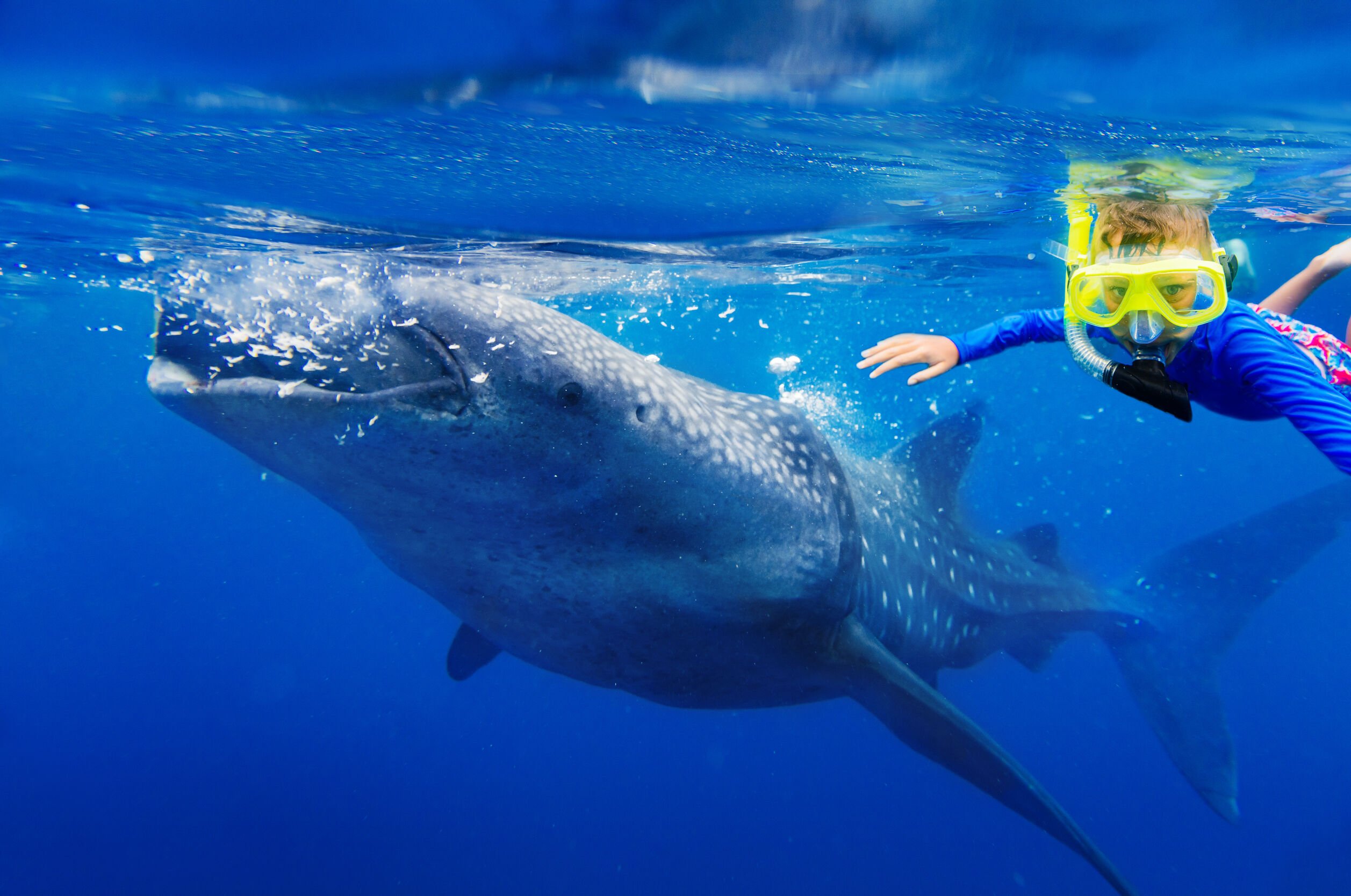 So that you know what aspects you should take care of if you hire a tour, we leave you some recommendations for:
Before
Ask your doctor about taking pills to avoid dizziness
Get a good night's rest the night before
Do not put sunscreen or other products on your body or hair and avoid wearing jewelry or accessories.
It is important that you are comfortable both in the way and in the water and check that you have a safety vest, goggles or snorkeling equipment.
Research who you are going to carry out this adventure with and make sure it is certified personnel.
During
You have to be calm, the whale shark, after many investigations, proved to be comfortable with the presence of people nearby, however, it prevents several people from surrounding or accompanying it in the water at the same time.
You have to be careful with the boats or transport in which you get to the area where they are, since a very fast boat engine could hit them.
After
We hope you do not forget any waste or garbage, although it is best not to take anything that could become garbage from the beginning of the tour.
Where is the best place to swim with whale sharks?
Probably the best place to swim with whale sharks is where you can find more security measures for you and the sharks, that is, through companies specialized and certified in this type of tour.
But you must also consider the concentration of sharks that arrive at each venue. In Mexico, the southeast area is the one that attracts the greatest number of whale sharks due to the concentrations of plankton present.
Tour WOW Connection: your chance to swim with the whale shark
Wow Tour that takes place in Delphinus Follow all the measures of respect and allow you to live this majestic natural spectacle in a safe way for you and the natural environment of the whale shark.
We have departures from Playa Mujeres, Cancun, Puerto Morelos and Riviera Maya; Package Included:
Round transfers (includes the transfer from the dock to the whale shark, and round transfer from Cancun or Playa Mujeres. The transfer from Puerto Morelos and Riviera Maya has a cost of $ 315 MXN ($ 15 USD) per person)
Breakfast (Box lunch)
Life-saving and snorkeling equipment
Certified guide
At Delphinus we assure you to live an unforgettable experience in harmony with these wonderful fish.