The Mayan Riviera hides magical destinations, where the sea is distinguished by its emblematic turquoise color. There's a small fishing village just 20 minutes from the Cancun Airport and 30 minutes from Playa del Carmen. In this article, you'll discover more about Puerto Morelos.
Puerto Morelos is a destination that is characterized by its beautiful landscapes and natural reefs that are just a few meters into the ocean. It offers areas where little ones can discover unique ecosystems and enjoy outdoor activities. If you are a lover of natural wonders, then you cannot miss visiting this pearl of the Mayan Riviera.
Get to know the reefs and biodiversity of Puerto Morelos


Mangroves, beaches, and reefs - Puerto Morelos is the best-kept secret in Quintana Roo, a destination where biodiversity is kept alive and the community was built around its natural surroundings, allowing marine fauna and flora to prevail.
Puerto Morelos is the home of the National Reef Park. It is a part of the Mesoamerican Reef, the second-longest barrier reef in the world, which covers almost the entire Mexican Caribbean; a sanctuary that protects plant species and endemic marine animals.
It is also home to more than 60 bodies of water that are connected by the Great Maya Aquifer, the longest underground river system in the world. In Puerto Morelos, you'll encounter great adventures that are ideal for the entire family's enjoyment.
5 activities that must partake in on your Puerto Morelos vacation


Are you a nature lover? Do you want to experience new adventures? Then make Puerto Morelos a must-go-to destination in your vacation plans.
Here are 5 things you can do during your visit to Puerto Morelos:
Scuba dive the reef
Puerto Morelos offers close access to the Mesoamerican Reef - the second-largest in the world. Would really pass up this incredible experience?
You can enjoy diving and snorkeling activities here and do not miss the opportunity to observe the coral bottom, home to flora and fauna marine species.
Explore the C-56 Juan Escutia
A sunken ship full of secrets? In reality, this warship has a nobler purpose: becoming home to thousands of fish and marine species.

This boat acts as an artificial reef where a vast ecosystem has developed, which you can visit during one of several diving activities. Go down 30 meters deep and explore the different parts of the ship.
Tour the Toh Reserve
If you're a nature lover, you cannot miss visiting this emblematic site in Puerto Morelos. You can visit over 1,200 acres of pronounced wild fauna and flora. Experience and appreciate the arduous conservation work that exists in this area.

Observe over 100 species of birds in flight, as well as tapirs, deer, monkeys, and other endemic animals that are native to the region.
Visit Parque Selvática
Named the best adventure park in Latin America. Here, you'll appreciate all the beauty of the Mayan jungle as you course through the zip-line circuits in a park that strictly adheres to international safety standards.
Swim with Dolphins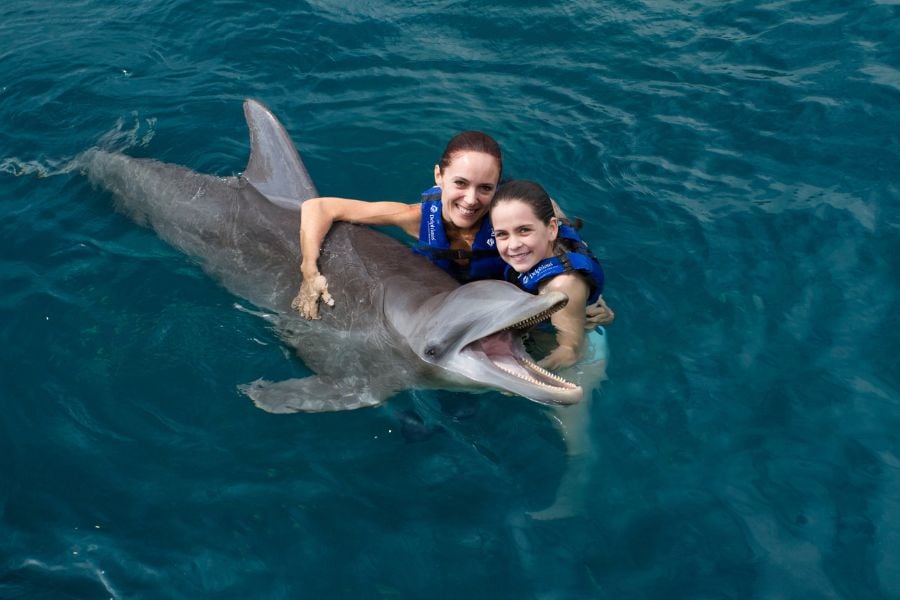 You cannot leave Puerto Morelos without first interacting with dolphins! Make your swimming dreams come true with these huge marine mammals in Delphinus, an institution that specializes in offering a high quality of life for these beautiful animals.
Whether you arrive alone, as a couple, or with the whole family, we have the ideal package for you.
From: 100 USD
Which is the best season for visiting Puerto Morelos?

Due to its tropical climate, the Yucatan peninsula always has warm temperatures, however, due to its proximity to the coast, you can face heavy rains during hurricane season.

According to various weather forecasting services, the best months to visit Puerto Morelos are: January, February, March, April, July, November, December.
Enjoy your stay at Hotel Marina El Cid and live the experience of swimming with dolphins
If you are looking for luxury, comfort, and rest on your trip to Puerto Morelos, then don't forget to book at Hotel Marina El Cid, a vacation complex focused on rest and relaxation, located a few steps from Delphinus.

Luxury rooms with beautiful views of the sea, pool or garden. This hotel has a transportation service that will take you to the facilities of one of the habitats of the largest Aquariums in Cancun, where you can interact with dolphins and learn more about animals and marine ecosystems. Delphinus is located just 4 minutes walk from the Marina El Cid facilities.

You do not need to be a guest to swim with the dolphins! You can visit Delphinus Puerto Morelos if you are staying at hotels or vacation rentals in Puerto Morelos by arranging transportation along with swimming with dolphins for only 210 MXN.