Dolphinclusive Xplor is an excellent all-inclusive package that will answer your question: what to do in Cancun. Discover how to make the most of this plan and how to make sure you and your friends have the best holidays of your lives.

The Xplor Park is very close for tourists who decide to stay in Cancun as it is only 45 minutes away from there, so the arrival to the Park is not a problem at all.
Spread over almost 60 hectares, this park has different fun options for everybody, activities that you won't find anywhere else. For example, if you would like to swim with dolphins in Cancun, Dolphinclusive Xplor could be what you are looking for.
A little history of Xplor Park
The meteorite that ended dinosaurs' life and fell in the Peninsula of Yucatan is one of the causes why there are so many stalactites and stalagmites on the walls and roofs of this amazing park; of which 8 hectares are underground.
Xplor Park activities
When you visit the park, your possible doubts about vacationing in the Caribbean and what to do in Cancun, will disappear. All the activities you can do here, are related to ecotourism and to adventure among nature, we are sure you are going to love it!
Some of the activities at Xplor Park are:
Zip-line,
Amphibious vehicles,
Rafts,
Swimming in the stalactites river,
Hiking in the underground caverns,
Definitely the place for adrenaline filled activities.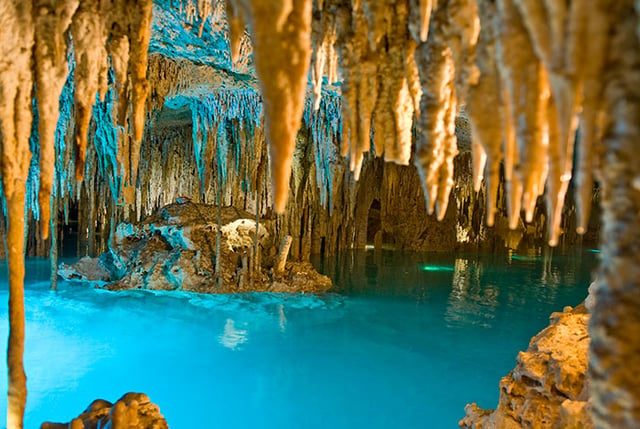 It is an adventure plan and interaction with marine mammals included. For those who want to live a swim with dolphins in Cancun, the Xplor Park is the best option.
Here is what this activity package includes:
Free transportation: hotel – Xplor Park, and back to the hotel.
Dolphin interaction program: Primax4.
All-inclusive access to Xplor Park: zip-line, swim in underground rivers, amphibious vehicle in the jungle, caves, and the best of all; food and beverages unlimited!
Are you still wondering what to do in Cancun? Go and prepare your luggage, book online now and get 15% off in this all-inclusive package. We want you in Cancun!