Considering the incredible variety of beach destinations in Mexico, it can be hard to choose where to rest and go on vacation. That is why we share some information about Punta Cancun and Puerto Morelos, two amazing beaches that you will want to visit as soon as possible!
Puerto Morelos: one of the most beautiful beaches in Mexico
Puerto Morelos is a beautiful beach, generally not very well-known, which makes it a quiet and peaceful place, although it offers a great number of activities to those looking for some action.
Puerto Morelos is part of the second biggest coral reef in the world, which is why it is now a protected area and a national park, only 30 minutes from Cancun.
What to do in Puerto Morelos?
You are in the second biggest coral reef in the world. You MUST enjoy it!

Start snorkeling as soon as you arrive

at the beach and you will find turtles, corals, multicolor fish and more!

If you want to

swim with dolphins in Cancun

, you can go directly to the hotel El Cid where you will find one of the most beautiful natural habitats and enjoy the fun with your friends, family or by yourself.

Discover the

Cenotes

route in Puerto Morelos and visit some of the cenotes like Chak Balam, Boca del Puma or the Siete Bocas.

Travel back to the ancient Mayan culture

through these aquatic wonders!
Punta Cancun: where is it and what to do there?
Located in the very heart of Cancun, with roads coming from Playa Caracol and Playa Chac-Mool, Punta Cancun is a beach on the northern Caribbean coastline. Here you will find an amazing coral reef, classified as a protected zone.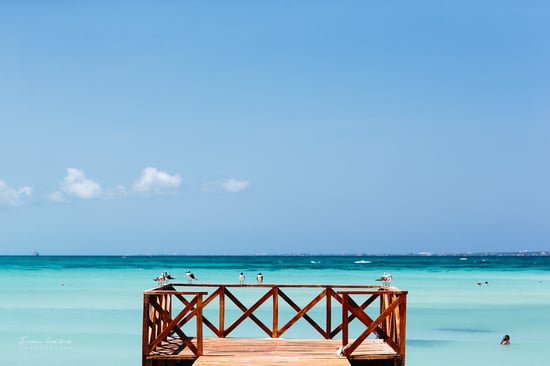 What to do in Punta Cancun?
If the sun, beach and sea aren't enough for you and you're looking for new and different adventures, this is the place to go.
Two of the most exciting activities are

diving and snorkeling

, since you can contemplate the exceptional marine world.

Kayaking and windsurfing

are other activities that you can do.

Something that you

must do is swimming with dolphins in Cancun,

so you can witness this marine mammal's intelligence, strength and sociability, considered to be the smartest on the planet.
The best part is that you can do this activity in one of the most exclusive hotels in the area, Hyatt Ziva. Learn more about swimming with dolphins in Punta Cancun!
The distance between these destinations is only 40 minutes by car, so you can visit them in just one trip. Discover two of the most beautiful beaches in Mexico and experience a swim with dolphins in Cancun!