Cancun and Riviera Maya are two of Mexico's favorite destinations for beach and adventure lovers worldwide... no contest! They are also ideal places to engage in an activity that you must do at least once in a lifetime: swimming with dolphins!
If you're planning to visit any of these locations soon, keep reading so you know how to get a discount, so you can interact with the most charismatic of all sea creatures!
Choosing a swim
While searching for a vacation program, you may not have thought the exact way you want to live this experience: perhaps a solo adventure? you're not sure if you're going to share this experience with your partner, with a group of friends or with the whole family?

If you're in this situation, we recommend you to check the type of swim that better matches with your plans and personality, going to the next link: choose a swimming with dolphins according to your personality.

Once you've chosen your ideal swim, it's time for a discount! Click on the box below to get your promo code to book a swim NOW!
Easy, right? But WAIT! In case you feel like going out on more adventures, we have something else for you: a special package for a swim with dolphins plus a visit to one of three of the most exciting eco-parks of the Mayan Riviera. Keep reading!
A discount to visit a park and swim with dolphins? Tell me how!
1. Xel-há Habitat - Dolphinclusive Xel-há
In this place, you can choose between the Primax, Interax and Dolphin Ride swim plans. Also, these all-inclusive packages got you covered with a meal and unlimited beverages, as well as with a full-day pass to the Xel-Há eco-park which includes over 20 additional activities!
2. Xplor Park - Dolphinclusive Xplor
Immersed in the Mayan Riviera, at this Delphinus habitat you can get the amazing Supreme swim. Also, you'll have free transportation and all the activities available at Xplor Park. This place has everything adventure lovers look for, whether if it is swimming in underground rivers or throw themselves of zip lines.
3. Xcaret Habitat - Xcaret DolphinTour Plus
If Interax is the swim with dolphins that better suits you, then this package is the perfect choice since it includes free transportation, a meal, and beverages, along with your access to the amazing Xcaret park.
Next steps
With any of these options, all you need to do to get your discount is click on any of the boxes of the all-inclusive package of your interest, fill out your name and email address on the form, and you will immediately receive a coupon code in your email inbox.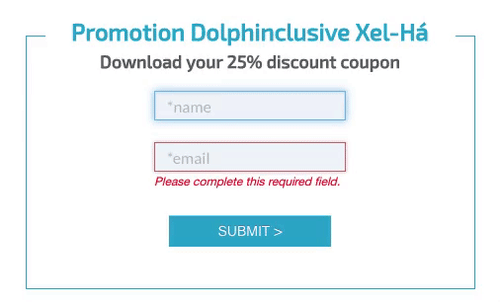 There you have it. Plan your vacations ahead and fulfill your dreams of swimming with dolphins!