Puerto Morelos - a sleepy beach town nestled just 20 minutes from Cancun and 30 minutes from Playa del Carmen - is an incredible spot for traveling couples. Its close proximity to the second-largest coral reef system in the world provides a calm, crystal-clear, Carribean-blue ocean - perfect for a tranquil day on the beach.
You can always have fun in Puerto Morelos as a couple, but over all, you can collect moments of a life in common and the best adventures between partners.
Those who are in the know are buzzing about the Puerto Morelos food scene, with top-rated restaurants such as Mem al Mar and La Choza del Puerto. Of course, one of the most amazing experiences for couples visiting Puerto Morelos is Swimming with Dolphins at the Delphinus natural habitat.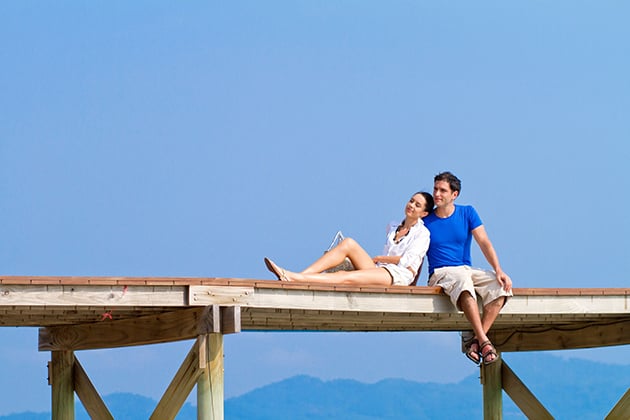 Best Restaurants in Puerto Morelos
Although you can always stroll through the streets of the city and choose between the options that Puerto Morelos offers, here are some recommended options:
Sea Food
Seafood and typical cuisine of the port but with a lot of fusion of styles. The same restaurant offers emblematic dishes of the coast in a creative and emotional way to create different experiences.
It has reservations, outdoor seating, wheelchair access, a bar and allows the entry of pets.
Here you will not only find seafood, but a whole Mediterranean menu. In addition, they have a very different concept, since everything in the restaurant is for sale and they have a variety of vintage and collector's items.
You can consume from breakfast to dinner since it has long hours and also has reservations, outdoor seating, bar, parking, wheelchair access, live music and permission to go with your pet.
Definitely a very special place, where you can go at noon and where you will find haute cuisine from the sea in a relaxed atmosphere where you can buy a souvenir of your trip.
It has reservations and a family atmosphere. Beer and a wide variety of sea snacks are sold to accompany you and have a super pleasant time.
Mexican food
Its name says it all, here you will find tacos of literally all flavors and colors, since they also have tortillas of different varieties.
You can attend from noon and have a fun time with the excellent young and natural environment of the place. Almost all of their dishes have a touch of corn
Here you can get from muffins to Aztec cake, all typical of a Mexican breakfast. You will also find "Mexican" versions of other world cuisines, such as a Mexican version lasagna.
It is a cafeteria with an excellent menu for breakfast or lunch for travelers who want to eat something healthy, delicious and natural at a great price.
Vegan options
They can attend from lunchtime and enjoy a typical American meal but with 100% fresh ingredients and everything prepared at the moment.
The best: the possibility of choosing the same versions but vegetarian.
They also have a menu for vegans and vegetarians that you are going to love.
Fusion cuisine at the service of health. Here you will find a European diet fully adaptable to a vegetarian or vegan diet, available from noon.
One of its specialties is Italian cuisine in healthy versions. You can make a reservation or not, but there are usually quite a lot of people. It has outdoor space
Definitely a healthy place. It is a cafeteria with a menu to have a brunch or attend to talk or work.
They have gluten-free options and special menus for any type of diet with fresh food and everything prepared at the moment.
To help you in your choice, you can also consult some of these restaurant recommendations
Activities for adventurous couples and not so much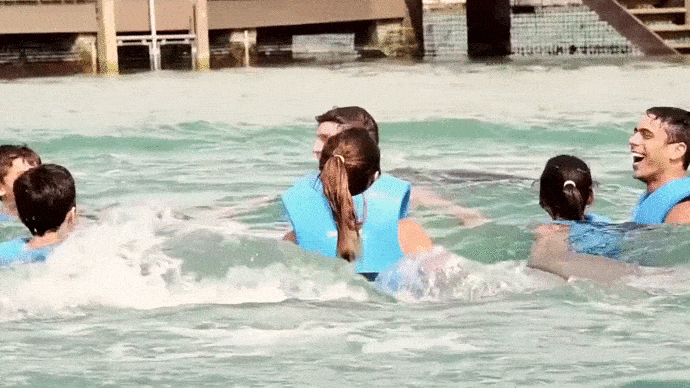 Visit one of the nearby cenotes
One of the most beautiful is the cenote La Noria, which belongs to the group called Los Tres Reyes and is part of the Puerto Morelos cenote route.
Visit one of the 18 ecotourism parks
Close to the Ruta de los Cenotes, in which the rational use of the environment is privileged and which maintain the essence of natural resources.
Venture into a very special zoo and contemplate nature
If you are nature lovers, just a few minutes from downtown Puerto Morelos are the Dr. Alfredo Barrera Marín Botanical Garden and Croco Cun Zoo, two spectacular places that you have to visit.
Interact with dolphins in a ideal habitat
This is undoubtedly a unique experience, since the dolphins are in a habitat where they develop and socialize in the best way. In Delphinus, in addition to living with them, you will be able to admire many marine species in the water.
Romantic hotels in Puerto Morelos
From exclusive hotels for adults to spa hotels where you can enjoy relaxing moments, Puerto Morelos has all kinds of options for you and your partner.
The following hotels are currently the top-ranked places to stay on the Tripadvisor page.
The comments and recommendations are based on saying that it is really very comfortable, with several rooms that have ocean views and it is located only 50 m from the beach and 400 m from the central square of Puerto Morelos.
Since it only admits adult couples and accepts nudism, it is one of the resort type hotels that you definitely have to visit if you are a free spirited couple. It is located on the beachfront.
This is also an adults-only resort with the all-inclusive concept. In addition, it is located in Playa Secreto, to frame the romantic atmosphere for couples.
They can also opt for one of these romantic inn options in Puerto Morelos.
Couples who like to go off the beaten path will surely enjoy the amazing swim with dolphins experience, an adventurous Cenote Route tour, and relaxing on Puerto Morelos' tranquil beaches.