When wanderlust calls, no obstacle or inconvenience could prevent you from living the best experiences in any destination you go to. So, you'll be glad to know that touring the Mexican Caribbean is as safe and doable as moving around using the public transportation system of Cancun.
Keep reading to check our tips so you can learn how to use this means of transport, and don't miss anything that this paradisiac destination has to offer.
Public Bus Lines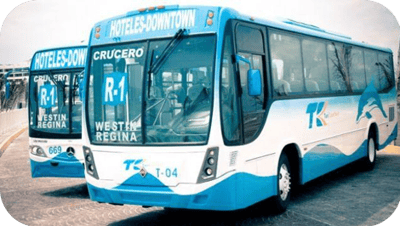 Public bus lines are the cheapest and most direct way to move from the Hotel Zone of Cancun to any point of the city, crossing through the Kukulcan Boulevard, which is the main avenue of the coastal area.
The service is organized by routes (marked with the letter "R" and a number), with clearly defined ascent and descent zones. The most important ones to/from the Cancun Hotel Zone are:
R-1: Takes you to the ADO bus station.
R-2: Takes you to the famous Mercado 28 and Walmart.
R-27: Takes you to Plaza Las Américas.
✅ Pros. The buses are clean, most of them have air conditioning and special areas for people in wheelchairs.
For better orientation, the buses have marks on their windshields that indicate the most representative spots on their route. For example, if you want to visit Downtown Cancun, take any bus with a "Downtown" sign and you'll be there in a few minutes.
Also, there are stops in front of each of the resorts and hotels as well as at the busiest beaches (such as Playa Delfines, better known as "El Mirador"), restaurants, nightclubs and shopping centers such as La Isla Shopping Village.
❌ Cons. They don't have service past midnight. Also, only a couple of routes cross the Kukulcán Boulevard in its entirety.
💰⏰ Cost and schedules. The ticket for the buses in the city is priced at 10.50 pesos (0.50 USD) per passenger, and for the Cancun Hotel Zone buses it's 12.00 pesos (0.60 USD). The bus dispatch frequency spans from 2 to 5 minutes.
Interstate Buses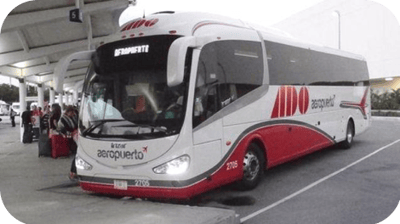 If besides staying Cancun your goal is to check out the most touristic points of Riviera Maya and Yucatan, all you have to do is go to the ADO bus station located in Downtown Cancun.
From this terminal you can access archaeological sites such as Tulum and Chichen Itza, coastal cities such as Playa del Carmen or Puerto Morelos, and ecological-aquatic parks such as Xcaret and Xel-Ha, just to name a few attractions. There is also a frequent dispatch to the Cancun International Airport.
✅ Pros. The buses are comfortable and there are many routes.
❌ Cons. Arrivals and departures are fixed, which could limit your itinerary if you only have a few available days to visit other touristic spots.
💰⏰ Cost and schedules. The tickets and schedules are varied, so we recommend you to visit the websites of each bus line.
Interstate "Combis"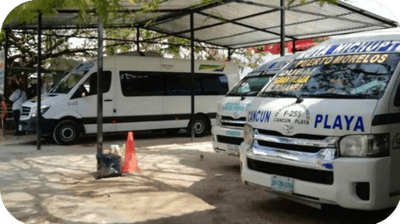 An alternative to interstate buses presents itself in the form of vans or "combis", a service for 10-15 people connecting Cancun to destinations such as Playa del Carmen, Puerto Morelos, and Tulum.
✅ Pros. The service is direct, there are several routes and the vans are generally comfortable.
❌ Cons. Due to their limited capacity, combis fill up quickly and you may have to wait a few minutes for the next dispatch.
💰⏰ Cost and schedules. The price per passenger is around 45 pesos (USD 2.25) and the schedules operate on a first come, first served basis.
Taxi Cabs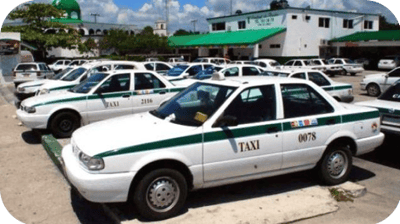 Although they are known to be the most expensive means of transport in the city, taxi cabs are a great alternative to explore many points of interest in the city of Cancun such as nightclubs, or family attractions like the Interactive Aquarium (located in the La Isla shopping center and where you can swim with dolphins and admire almost 1,200 marine species).
✅ Pros. They are very useful when traveling in groups of up to 4 people, and also if you are in a hurry to get to an event, or at dawn when you're coming back to your hotel room from the club.
❌ Cons. They don't use a meter so you should check the rates in advance with the driver before boarding the cab (or you also could ask your hotel concierge). It is recommended to pay in pesos since dollars are accepted by the drivers but at a lower rate than in exchange houses.
💰⏰ Cost and schedules. The service is 24 hours and fares depend on the area where you take the cab; for example, a trip to or from the Hotel Zone can cost about 300 pesos or more (or up to $450 from the airport), while a trip around downtown won't exceed 50 pesos.
NOTE. The rideshare app, Uber, resumed services in Cancun recently, after almost a year and a half of suspended operations. However, in areas such as the airport their access is still restricted.
<< How much does it cost to swim with dolphins in Cancun and Riviera Maya? >>
There you go! Whenever you get bitten by the bug of travel, we hope that this information helps you visit the most exciting destinations in Cancun and Riviera Maya, such as our 7 wonderful dolphin sanctuaries.
If you have any more questions about other landmarks of Cancun and their go-to directions, feel free to contact us via WhatsApp, by email or by clicking this button:
May the spirit of adventure takes you to enjoy the best experiences without limitations. Happy travels!