If you are thinking of traveling to Cancún or the Riviera Maya and don't know what to do in this paradise, we strongly suggest a fun and learning experience that you can enjoy along with your loved ones: swimming with dolphins.
Dolphins' intelligence and developed social skills will make you feel part of the pack as you swim and play with them. This will surely get you to know this amazing creature and its behavior in the wild.
In the sea world, they are the sole creatures that let you make contact with them, since they have been long considered to be good luck and friends of us, as they surround boats and approach in a friendly way.
If you are thinking about swimming with dolphins while on vacation, you should know that this is a full-on thrilling and learning experience that will give you much more than just a dive with them.
7 things you can do with dolphins
Swimming with dolphins is an experience for everyone, children and adults alike. The various activities cater to everyone, and even if someone might not want to go in the water, there are dedicated viewing areas for them to enjoy safely.
Below, we will tell you what it is like swimming with dolphins and all the things you can enjoy as you pick the ideal swim experience for you.
1. Snorkeling
Together with your new dolphin friend, you and your family or friends will get to swim with them underwater. Don't miss out!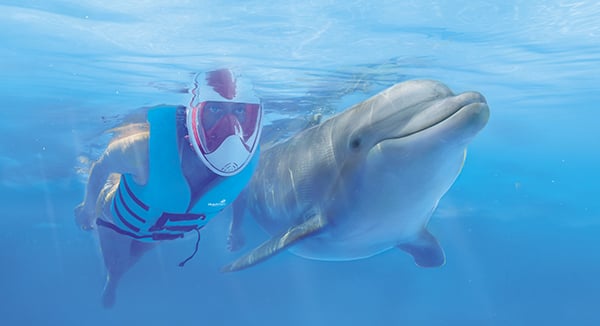 2. Swim by their side
Something else you can do is ride on the water while holding on to their fins. Can you imagine swimming at a dolphin's speed? This is certainly one of the ultimate favorites.
3. Water glide
If adrenaline is your thing, how about being pushed through the water by a dolphin as you stand? Unbelievable! The feeling is unbeatable and tremendously fun.
4. Become a trainer
Are you curious about how dolphins are trained? Become a trainer for a day and learn more about their behavior, diet and bodies. Learn to communicate with them and learn some tricks for them to perform.
5. Plunge into the sea world
Using special breathing equipment and a professional guide, some dolphin swim programs allow you to dive below 4 meters (15 feet) underwater and enjoy an unforgettable experience surrounded by dolphins, walking and even touching other sea life.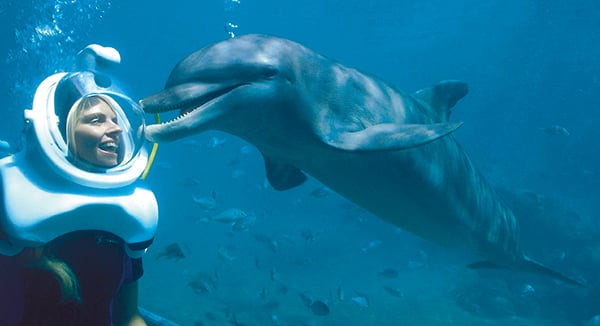 6. Enjoy their skills
Much has been said about dolphin intelligence, bear witness to this! On top of engaging with them and enjoying their environment, you will get to marvel at their skills, such as applause, jumping, and their communication skills, among many other things.
7. Learning from the sea world
There is no better way to get to know the ocean than to stand face to face with one of the finest and most intelligent creatures in the animal kingdom.
Have fun and learn from animal care specialists about dolphin nature while caressing and playing with them up close. If you're really lucky, maybe a cute dolphin will kiss you.
The various experiences you can enjoy while swimming with dolphins will become a priceless memento thanks to the fun and learning you will get from close contact with nature and this wonderful marine mammal.
Learning about these peculiar and lovely animals while living with them is something you will not experience while sailing on the sea. Treat yourself to a swim with dolphins, in specially designed facilities that provide the best possible care.
Delphinus has developed habitats with natural conditions that meet the highest environmental and animal welfare standards to make your experience as enjoyable as possible for both you and our dolphins.
Also, in order to maintain our environmental awareness, during our swim programs we spend some induction time to learn more about dolphin nature and the importance of taking actions that strengthen our commitment to environmental protection.
If you are looking for a safe, responsible and fun place, we encourage you to get to know the Delphinus sites in Cancún and the Riviera Maya. We have different experiences for all ages and private transportation so you don't have to worry about anything but having fun.