One of the qualities that are most sought in today's companies is their ability to be transparent, especially those that have taken a step forward when assumed a role as Socially Responsible Companies. Delphinus is a signatory of the Global Compact since June 9, 2005.
In compliance with the commitment assumed by Delphinus to be a signatory and support the Global Compact, an initiative of the United Nations so that "companies and organizations align their strategies and operations with Ten Universal Principles on human rights, labor standards, the environment and the fight against corruption".
Communication on Progress (CoP) 2020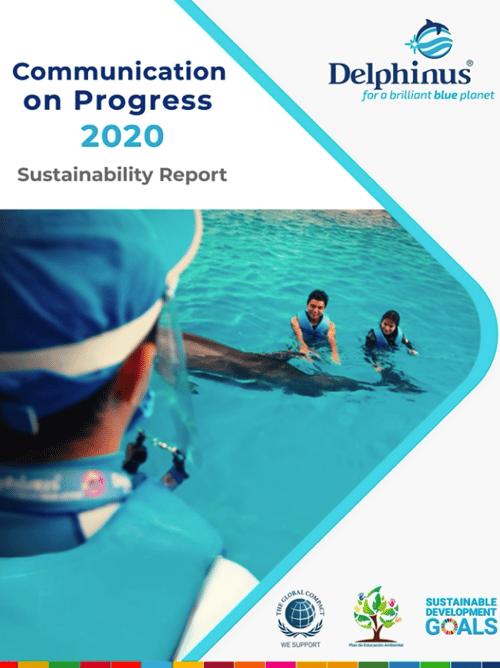 It has been, in addition to a great learning opportunity, a benefit to be part of this group of companies that give a step forward and because we understand that our role as corporate citizens is the creation of wealth and value for our shareholders and collaborators, the community in which we operate; as well as the excellence of the welfare of the animals that are in our care and to work permanently in the conservation of the oceans, source of life on our planet.

Among the benefits we have had in joining this global corporate social responsibility platform, there is an obligation to report, through a document, named "Communication on Progress", CoP, the advances we have every year in terms of Human Rights, Labor Standards, Environment and Anti-Corruption; As of 2015, we have gradually found that our social responsibility could be strengthened and transcend our sphere of action and be part of global solutions, working locally by joining the Agenda for Sustainable Development.
We present this report, inviting more Mexican organizations to assume social responsibility as the way to manage themselves and, find in this model, economic and environmental efficiency, the appropriate working environment and the opportunity to connect with the community and their public of interest in a balanced way, where it is sought that all parties profit.
2020 was a difficult year due to the COVID-19 pandemic, however, thanks to the solid foundations of social responsibility and its ability to adapt and resilience, Delphinus is weathering this tough period for the services sector associated with tourism recreation sustainable. We hope that reading the report will be of interest and useful to you.