If you are wondering where you can go for your family vacations during 2021, we give you the best places at the Riviera Maya to do it and some ideas on how to do it safely to enjoy a great time with your loved ones.
How can you take a safe family trip during 2021?

At this point, we are getting used to all the measurements we have to take into consideration but there is no harm in having a checklist for all the essential things you need to have as well as the things you need to do.
use hand sanitizer

wear your face mask all the time

avoid touching any surface

stay at least 1.5 meters away from other people

always have a spare face mask for emergencies

don't forget to wash your hands regularly

Where can you go?
The beaches on Mexico's Caribbean Coast are impressive, especially the ones along the Riviera Maya. This stretch of coastline is absolutely stunning, and is just a short distance from one of the largest coral reefs in the world.
Should or shouldn't you take your family vacations now?
The news of vaccination rollouts and virus mutations have added to considerations of whether or not to travel. But after nearly a year of virtual schooling and working in often small spaces, having a time of is well deserved. However, keep in mind that doctors say it is still a risk to do it with people you don't live with, that is why a family vacation would be the perfect choice to take.
Once you have taken all the proper measurements, it is a great time to travel despite the pandemic. Large traveling companies are offering great package deals in order to help reactive the economy.
Why to consider the Riviera Maya as your main choice
The Riviera Maya is located on the east coast of the Yucatan Peninsula, and it's golden sands stretch for over 100 miles. International travellers usually arrive at the airport in Cancun, which is conveniently located just to the north of the Riviera Maya.
The Riviera Maya has the most beautiful beaches around the world and invaluable natural treasures such as the barrier reef called the "Great Western Atlantic Reef Belt", the second largest in the world.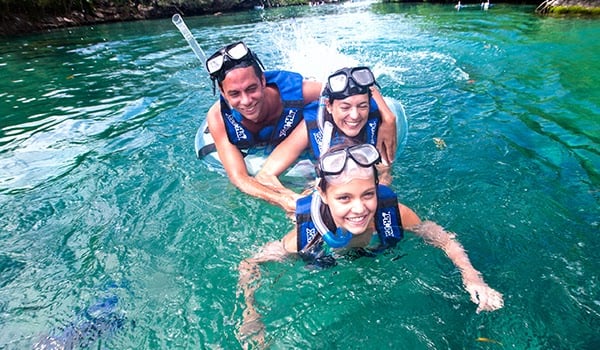 Things you can do once you are the mayan riviera
There are many activities available, you can choose between a visit to mayan ruins, swimming in the crystal clear waters of the cenotes, enjoying the beaches, visiting an aquarium and even swimming with dolphins.
We offer you a list with information about all of these activities so you can have a clearer option of all the things you can do with your family.
Chichen Itza, Cenote & Valladolid All-Inclusive Tour
Experience this history firsthand with a full-day tour from Cancun or the Riviera Maya. See the ancient Maya site Chichen Itza (admission not included) the pyramid of Kukulcan, and explore the architecture in Valladolid. After a busy day exploring, refresh yourself in the waters of the Ik Kil cenote, and enjoy a delicious buffet meal. You can find more information about it here
Visit playa mujeres and Puerto Morelos
Two of the most exclusive beaches at the mayan riviera, enjoy an intimate atmosphere and maximum comfort with white sand and crystal clear waters.
One of the greatest things about these places is that they have more to them than just the sea, both offer a wide variety of activities such as diving, snorkeling, swimming with dolphins, family friendly malls. If you want to know more about these places, you can go here.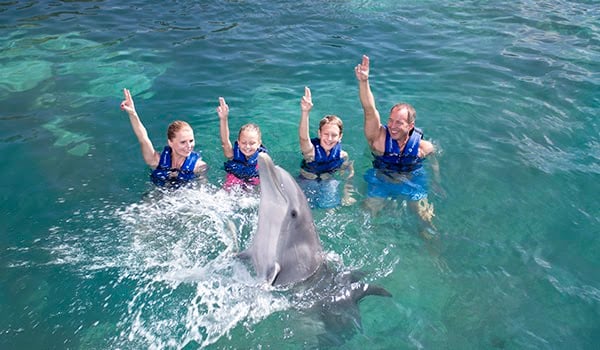 Visiting an interactive aquarium and swimming with dolphins.
Swimming with dolphins offers you not only the opportunity to be in contact with nature but also, it gives you the chance to learn more about marine life, it is one of the best activities to enjoy with your family.
You can swim with dolphins at the Cancún Aquarium, located in Plaza La Isla, one of the most visited shopping spots in the Cancún hotel zone.
Make your reservation ahead of time. You can get your tickets online and find exclusive deals and discounts.
Delphinus also offers you a wide range of family packages to enjoy the experience of swimming with dolphins.